Hermione Granger's Cherry Bakewell Cake | Harry Potter Recipes
July 16, 2015 | Harry Potter, Dessert, Cake, Cherry
The Starving Chef is supported by Hungry People like you. When you make a purchase through an affiliate link on my site, I may earn a little bit of cash on the side (at no extra cost to you) to help keep my kitchen running. Read our disclosures here.
Super Hungry? Jump to the Recipe
If there's one thing I'm a superfan of, it's Harry Potter. The books mirrored my childhood and I read each of them a few dozen times as I aged. I dressed up for book and movie premieres, went to midnight releases for the books and movies, and even visited the Wizarding World of Harry Potter last summer.

It was a truly magical experience that I had been eagerly awaiting for the last 10 or so years. Harry Potter is still an important part of my life, so when I was gifted the Unofficial Harry Potter cookbook for Christmas, I immediately knew I had to recreate the cakes he receives for his birthdays in the books.

This recipe is going to focus on the cherry bakewell cake from Hermione, but you can check out the other cakes in the master post too!
Out of the trio, I believe Hermione would have been the best at baking because we know she can follow the instructions of a potion. But as we see in the Half-Blood Prince, keeping to the instructions exactly isn't always the best way to make a recipe! Adding your own creative flair is essential to making something considered unremarkable into something extraordinary.
First, mix together the dry ingredients in a small bowl. Pulse the almonds in a food processor until powdered, then add into the dry ingredients. Use a stand mixer to stir together the sugar and butter, then beat in the eggs one at a time. Then slowly mix in the dry ingredients, alternating with the milk, about 1/4 cup at a time.

You want the batter to be sticky and thick, if it's too smooth, it might not bake through the middle, leaving for a soggy cake.

Since I made mini cakes, I used small ramekins for each cake layer. Don't worry, if you don't want to make a four layer cake, just use engorgio to double the recipe then pour into a standard sized cake pan.

Bake at 350F for about 20 to 25 minutes or until the sides are just pulling away from the ramekins and the cakes are golden brown on top.

Let the cakes cool on a wire cooling rack while you prepare the icing. Be sure to wait until the cakes are no longer warm before attempting to ice, or else you'll have a sticky, runny mess!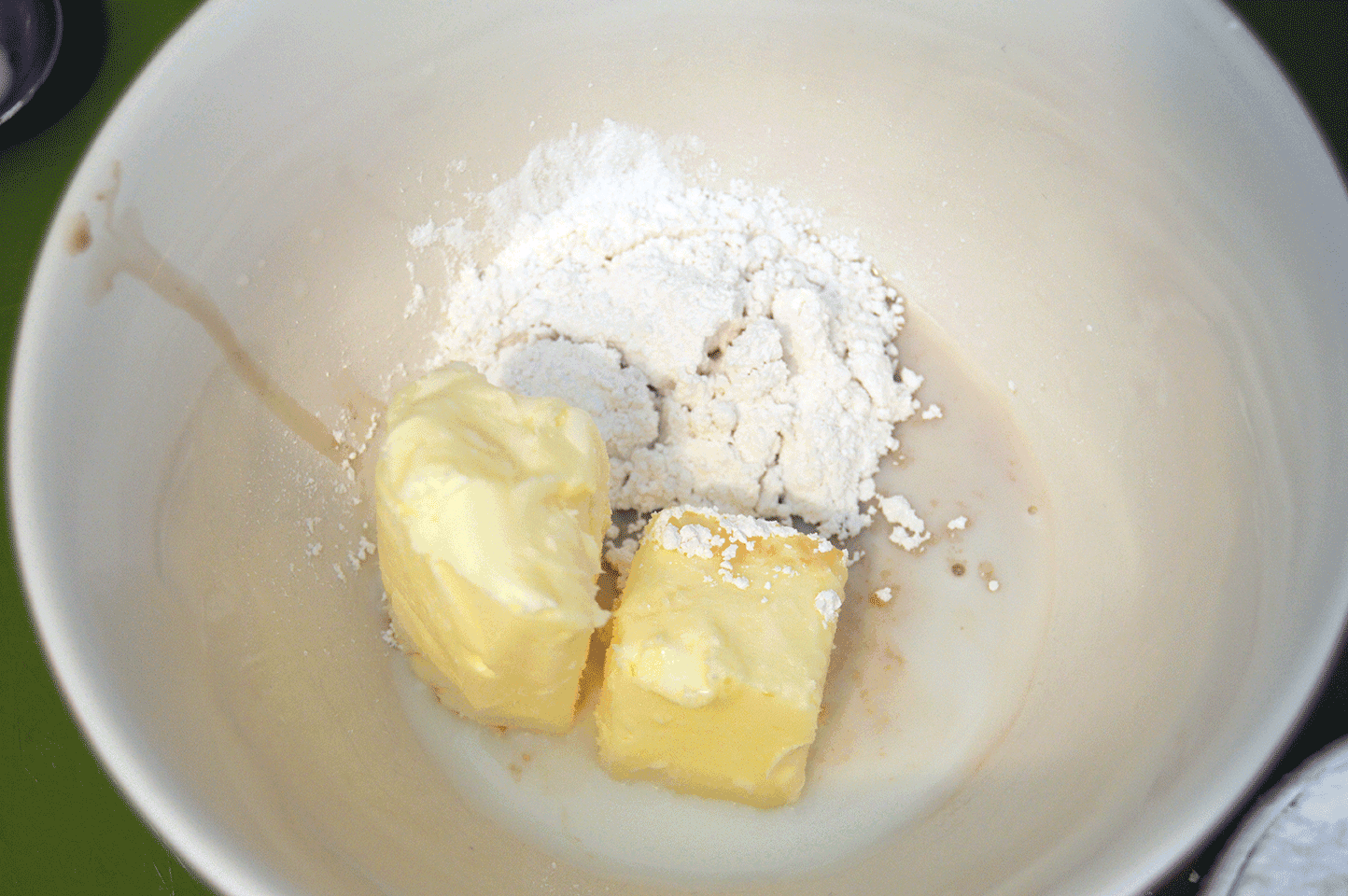 In a small bowl, use a hand mixer to beat together the remaining butter, milk, and powdered sugar until a thick icing forms.

Use more milk to reduce if it's too thick, and more powdered sugar to thicken if it's too runny. You are going for an icing just thicker than toothpaste.

When the cakes have cooled completely, ice the tops of each cake and stack on top of each other. Press the almond slices onto the sides and decorate with cherries.

Serve with a good book or movie - like, I don't know, Harry Potter?

View my other magical cakes!
Shop this Post
Hermione Granger's Mini Cherry Bakewell Cake
Number of Servings: 4
Prep Time: 10 minutes
Cook Time: 20 minutes
Total Time: 30 minutes
Ingredients
FOR ALMOND CAKE:
1 cup flour
¼ cup finely ground almonds
1 tsp baking powder
8 tbsp (1 stick) butter, room temperature
½ cup granulated sugar
1 egg + one egg white
1 tsp vanilla or almond extract
¼ cup whole milk, room temperature
pinch salt
FOR FROSTING:
8 tbsp (1 stick) butter, room temperature
1 ½ cups confectioner's sugar
½ tsp vanilla extract
1 tbsp whole milk
TO FINISH CAKE:
¼ cup cherry preserves
10 maraschino cherries
1 cup toasted almonds, for decorating
Mouth Feel
SaltySavorySourBitterSweetSpicy
Tried it? Loved it? Share it!
Instructions
Preheat the oven to 350F. In a large bowl, mix together the dry ingredients. Use a food processor to pulse the almond slices into a fine powder then combine with the other dry ingredients.
Use a stand mixer to combine the sugar, butter, vanilla, and eggs, one at a time, until light and fluffy. Add in the milk, alternating between the dry ingredients, about 1/4 cup at a time, until blended. The batter should be thick.
Grease 4 ramekins and add about 1/4 to 1/2 cup of batter into each. Bake for 20-25 minutes or until the sides of the cakes are pulling away from the ramekins and the tops are golden brown. A toothpick inserted into the middle should come out clean when the cakes are finished.
Let the cakes cool in the ramekins for 10 minutes before turning out onto a cooling rack to cool completely - let rest at least 1-2 hours before attempting to decorate.
While the cakes are cooling, prepare the icing by mixing together the butter, powdered sugar, vanilla extract, and milk. Use a hand mixer to achieve a thick icing.
When then cakes have cooled, spread a few tablespoons of icing onto the tops of each cake and then stack on top of each other. Use the remaining icing to cover the sides evenly with icing.
Take the remaining almond slices and press onto the sides of the cake and garnish with cherries on top. Serve with a good book and enjoy!
Print
Sours: https://www.thestarvingchefblog.com/2015/07/hermione-granger-cherry-bakewell-cake.html
Introduction: Hermione Granger Cake
I wanted to make a quick Harry Potter themed cake and couldn't find one I liked so I made m own. I knew I wanted the inside to be alternating house colors and finally decided on Hermione Granger based on a friend's recommendation, plus she's fantastic! I based this cake off of the design of a Harry Potter bookmark set I have so it is a more stylized version of Hermione.
Supplies
For the Cakes
2 bowls
2 round cake pans- mine are 9" but this will probably work better with an 8" or 7"
1 white box cake mix- yellow will also work for Hufflepuff or Gryffindor
Ingredients for box mix- in my case 3 whole eggs, 1 cup water and 1/2 cup of oil
Food coloring- I used red yellow and orange to get the gryffindor colors how I wanted
You will also need something to mix the mix, I like to have a non stick spatula to get all the batter out of the bowl, a large knife and a measuring cup.
Decorating (this is what I used for Hermione)
3 smaller bowls
1 can of white frosting or a batch of homemade frosting
red, orange, yellow and brown food coloring
two peppermint patties
a knife
For Harry I would recommend differently shaped pretzels for his glasses, whoppers/junior mints or a similarly sized candy for his eyes, black food coloring to dye his hair and thin licorice or broken pretzel twigs for his scar
For Ron swap the brown of Hermione's hair for orange and chocolate chips or m&ms for his freckles
Step 1: Make the Cakes
Combine all your ingredients and mix it up as directed on the box mix you choose. When cracking eggs I like to crack them into my measuring cup to make sure I don't get egg shells in the cake and I also like to get rid of the little white gobs attached to the yolk. I do this by separating my egg whites and then "cutting" the whit part off with the egg shells. I've found sometimes when I leave these in the cake there are small chewy bits in the cake and I do not like that.
Once your cake is mixed together split the mix evenly into two bowls. These will be for the two different colors. Add a generous amount of food coloring, I think I used at least three times as much as pictured but I wanted to start small. For the Gryffindor gold I ended up adding a little orange to the yellow. For the red I ended up needing a more potent dye than the one pictured(see frosting pictures for the one I ended up using). For a Slytherin or Ravenclaw cake I would recommend using the egg white recipe instead of whole eggs for white cake. This will give you less of a yellow tinge. Once your cake batters are mixed to the colors you want pour them into two round baking pans, I think a 7" would work best. The smaller the pan the thicker your cakes will be and the easier to cut them.
Cook your cakes for the time specified on your cake mix- for me that is 30min.
If making this cake for a bigger crowd make a batch of each color (four cakes, two of each color) and layer those instead of cutting in half.
Step 2: Assemble Cake
Once your cakes are done in the oven and a toothpick inserted in the middle comes out clean flip your cakes onto a flat movable surface, I used a cutting board but a cookie sheet or a couple plates would work too. Store the cakes in the fridge of freezer until chilled, I left mine in for about an hour while I went on a walk. Cooling the cakes will help to cut them.
Once cooled lay the cakes flat and cut in half so you have two thin round cakes. Layer these cakes alternating colors*. Since the tops of mine raised quite a bit in the middle I put my two bottom pieces together and put the top pieces on top with their flat sides together.
*See footnote in next step before stacking
Step 3: Frosting
Gather your frosting supplies. These are one can(or batch) of frosting, three small bowls-or in my case ramekins, food coloring for your character's house and hair, some form of candy for facial features-mint patties and a couple knives.
Split your frosting into fourths. I did not need nearly as much as I portioned out for red and yellow, about half that much would've been fine and more white would've been good. For Hermione color one bowl Red, one Gold and one Brown. You will want a little more brown than red and gold.
Start* by frosting as much of your cake as you can with a base white. Leave the part your hair will cover for last in case you run out. Make sure to frost the sides as well, this will help fill in the gaps between the cake layers. To frost the sides I gather a small gob on my knife about half way up the knife blade and run it around the sides.
*In hind sight I meant to frost between each layer and this would have evened the gaps a little more but I completely forgot to do that, so if you would like more defined layers and more frosting in your cake, while stacking cake layers apply a layer for frosting to the top of each layer then continue.
Step 4: Frost the Scarf
For the scarf use a toothpick to mark your stripes. I split mine into twelve (split in half, half again and then thirds). This will help keep your scarf stripes more even.
Frost your lighter color first. Use the same technique as frosting the sides white but frost the gob back and forth within the lines until the frosting is smooth. See pictures for help. I did all of my lighter color, skipping a spot so every other is gold. This lets the darker color cover any smudges and ensures the darker doesn't get accidentally dragged through the lighter. Next frost all the darker color in the same manner, filling in the spaces between the lighter colors. If you miss a spot in your initial swipe just clean your knife off, scoop just enough to cover that spot, touch it up and do another swipe across that stripe to even it.
Step 5: Frost the Face
For the hair use a cleanish knife, if you scrape the brown frosting knife off that'll work fine, to draw the outline of your hair. I think I should've left more face but since Hermione has a lot of hair I figured its okay. Once you've drawn the hair in how you like frost inside it with our knife. Make sure to get up to the scarf around the edge. For the eyes I ended up cutting circles out of some peppermint patties. I had intended to use the whole mints but since I frosted so much hair I didn't have enough room and had to cut them down. I also used a mint for the mouth, once I had cut the circles for the eyes the remainder looked kind of like a smile and I decided it looked pretty similar to the bookmark I based it off of. You could also use m&ms or junior mints for her eyes and licorice for her mouth but I did not have any.
If you wanted to add a little more to it you could make a few cupcakes to extend the scarf out below her face.
Be the First to Share
Did you make this project? Share it with us!
Recommendations
3D Printed Student Design Challenge

Halloween Contest

Back to School: Student Design Challenge
Sours: https://www.instructables.com/Hermione-Granger-Cake/
Harry Potter Cakes
60+ Awesomely Magical Homemade Harry Potter Cakes
Delve into the magical world of witches and wizards with these enchantingly awesome Harry Potter cakes. Leave the muggle world behind as you enter this weird and wonderful extraordinary world. Impress your biggest and littlest Potterheads with these fantastical homemade cake ideas.
Take inspiration from the Hogwarts castle, Harry's Gryffindor scarf and, of course, the golden snitch. Learn how to make a 3D Hegwig the owl cake, a monster's book of monsters and Harry's iconic glasses. In addition, you will also find even more ideas from the sorting hat to professor Snape on a cake (and it's amazingly clever). There are so many spellbinding designs, it will be hard to chose your favorite one. You will need to make your own Harry Potter cake after viewing these awesome designs.
So jump on a broomstick and fly off into this collection of amazing Harry Potter cakes below.
Harry Potter Cake Categories
Latest Homemade Harry Potter Cakes
Sours: https://www.coolest-birthday-cakes.com/category/character/movie-book/homemade-harry-potter-cakes/
HARRY POTTER DECORACION/HARRY POTTER CAKE GOLDEN SNITCH,SORTING HAT,WANDS
.
Cake hermione granger
.
James Charles EDIBLE MAKEUP Palette CAKE!
.
Now discussing:
.
122
123
124
125
126