The number of luxury cabins in Asheville is quite astounding.It seems like a region built for cabin holidays, in close proximity to beautiful hills, mountains, forests, and a fine sense of southern hospitality.
Asheville is in the Blue Ridge Mountains of western North Carolina. It's got a vibrant arts and music festival scene, a surprisingly noble sense of architecture, and the rivers Nantahala and Tuskegee within range. Geographically, the national forests, rivers, and parklands provide a wonderful natural world to discover.
One of Asheville's most famous landmarks is Biltmore House. It used to be the home of the famous Vanderbilt family. Today, it's a National Historic Landmark and officially America's Largest Home.
Overall, North Carolina is a popular holiday state. Perhaps, this is why it's called the "Land of the Sky." And a wide selection of cabins in North Carolina is the way to experience it. Also, be sure to check out my guide to the Best Glamping in North Carolina for a different type of trip in the future!
---
1) High-End Mountain Retreat with Incredible Views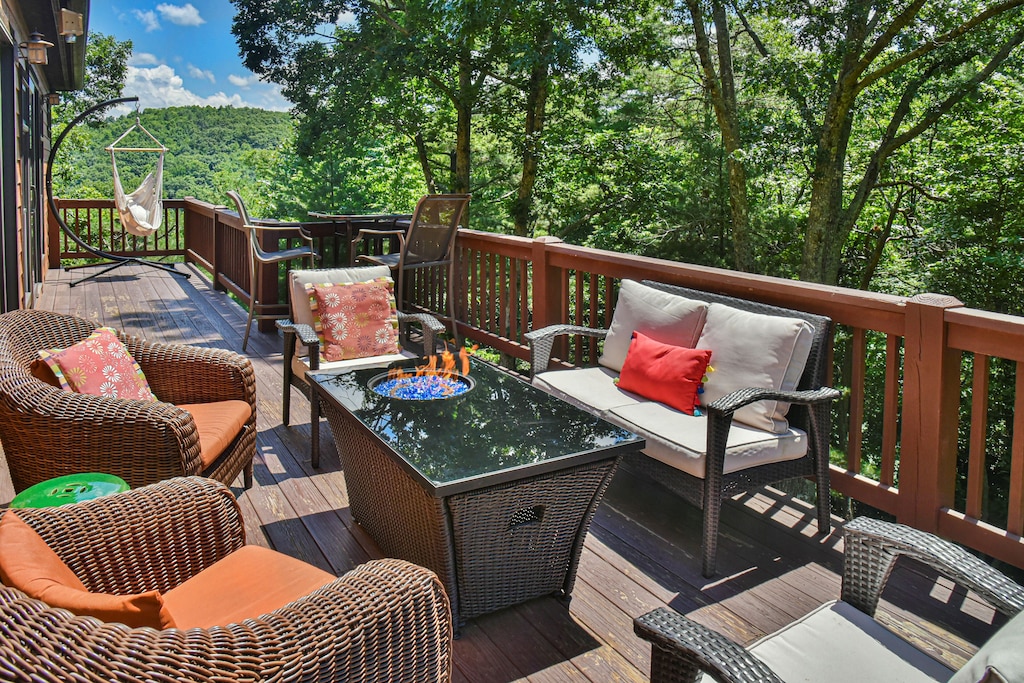 Where: Asheville
Price: $500+ USD per night
https://www.vrbo.com/423194
This cabin is surrounded by trees, and boasting huge decks on the upper and lower levels, a jacuzzi, two fireplaces, and a large open-plan living space. It manages to feel cozy yet high-end. Well, it's in the name of the listing, so you have been clued in at the outset.
If the tall ceilings and beautifully decorated interior doesn't convince you, look down from the top deck. There's a the wonderful outdoor fire pit area, where you can also enjoy your lunch and dinner, if you choose.
The basement is the rec area, with a pool, air hockey, and a big TV and couches. But it's the main area's fireplace and big windows that sum it all up – relax, be comfortable, and just enjoy the wonderful mountain views and air. This property is of superb value as far as luxury cabin rentals in NC go.
View Photos, Read Reviews & Check Availability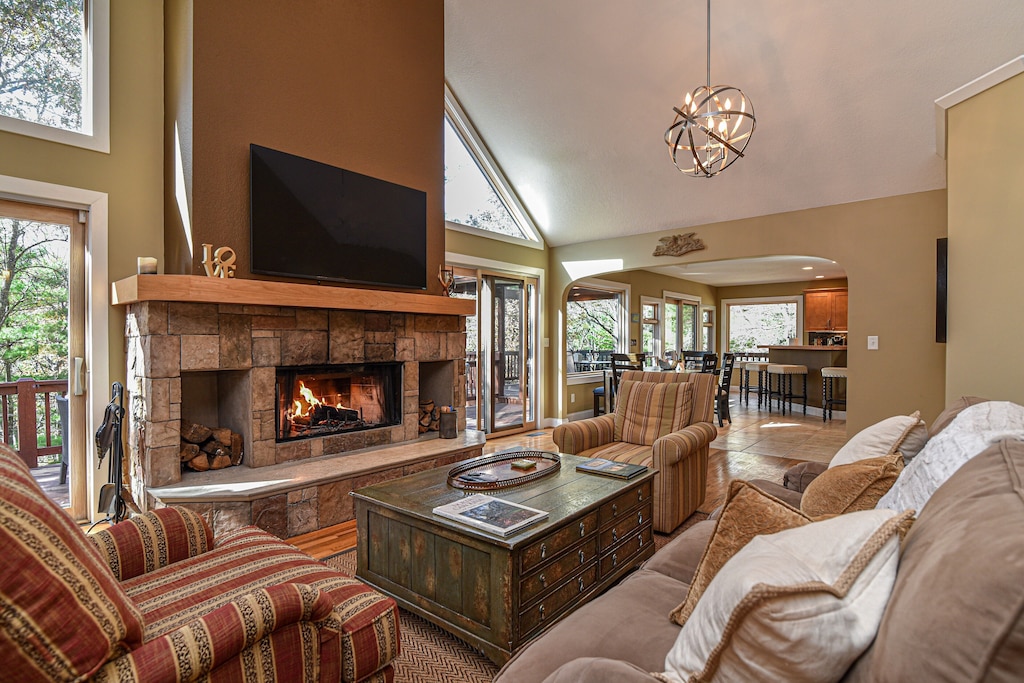 ---
2) Hidden Cove on the doorstep of Downtown Asheville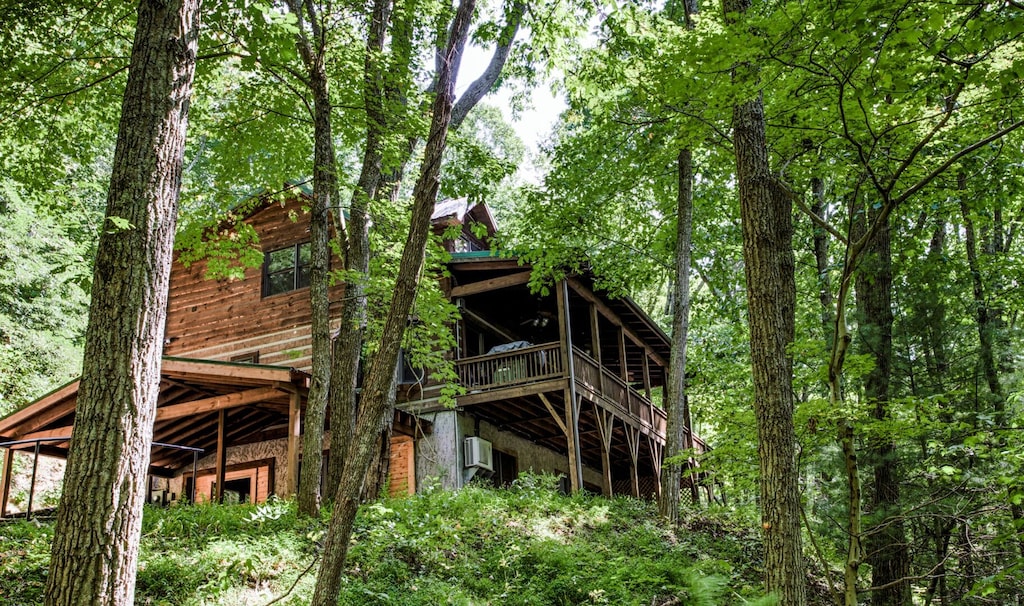 Where: Asheville
Price: $862+ USD per night
https://www.vrbo.com/1028908
Many Asheville, NC cabins have interesting and unique settings. The Hidden Cove cabin is just ten minutes from downtown Asheville. It's cozily nestled in Chunn's Cove, surrounded by forest, and expertly designed to offer an ultra-warm homey feeling.
Good thing, too, because you can bring 10 people to share this wonderful cabin. One of the highlights is definitely the kitchen, designed for social gatherings and chatting. But you can also just congregate on the wraparound deck. This is where the hot tub can be found.
Kids will enjoy the kindly supplied Xbox One, too.
View Photos, Read Reviews & Check Availability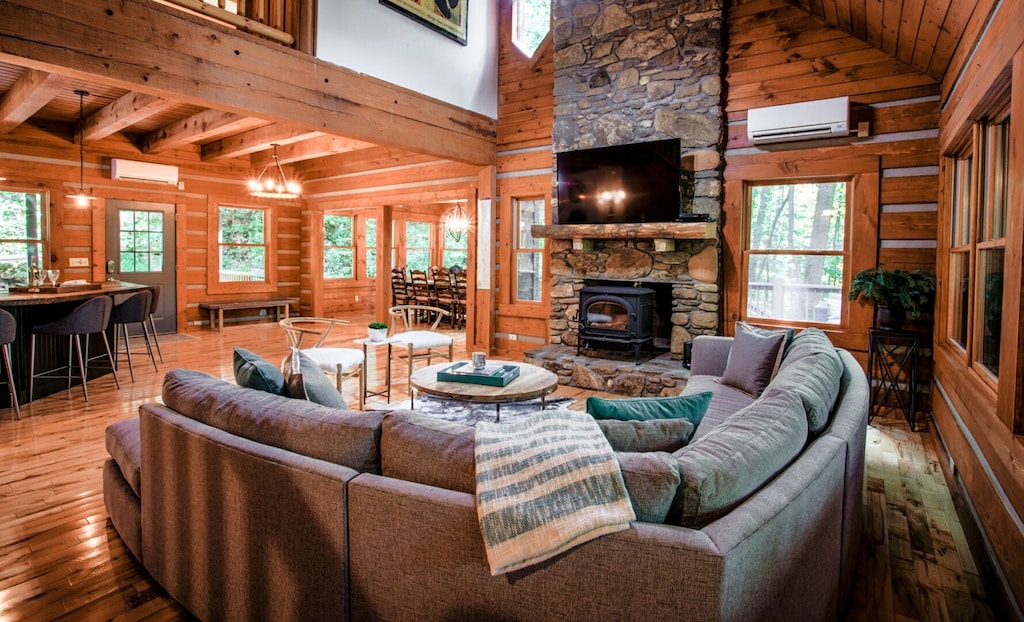 ---
3) Private New log Cabin, All En-Suite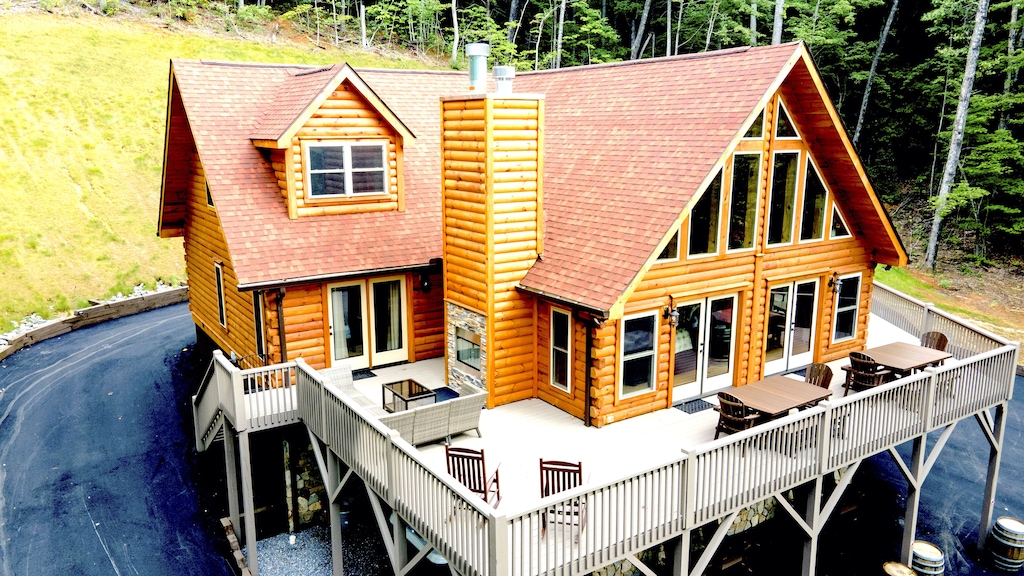 Where: Black Mountain
Price: $582+ USD per night
https://www.vrbo.com/2067989
If you're not too bothered about driving out of Asheville – about 15 miles or so – you'll be rewarded with this absolutely stunning mansion posing as a cabin. To start with, every one of the six bedrooms has an en-suite arrangement. In total, the home sleeps up to 17 people, spread over 5000 square feet of luxury.
The area is gated, so you're guaranteed an extra serving of privacy here. The building is placed within its own cul-de-sac, so your entire party can literally park around the house. The positioning also provides tree views all around, with not a neighbor in sight.
View Photos, Read Reviews & Check Availability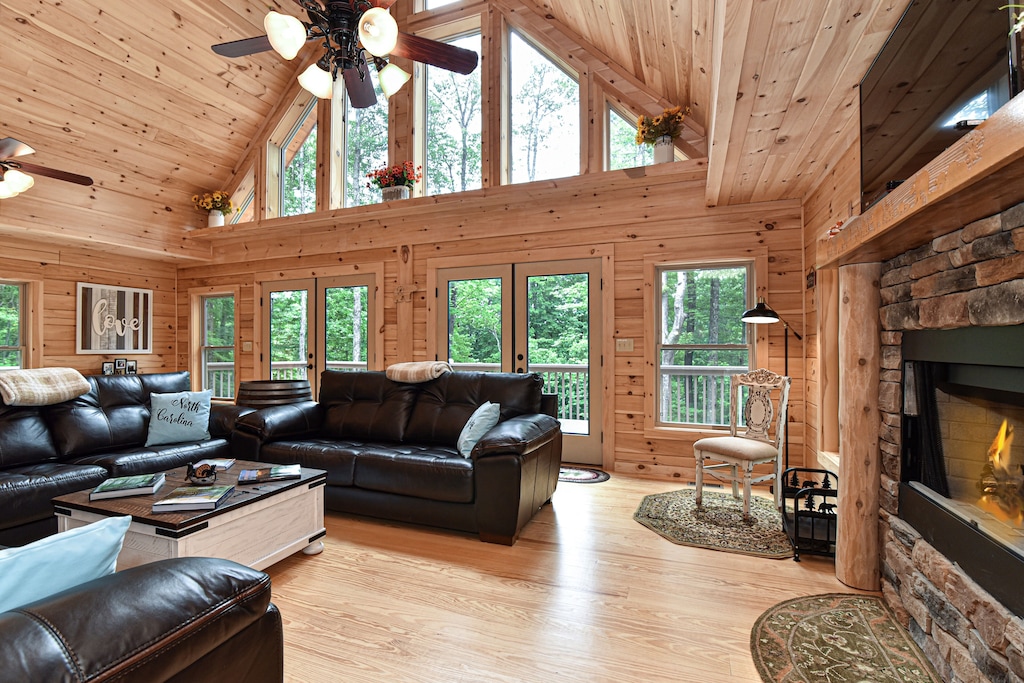 ---
4) Blue Moon Lodge: Reconnect with Family and Friends!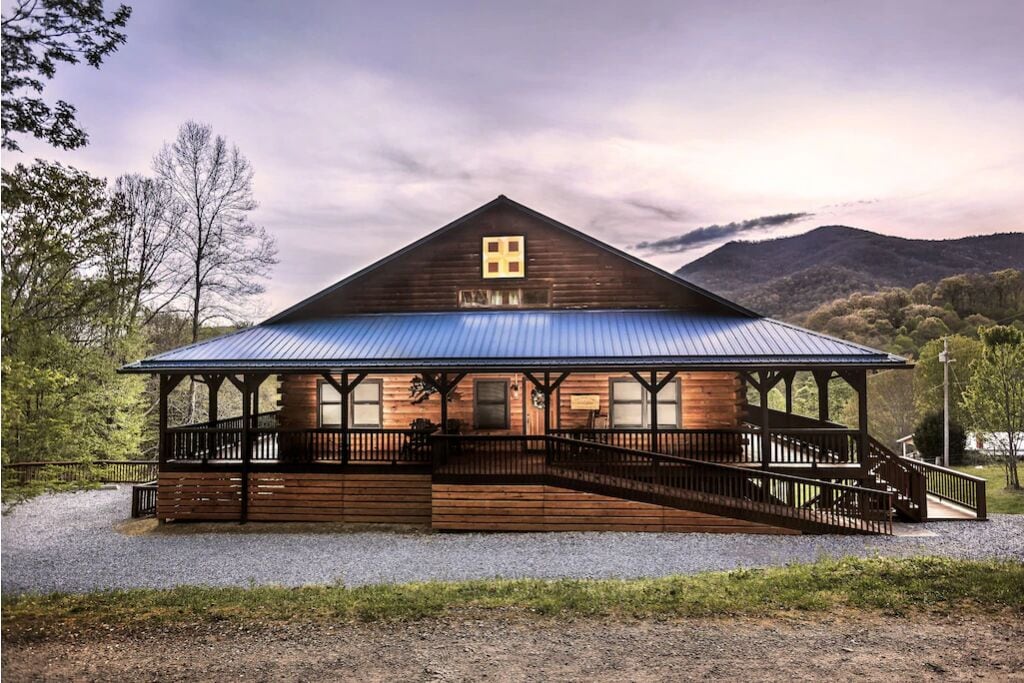 Where: Clyde
Price: $595+ USD per night
https://www.vrbo.com/2272653
The Hidden Valley community secrets this gem of a lodge. A little over 30 miles from Asheville by road (but closer as the crow flies), this 4000+ square foot home looks gorgeous in the late afternoon light. In addition to its interior, it boasts an impressive 4000 square feet of deck and porch!
The key plus point for this lodge is the sheer amount of people it can accommodate. Bring your family, and your extended family, too! This two-story mansion sleeps 26 people in 15 beds and six rooms. Certainly one of the bigger NC mountain cabin rentals, as far as hosted bodies go.
View Photos, Read Reviews & Check Availability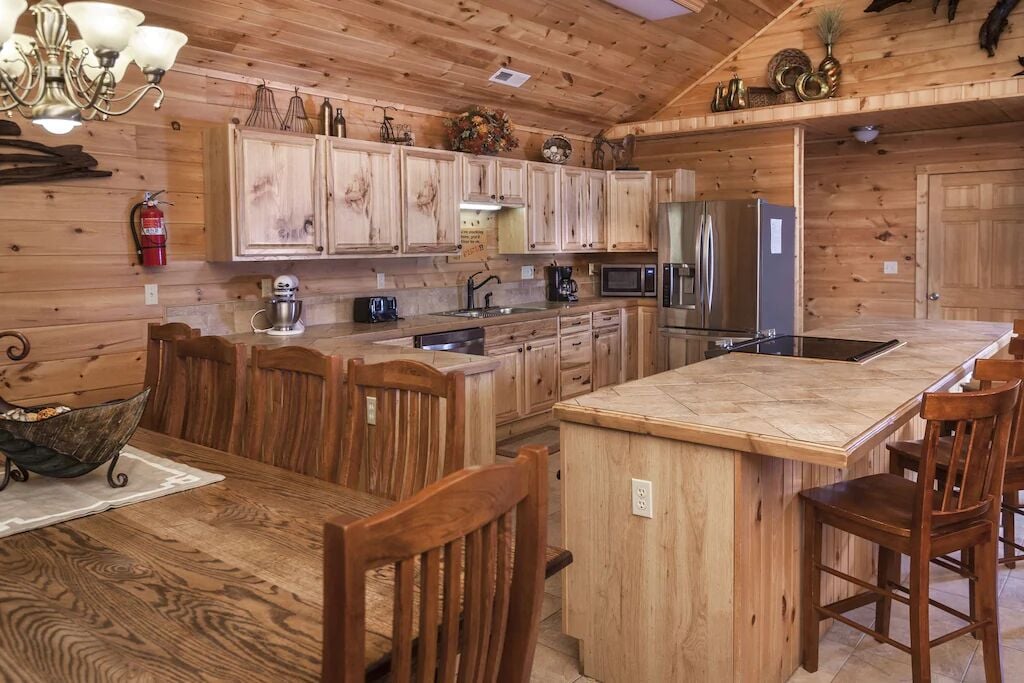 ---
5) #1 VIEWS IN BLACK MT. | LOG ESTATE | PETS | PRIVATE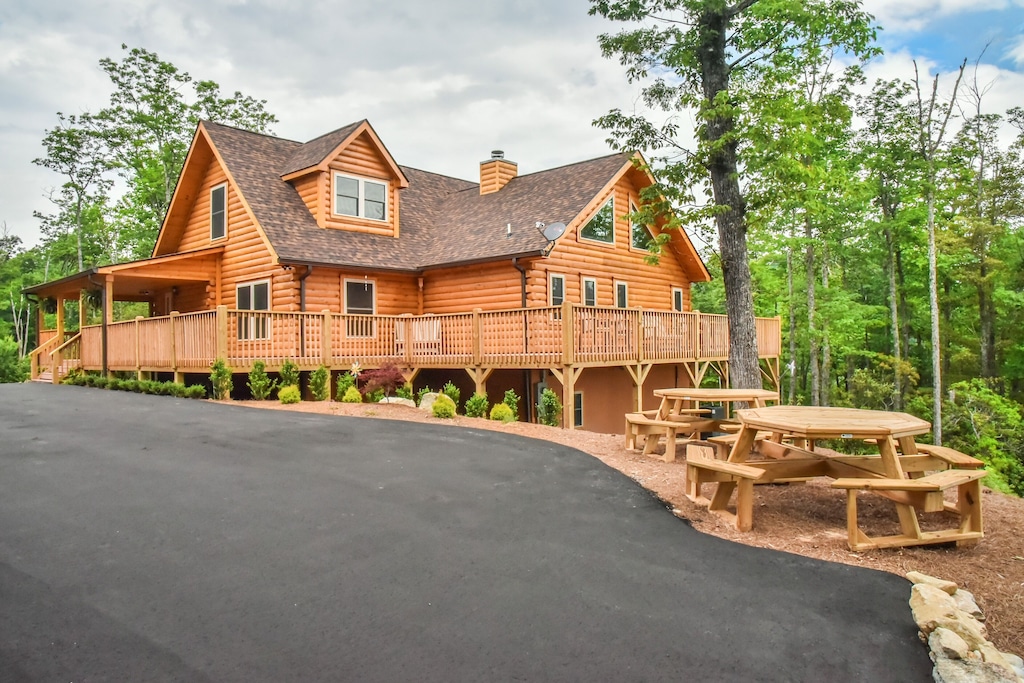 Where: Black Mountain
Price: $586+ USD per night
https://www.vrbo.com/1313348
Lots of Asheville, NC cabin rentals offer awesome mountain settings. Upon a hill, this luxury cabin serves 360 degree mountain views, plus plenty of hiking trails. Visit the nearby waterfalls, or just trek through the trees on the surrounding hills.
There are plenty of options for sitting out on the deck, to catch a sunrise or gaze at the sunset. You could also spend the day in the hot tub. Look forward to dinner across a table that actually seats up to 16 people.
And that bed in the main room looks ultra-comfy for a late lie-in. Or just break away to the games room for a crack at the arcade machine, the ping pong table, or the foosball (which seems to be standard for North Carolina cabins.)
View Photos, Read Reviews & Check Availability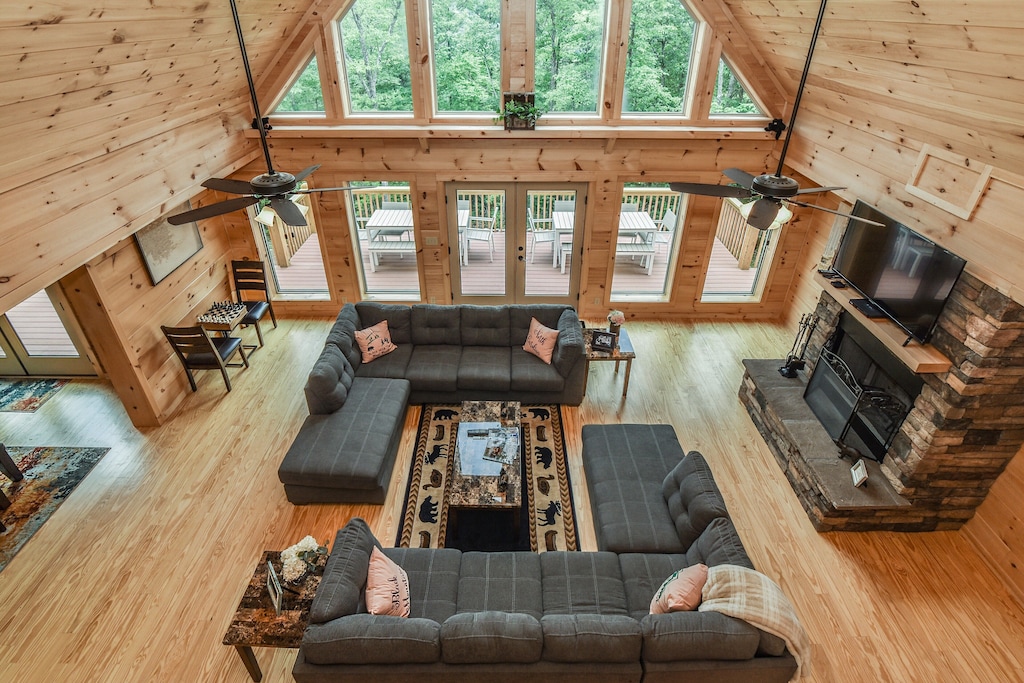 ---
6) Magnificent views, stone patio with kitchen, hot tub! Includes Biltmore!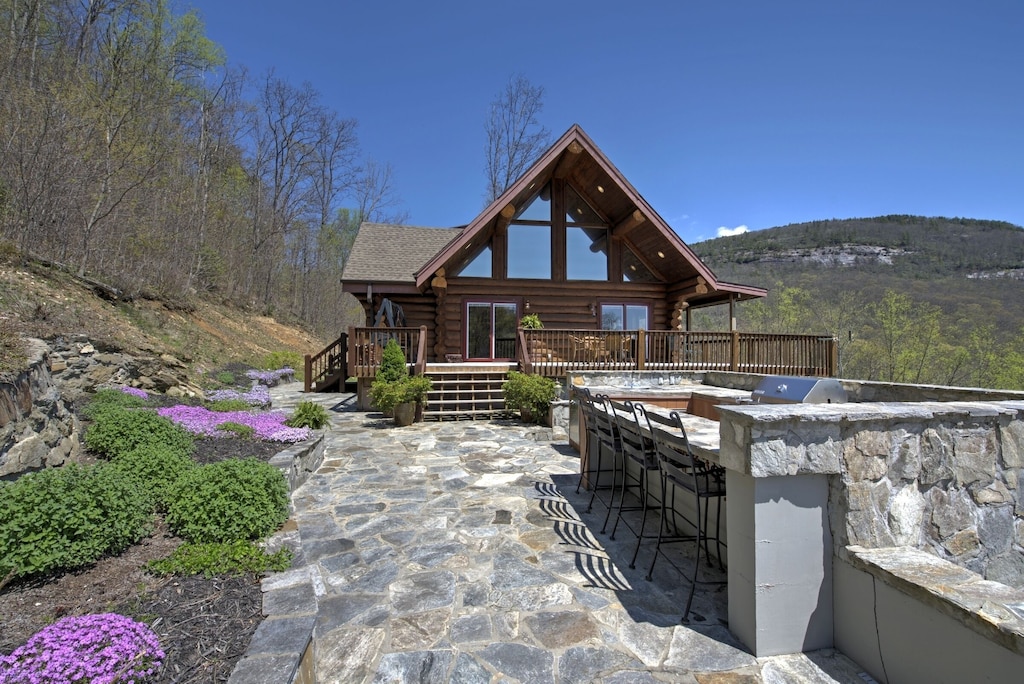 Where: Hendersonville
Price: $742+ USD per night
https://www.vrbo.com/1190043
Some Asheville cottages are just fun and unusual. Hendersonville is about 40 minutes south of Asheville, known for craft beverages, awesome hills with views, and cabins like these. There's a delightful outdoor BBQ area attached to this cabin that provides an immaculate overland view of the area.
The home is called Villa di Orsi, and the decor reflects the bear theme in quite a novel way. Of note are the sculptures of bears dotted throughout. And the best one is the bear on its back, holding up the coffee table in the living space.
Beyond that, simply sink in the six-person tub on the deck (or in your private jet tub in the main room). Spend your evenings looking out over the valley – the views are indeed breathtaking.
View Photos, Read Reviews & Check Availability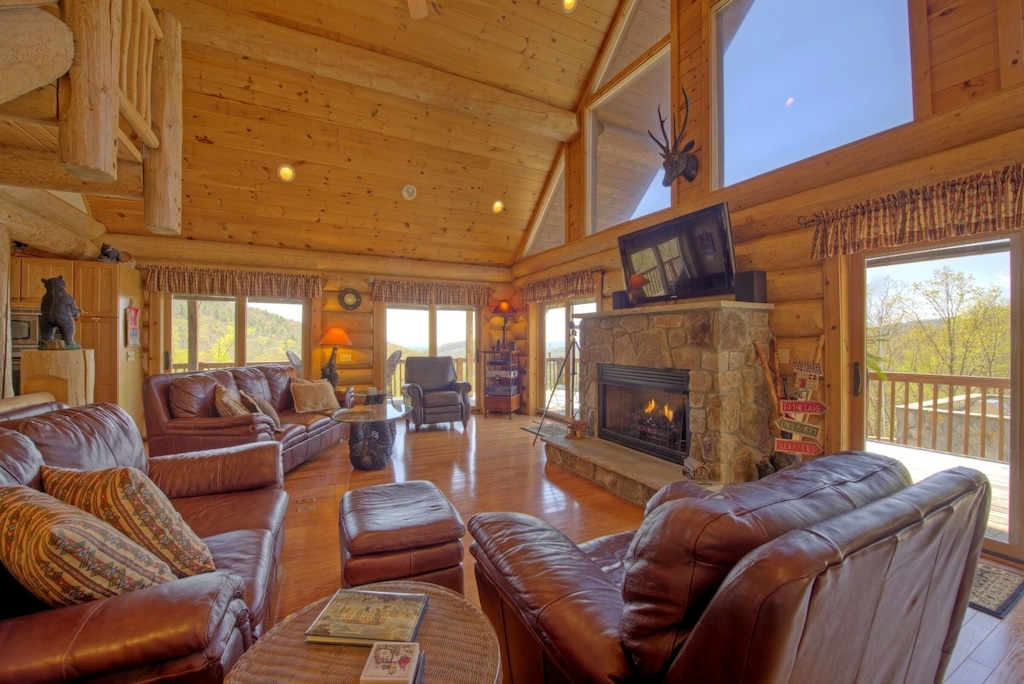 ---
7) Big Sky Lodge | Luxury Hot Tub & Long-range Views of Lake Lure!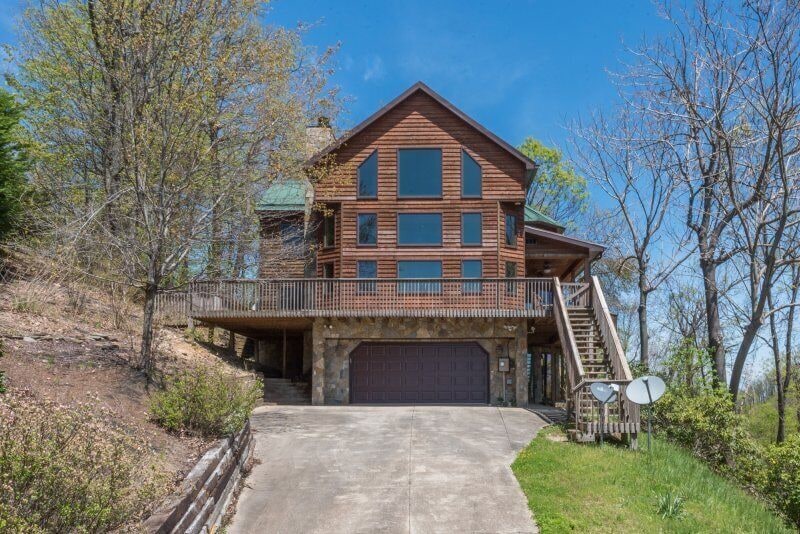 Where: Old Fort
Price: $540+ USD per night
https://www.vrbo.com/2039632
The first thing you'll notice as you come up the driveway is the enormous wall of windows. That bodes well for a sunny, or at least bright, home full of warmth and charm. In fact, it all just lights up a huge living space that you actually don't have to leave for your entire stay.
The cabin is packed with cozy couches, a huge TV, pool table, social kitchen, and more.
If for some reason, you do want to leave to check out the local attractions, you could drive to Asheville, just 30 mins away. But you could also try the boats, dinner cruises, and other fun activities at Lake Lure, also just 30 minutes away.
View Photos, Read Reviews & Check Availability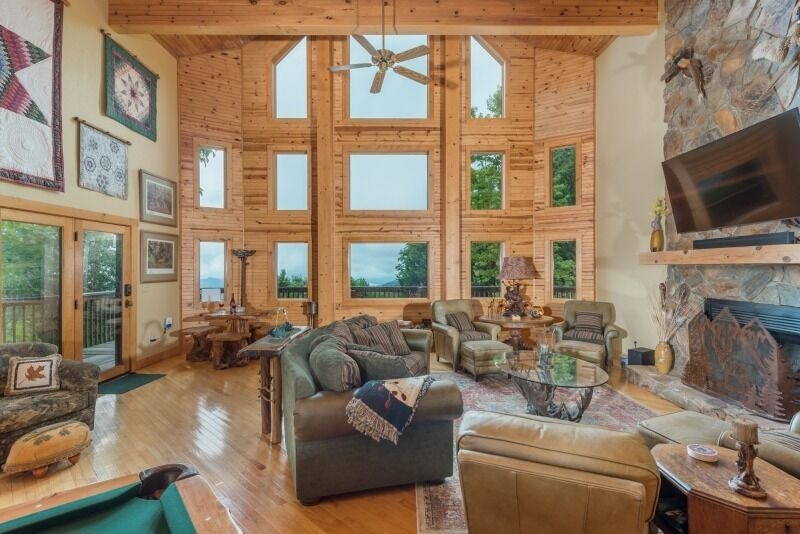 ---
8) Log Cabin Motor Court – Cabin 21/Black Bear Lodge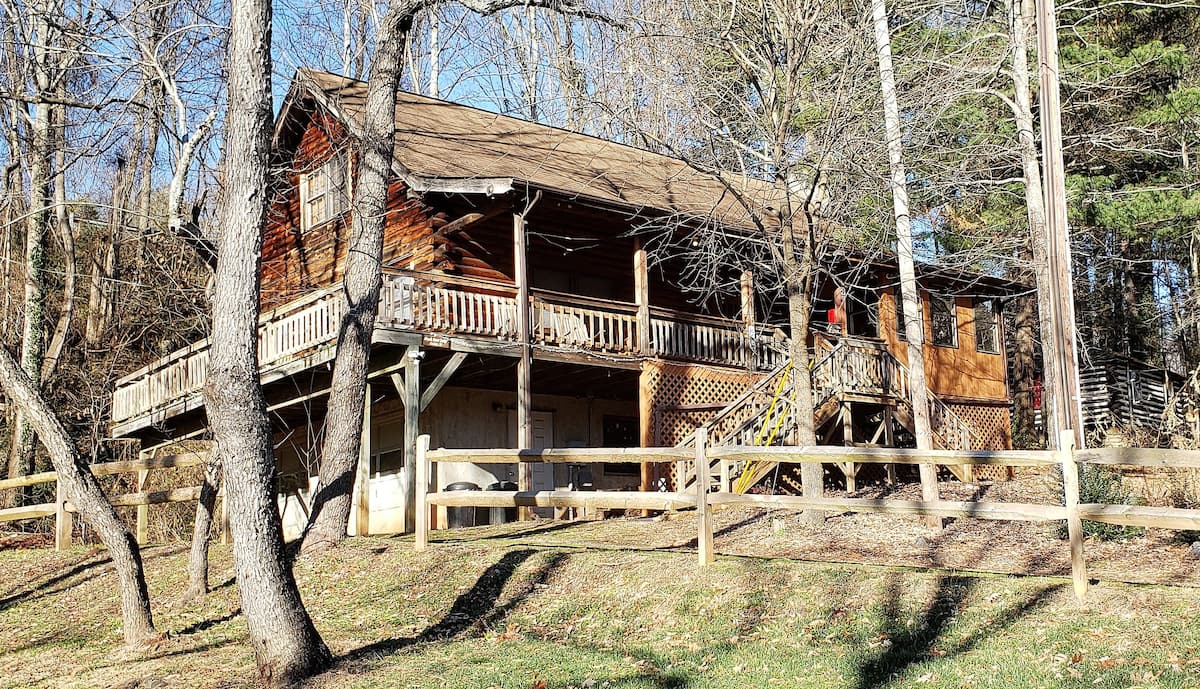 Where: Asheville
Price: $314+ USD per night
https://www.airbnb.com/rooms/1282834
Get a sense of the rustic and aged appeal of cabins in NC. This cabin's colors and wooden finishes offer a sense of "handmade", even though it subtly oozes the luxurious touch of a careful design. It's in the posters of the bed and the amazing paneling of the wooden walls.
Opting for coziness over opulence, this one makes for a great romantic option and will undoubtedly be perfect for visitors looking for calm and beauty. Also, the price compares favorably over many other similar luxurious Asheville cabin rentals on Airbnb.
View Photos, Read Reviews & Check Availability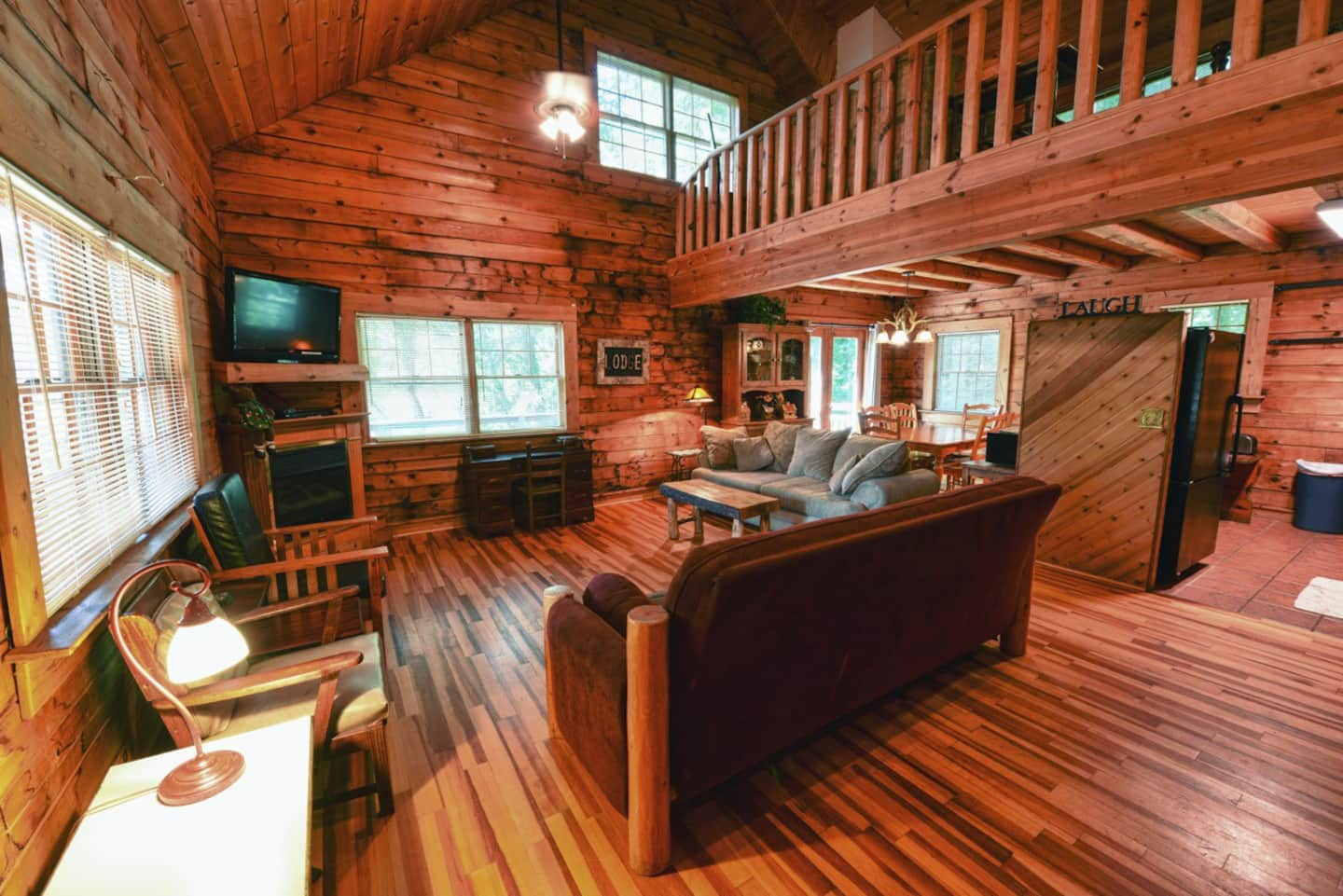 ---
9) Modern Round House with Incredible Mountain Views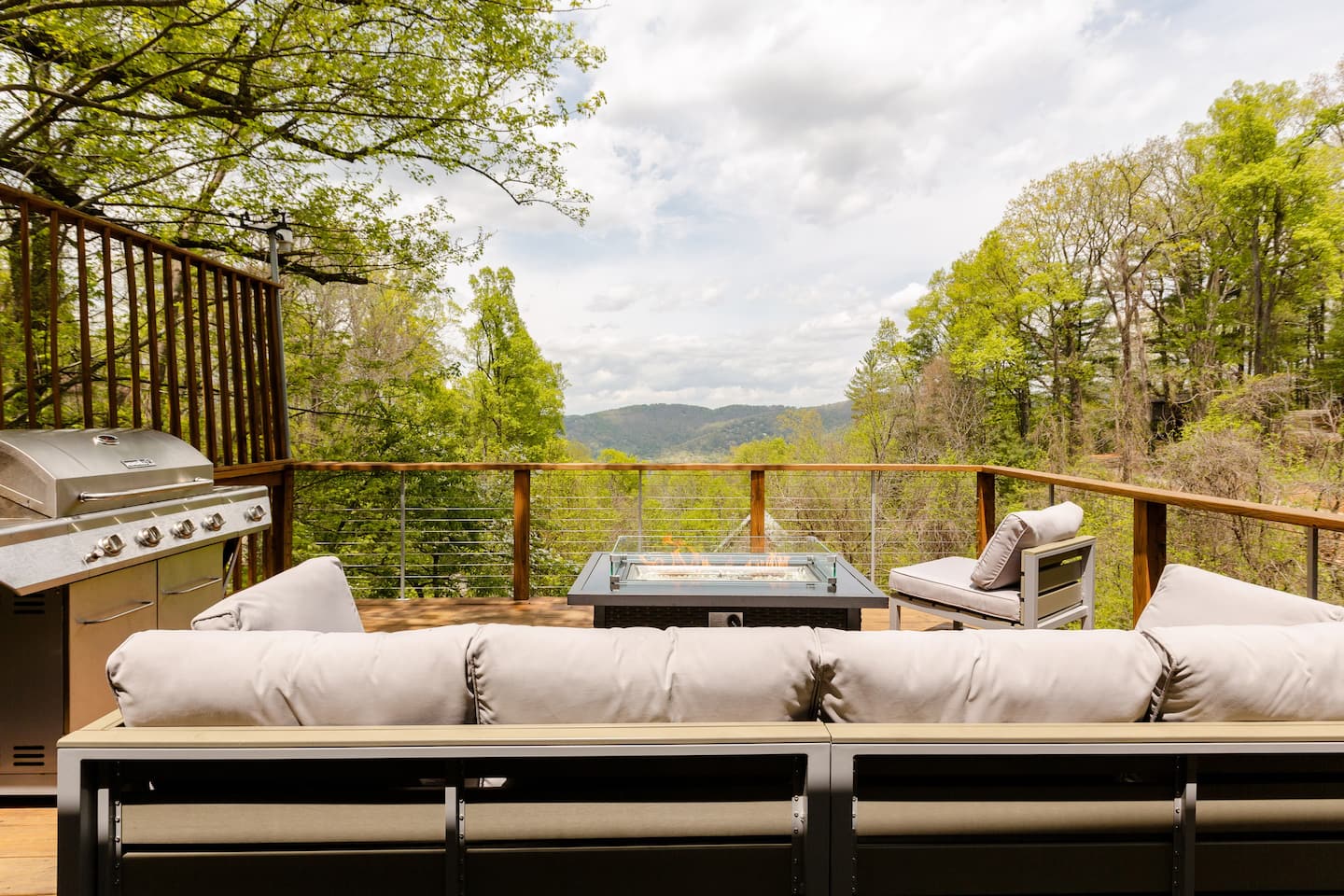 Where: Asheville
Price: $339+ USD per night
https://www.airbnb.com/rooms/29791163
The novel design of this house wraps windows around a curve, offering immaculate views of the woods and hills. There's also a lovely and stylish propane gas-powered fire table out on the deck that you'll be keen to try out as soon as the evening chill comes in.
You may be lucky, or unlucky, enough to spot a black bear trying to open your car doors (keep them locked). It makes this particular stay one of the more exciting cabin rentals in North Carolina. But for the most part, you'll want to enjoy the superb kitchen and living space's soft, white couch – which looks good enough to sink into.
View Photos, Read Reviews & Check Availability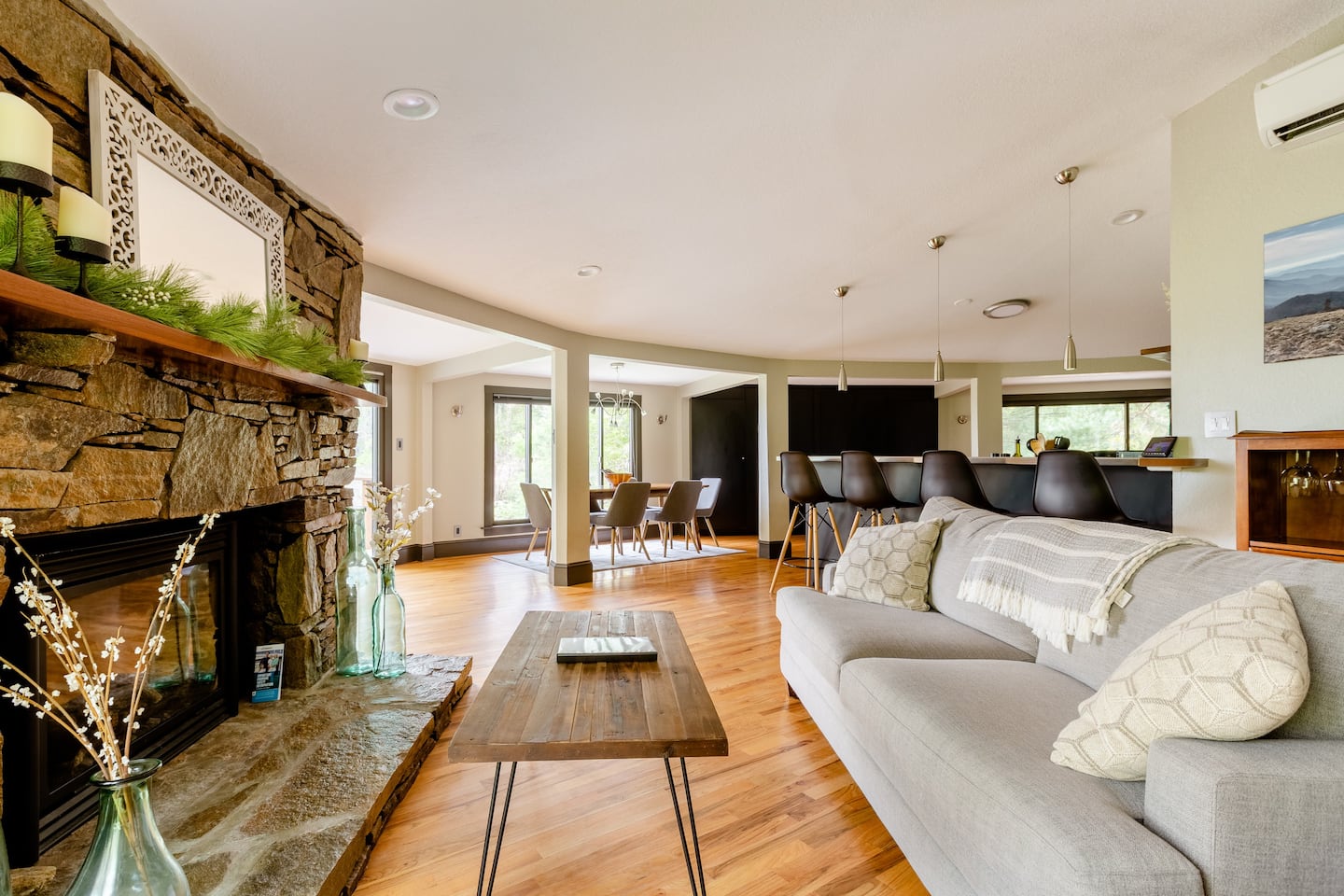 ---
10) Luxury Mountain Cabin Near Asheville, Lake Lure & Hendersonville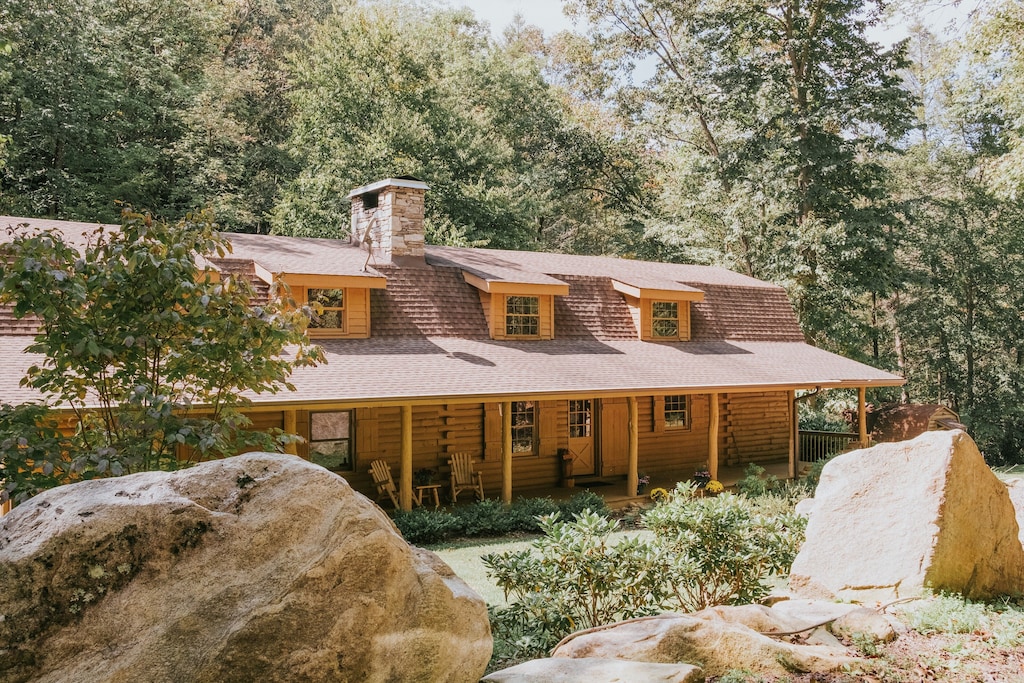 Where: Hendersonville
Price: $875 + USD per night
https://www.vrbo.com/1280572
There are lots of activities to do outdoors at most North Carolina cabin rentals. But this cabin is especially exciting, including taking advantage of a trout pond for your fishing fix. Less labor-intensive activities include soaking in the outdoor hot tub with mountain views or taking a dip in the swimming hole nearby.
Most will vote for the hot tub, which overlooks the babbling stream just behind the cabin. Indoors, the luxury leather armchairs facing the three fireplaces are tempting, as are the couches encircling the TV.
View Photos, Read Reviews & Check Availability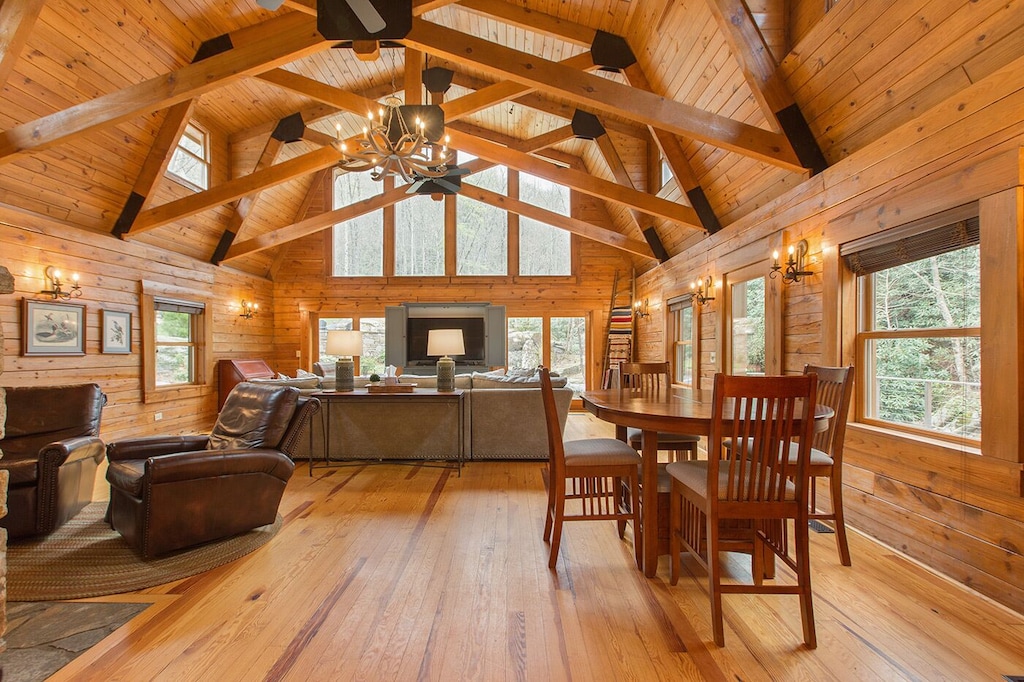 ---
11) Custom A-frame home on 20 acres with two miles of trails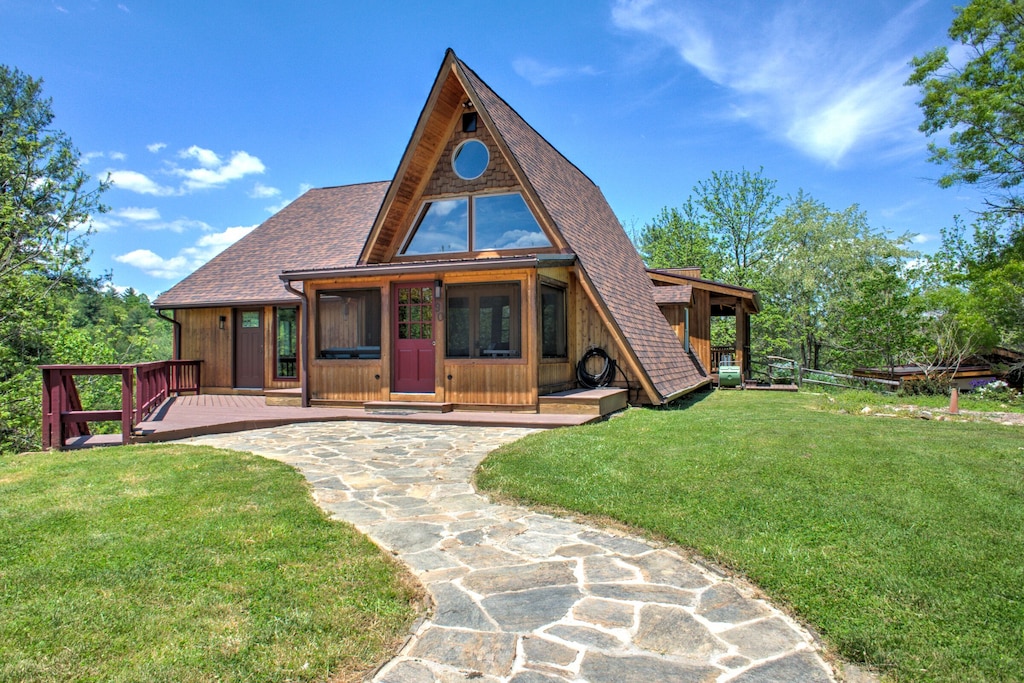 Where: Flat Creek
Price: $975+ USD per night
https://www.vrbo.com/2124029
Flat Creek is less than 20 minutes north of Asheville. This beautiful A-frame is named "Trail Time." As expected, its key draw is the access to several trails around the wilderness of the hills and forest.
The cute exterior indicates a similar feel inside, with a bent to rustic convenience and modern comfort. This includes quirky colors on the walls, odd shapes of couches and sofas, and wonderfully abstract art pieces.
But this doesn't detract from the luxury elements like the hot tub, superbly lit kitchen, and extraordinarily view-rich decks.
View Photos, Read Reviews & Check Availability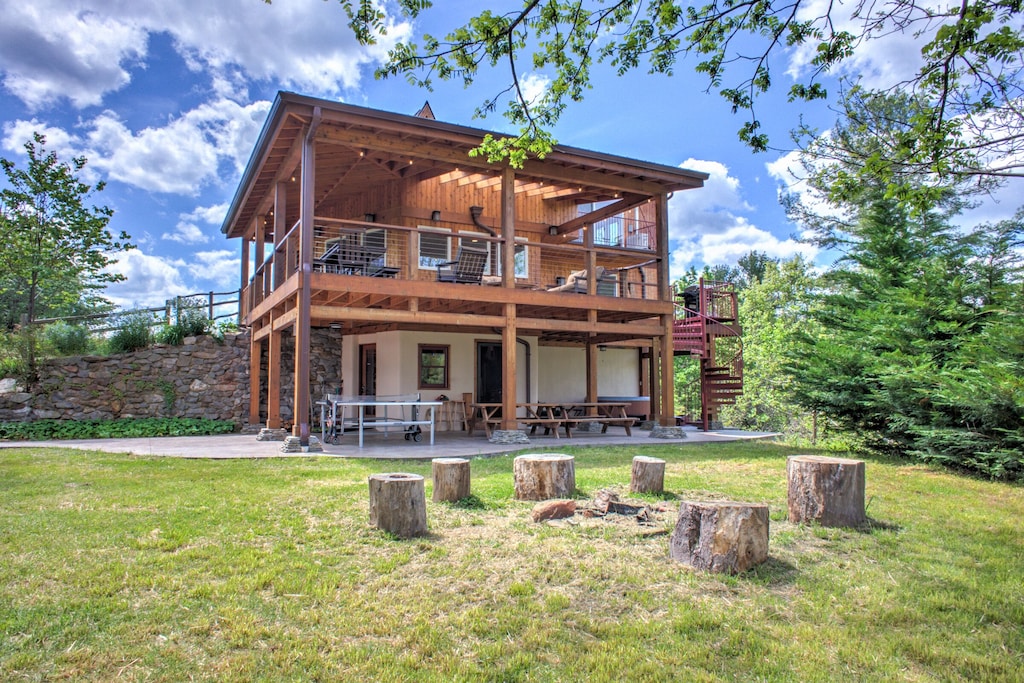 ---
12) Hot tub, Mountaintop Views and Two Decks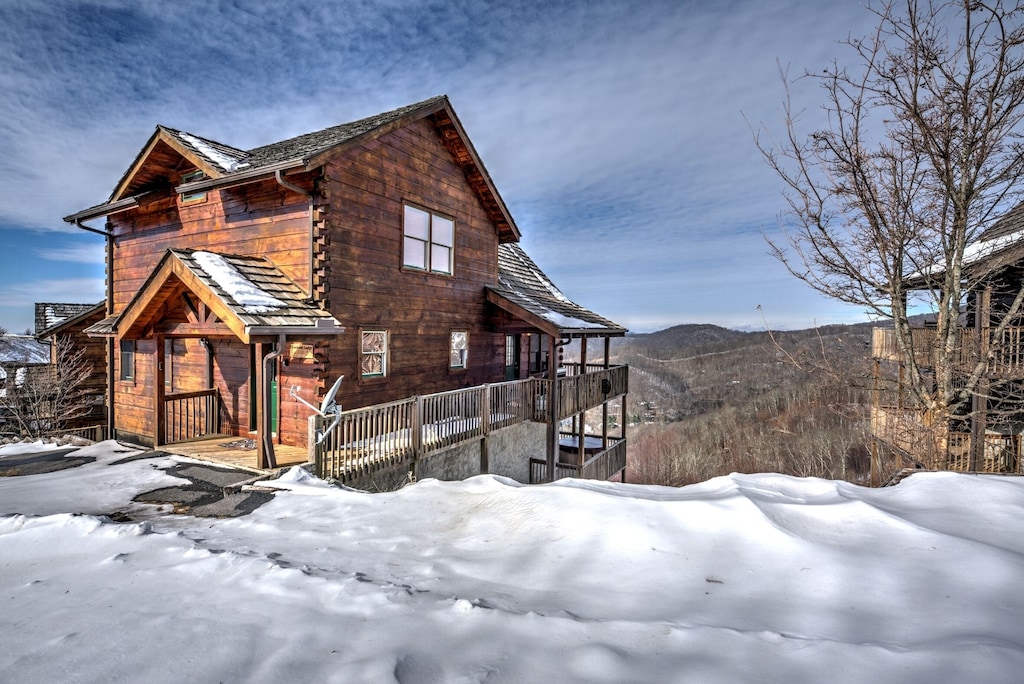 Where: Wolf Laurel
Price: $496+ USD per night
https://www.vrbo.com/1248738
A 40-minute drive north of Asheville lies Wolf Laurel. It's a gated community known for its tranquil natural beauty, mountains, and resort-style living, including a golf course. It's also where you can find some of the best cabins near Asheville, NC.
The hot tub here has those immense mountain views. The cabin is elevated at 4000 feet, part of a picturesque row of similarly styled cabins. By the way, they look positively mythic in the snowy wintertime.
The snug, cozy bedrooms contrast well with the huge A-frame living space with its multiple high-wall windows. And the fireplaces will no doubt be put to good use in the evening mountain air. This is one of the best cabin rentals near Asheville, NC, for sure.
View Photos, Read Reviews & Check Availability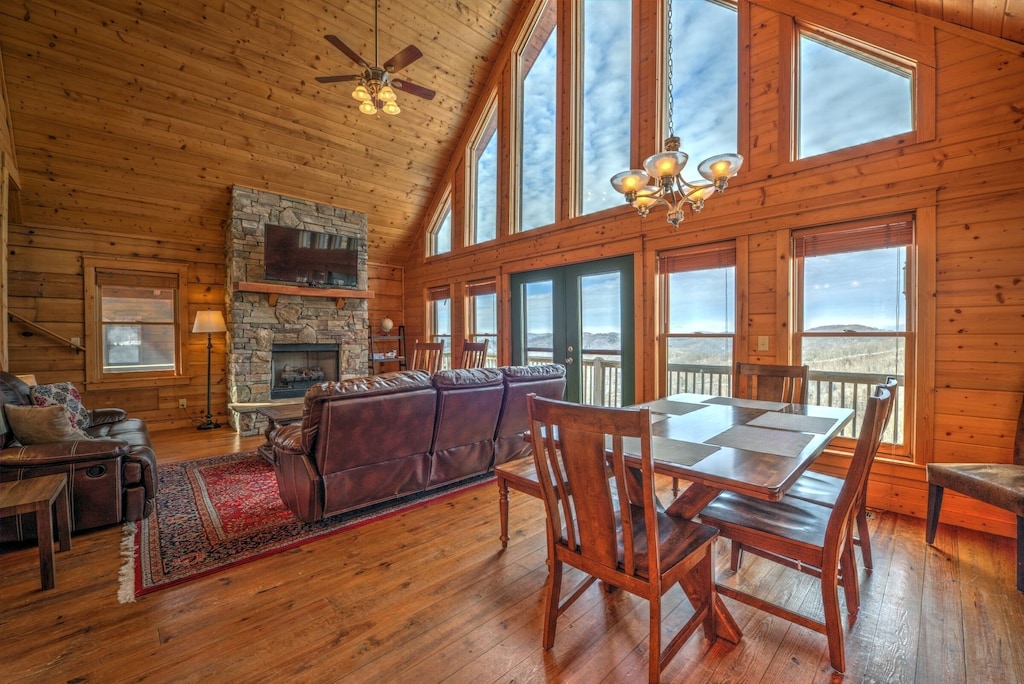 ---
13) Asheville Lodge – Sleeps 11-21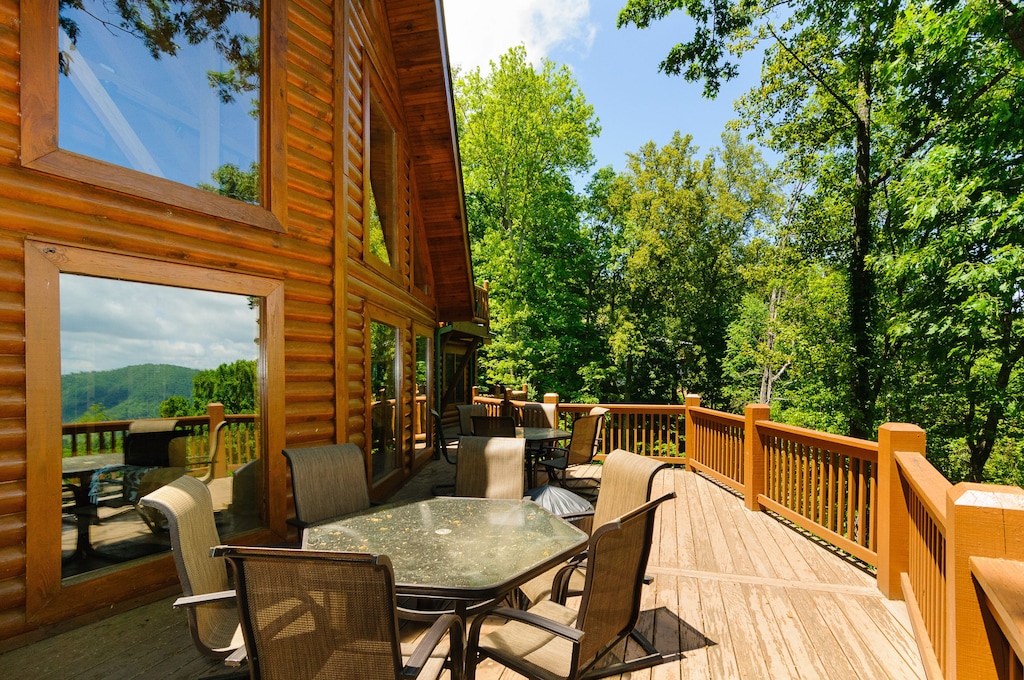 Where: Asheville
Price: $725+ USD per night
https://www.vrbo.com/421066
Some NC cabin rentals are just amazing when it comes to size, and cabins in the mountains are always the best kind. Three stories of space can provide any one of your parties with a private corner for a bit of peace and quiet. Even better when the others venture over to the Blue Ridge Parkway for a day of activities.
In the evening, the lengthy deck will have you watching the stars and the warmth from the fire pit will add to the romantic atmosphere. It's kind of what the best Asheville cabins do well.
Sink into the big leather armchairs in the A-Frame living space for after-dinner movies, or spend a few hours in the games room at the cards table or foosball.
View Photos, Read Reviews & Check Availability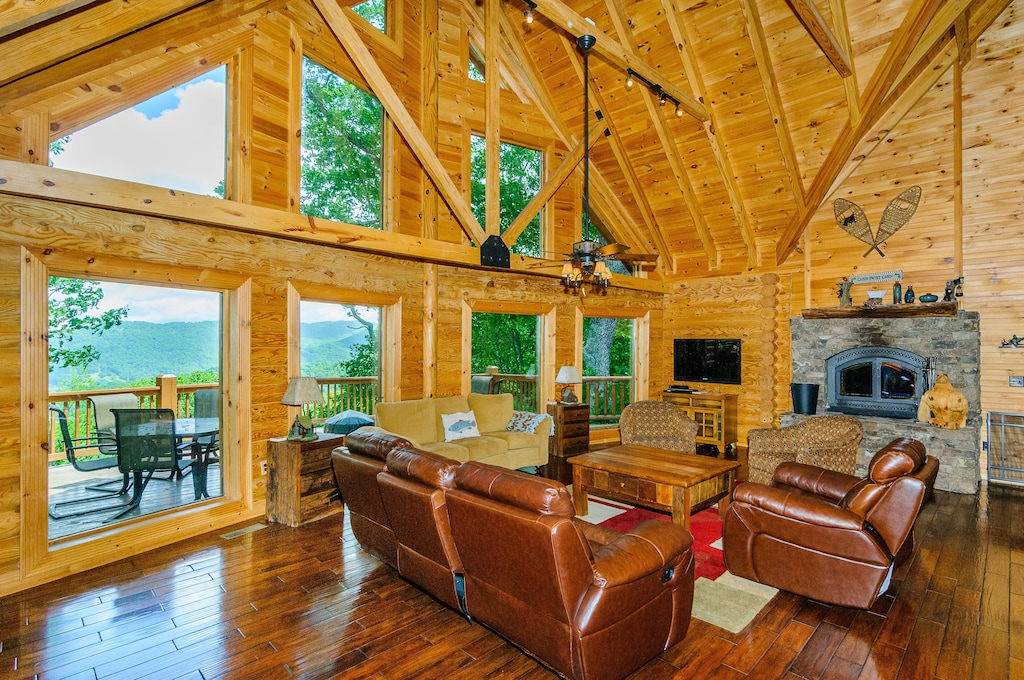 ---
Thanks so much for reading my guide! Hope you've found your ideal stay for your upcoming visit!
Twitter Facebook Pinterest
/0 Comments/by TravelTractionsJATWSours: https://www.jonesaroundtheworld.com/luxury-cabins-in-asheville-nc/
Buying Asheville Vacation Homes as Investment Properties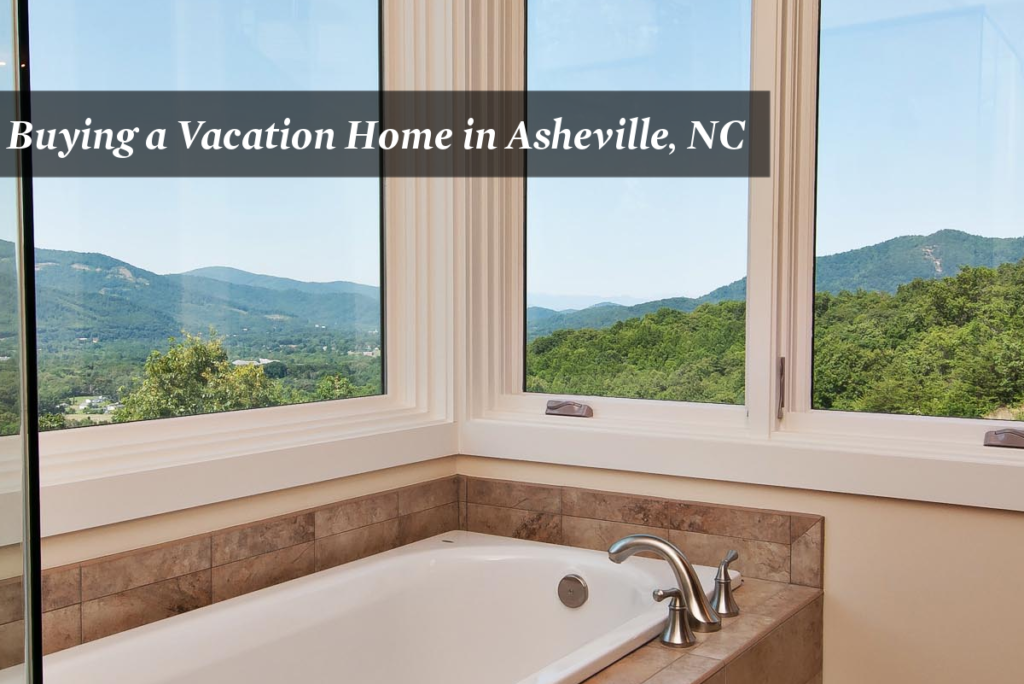 Asheville vacation homes have become a very popular type of investment property. It's safe to say we get more inquiries from buyers looking for vacation homes in Asheville, NC than we do buyers looking for multi-family investment properties. But before jumping into your search for a vacation rental, there are several important things to consider. These include: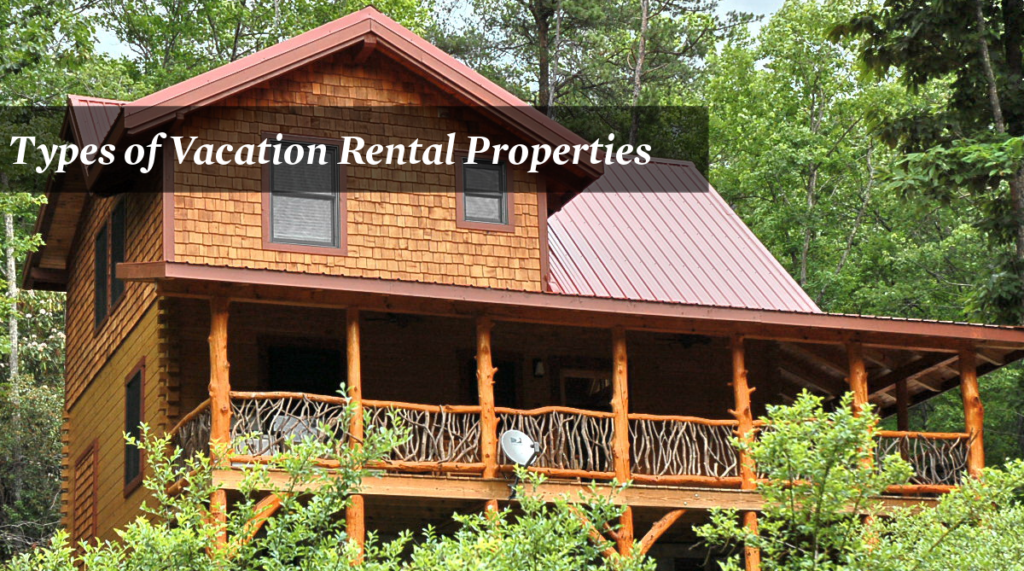 Types of Vacation Homes
There are many types of vacation homes that do well as investment properties in the Asheville area. Here are a few common types (but this not an exhaustive list).
Log Cabins in the Woods
Many vacation home buyers (and renters) envision the storybook log cabin home in an idyllic setting in the woods. Maybe there's even a mountain stream that runs through the property. Many vacation renters run Google searches for things like "Asheville cabin rentals" or other similar terms.
In-town Cottages
Buyers considering buying a home in Asheville to use as an income-producing vacation rental shouldn't limit themselves to just cabins. Cottages and bungalows closer into town are also very desirable because they give guests easy access to shops, restaurants, and nightlife. Homes near Downtown Black Mountain or Downtown Weaverville are great options for in-town vacation homes.
Downtown Condos
As a general rule, short-term vacation rentals are not permitted within the Asheville city limits (more on this in a moment), but there are exceptions. Some of these are in the Central Business District in Downtown Asheville. There are some condominium buildings downtown that were issued short-term vacation rental (STVR) permits and "grandfathered in" as permitted vacation rentals. In some cases, these permits don't apply to the entire building, but only to units on certain floors. These specific condos are in high demand and typically sell quickly when they come on the market.
When condo units in Asheville are available for use as a vacation rental, they also sell for more than an otherwise similar unit that does not have the option to be used as a vacation rental.
The Mountain Home with Big Views
Another common renter (that looks for vacation rentals in the Asheville area) wants a home on top of a mountain with jaw-dropping mountain views. Sometimes, only "layered" mountain views will be considered.
This type of vacation home will look great in photographs, and those pictures are great at attracting vacation tenants on sites like Airbnb and VRBO. As a general rule, these homes are located in more rural locations, but that's not written in stone. Some of these homes can be located just outside of the City of Asheville or towns like Black Mountain and Weaverville, and they can still have amazing mountain views. These select homes with big views and easy proximity to amenities in town have incredible potential as vacation rentals.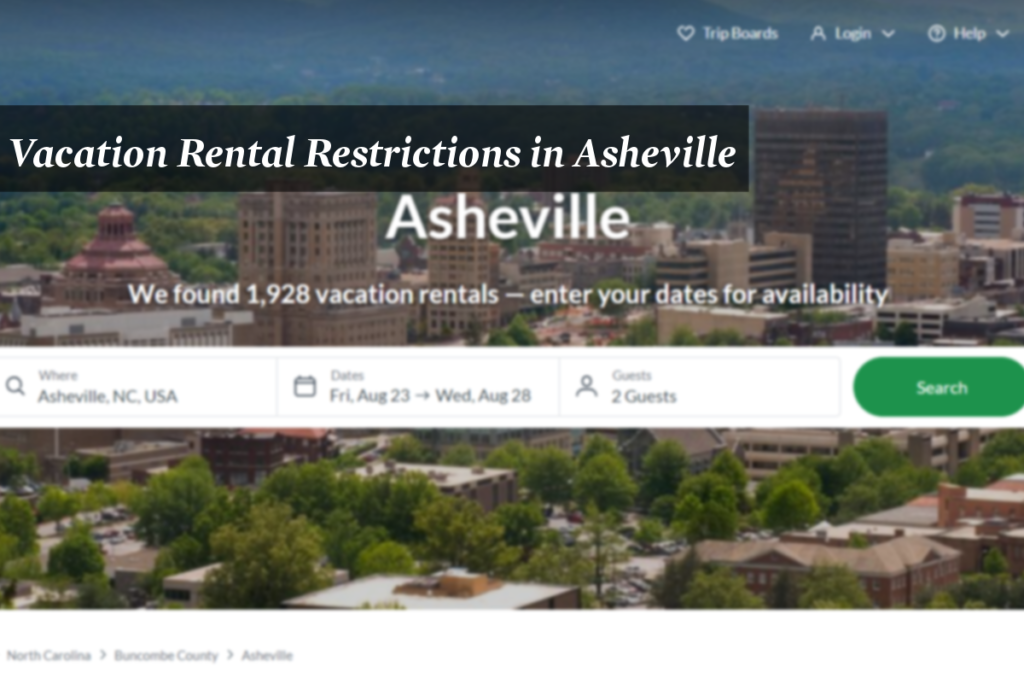 Vacation Rental Restrictions & Types of Vacation Rentals in Asheville
There are some important rental restrictions to consider before investing in a short-term rental in the Asheville, NC market. These include restrictions imposed by the City of Asheville, as well as private deed restrictions and zoning considerations. It's also important to understand the types of vacation rentals that exist in Asheville.
Short Term Vacation Rentals
In the City of Asheville, short-term vacation rentals are properties rented for less than 30 nights. The owner does not live on the property. Short-Term Vacation Rentals are also referred to as STVRs. The City of Asheville has very specific limitations on homes rented for less than 30 nights.
HomeStays
The key difference between a homestay and an STVR is the homestay is owner-occupied. The owner may rent rooms in the home for up to 30 days as long as the owner lives in the home on a full-time, permanent basis. Homestays have become increasingly popular as the city has clamped down on conventional vacation rentals. But this is not an option for a homeowner who wants to rent their second home (non-primary residence) as an STVR.
City Restrictions
Before buying a home to use for Airbnb or VRBO in Asheville, it's important to understand where you can and can't use a home for such purposes.
The City of Asheville has long had restrictions on using private homes as short-term rentals, and most houses in the city limits were subject to 30-day minimums for vacation rentals. However, this was a complaint-based system and the fines imposed by the city were minimal. So your neighbor would have to be annoyed to the point of reporting the violation, and even then the fines issued by the city were not usually enough to dissuade homeowners from continuing to use their Asheville homes as vacation rentals.
However, in 2016, the City of Asheville began to really enforce the rules on investment vacation properties. Armed with a higher fine of $500 per day and a third-party company assisting the city in identifying short-term rentals, the number of advertised vacation rentals plummeted.
Private Neighborhood Restrictions
Within a neighborhood, there can be deed restrictions that can prohibit short-term rentals or require a minimum number of nights that a home can be used as a rental. This requires a more intimate knowledge of the specific community, so let us help you determine if a particular subdivision allows investment homes to be used as vacation rentals.
Zoning Restrictions
Within the City of Asheville, vacation rentals are only "permitted by right" in areas under "Resort Zoning." However, Resort zoning only applies to the Grove Park Inn and Crowne Plaza Resort, which of course are occupied by these resorts. Even beyond the city limits of Asheville, other zoning ordinances (including Buncombe County zoning) can regulate vacation rentals.
As a general rule, vacation rentals are allowed in all areas where Buncombe County zoning is in effect. But there can still be restrictions on things like the number of vacation cabins permitted on a particular property. So it's always worth investigating and checking with the applicable zoning department.
Managing your Asheville Vacation Rental
Self-Managed Investment Properties
One of the most important things to consider when buying any type of investment property is how you will manage it. It's quite common for owners of investment properties to list their vacation rentals on AirBnb.com, VRBO.com, HomeAway.com, or other sites. These websites provide incredible exposure, and the owner can handle the cleaning and maintenance themselves (or hire third parties).
These sites can charge several types of fees. These include processing fees (to cover the costs of accepting electronic payments or credit cards), annual subscription fees, or service fees. The bulk of the fees on these websites are typically charged to the renter, resulting in lower fees to the homeowner, or the "host."
Using a Property Manager for Your Vacation Rental
Using a professional vacation rental manager can make owning an investment home for vacation rental a more hands-off investment. But it will come with higher costs. Asheville area property managers typically charge over 20% for vacation home management. But they will also schedule maintenance, coordinate housekeeping, follow up with rental inquiries, and handle the bookings.
The vacation homeowner should still check on the property periodically to be sure the rental home is being maintained as it should be. This is because property managers can get very busy handling inquiries and bookings, and smaller maintenance items can get overlooked. And even the best property manager will not be as meticulous as the homeowner when it comes to taking care of an investment property.
What Kind of Expenses are Involved in Owning a Vacation Home?
The costs involved in owning a vacation home that you rent out are very different than the costs involved in a conventional investment property that is rented out long-term. Here are a few of the key differences to consider before buying a vacation rental property in North Carolina.
Higher Mortgage Interest Rates for Investment Properties
As a general rule, homes purchased for second home use or to be rented out on VRBO are viewed as riskier loans to lenders. Therefore, they typically charge a higher interest rate, usually around a quarter to a half percentage point higher than a mortgage on a primary residence. Also, down payments will usually be around 25%, compared to 20% or even less for primary homes. Of course, there are exceptions, and each situation will vary depending on the borrower's creditworthiness. It's worth speaking with a lender prior to shopping for a vacation home to see what type of financing you can get.
Monthly Expenses for a Second Home
When budgeting for a vacation home purchase, be sure to consider the ongoing costs. The owner of the home will be responsible for all utilities and routine maintenance, as vacation tenants are typically not expected to handle maintenance items.
Here is a list of expenses that you can expect to pay when you buy a vacation home in Asheville. This is not a complete list, but it's a general list that will apply to most properties.
Mortgage interest
Property Insurance
Property Taxes
Electricity
Natural Gas/Propane
Water/Sewer Bill
Phone/Television/Internet
Landscaping Maintenance
Housekeeping (unless billed to the renter)
Cost of Furnishing the Home
Routine maintenance and handyman type repairs
Hot tub maintenance (If the home has a hot tub, it must be cleaned between each renter).
Do Asheville Vacation Homes Pay for Themselves?
Oooohhhh…that's a loaded question. And it really depends. For the buyer looking for maximum cash flow, we usually recommend long-term single-family or multi-family rentals. The costs are lower for long-term rentals, including lower rates for property management. And utilities are typically paid for by the tenants. There is also less turnover and less vacancy, making it easier to project revenue.
But a well-marketed or well-managed vacation rental can definitely make money. If the property was acquired for cash, then it will generate positive cash flow. If there is a mortgage payment involved (known as debt service), then cashflow is lowered by the amount of the debt service. At the same time, the original investment (the down payment) is lower.
The investor's required ROI (return on investment) will determine if the vacation rental is an acceptable investment. But keep in mind that a vacation cabin will also be available for use by the owner's family and friends. In fact, this is why most vacation owners purchase a vacation home in the first place; they want a place to use for themselves, and the rental option helps offset ownership costs when they aren't there themselves.
Where is the Best Place to Buy a Vacation Rental in Asheville?
Again, this is a tough one to answer. But we can help narrow it down. First, be sure to choose an area that allows vacation rentals! This may seem obvious, but it would be an easy mistake to make given the recent changes in such laws in the Asheville area.
It's worth keeping an eye out for Downtown Asheville condos that already have STVR permits. But that's a small market, and so let's assume we're talking about homes outside the Asheville City limits so we're not limited to just homestays. Consider areas located near Asheville but just beyond the city limits so STVRs are permitted and city amenities are nearby. This would include areas like Town Mountain, Fairview, and Arden.
Next, consider other towns that are more pro-vacation rental than Asheville. These areas would include Black Mountain, Montreat, and Weaverville. And keep in mind that generally, every part of the county outside the City of Asheville allows vacation rentals. There are some exceptions, but this is a good way to begin your search for a vacation home to buy. There are a good number of log cabins for sale in more rural areas, and these often make great rental investment properties.
Properties Subject to the North Carolina Vacation Rental Act
One last point to touch on is the North Carolina Vacation Rental Act. Much of this law has to do with how property managers (who must have a North Carolina real estate license) handle deposits and rental agreements. But it also has one very important rule for buyers looking to purchase an investment property to be used as a vacation rental.
If the home you purchase is subject to future vacation rental agreements for up to 180 days after closing, the buyer will take the title to the home subject to those rental agreements. So those agreements must still be honored.
Ready to Buy a Vacation Home in the Asheville Area?
Many of our clients invest in short-term rental properties, especially when they spend some vacation time in our area themselves. We have tons of experience working with second homeowners, and we'd love to help you find your dream getaway in the Asheville area! A great way to get started is to create a listing search and find out about new vacation home listings immediately. Let's get started looking for your perfect property!
Filed Under: Asheville Area Information, Asheville Real Estate Market, Buying Tips, Neighborhoods and Communities
Sours: https://www.freestoneproperties.com/blog/buying-asheville-vacation-homes/
Asheville North Carolina Vacation Rentals
Asheville North Carolina Vacation Rentalsrustypixel2021-03-23T14:57:45-04:00
Panoramic Mountain Views Renovated Luxury Secluded Retreat, 5 min from Asheville
Asheville Mountain Alchemy is making its premiere to VRBO, March 09 2018. It is conveniently located one block from its sister property VRBO # 831482 . The close proximity of the two properties is ideal for large family get togethers . Asheville Mountain Alchemy is a 5 bedroom / 4 bathroom Modern rustic retreat . It features top of the line amenities, two outdoor decks overlooking the mountains, with ample seating and a Weber grill. Enjoy the fire pit gathering area for a true mountain experience. This vacation rental boasts location, location, location. You will experience total serenity and peace in this woods-like setting amidst the panoramic views of the Majestic Blue Ridge Mountains, while being minutes to downtown Asheville. This home is perfect for family gathering , a friends retreat or just a respite in the Mountains.
Best Of Both Worlds, 3,000 ft Mountain Views & 3 miles from Downtown Asheville
If you are hosting a reunion and need multiple nearby properties, or if they dates you are requesting are unavailable, visit our new VRBO mountain view property, one walking block away #1288240. Mountain Vista Alchemy embodies serenity and relaxation in a stylish natural setting. This private mountain home located in the Blue Ridge Mountains evokes a sense of balance and with downtown Asheville within 3 miles and 2 miles from the Omni Grove Park Inn. You will feel energized by the city's restaurants, shops and breweries. The majesty of the 3,000ft elevation and the 3 mile proximity to eclectic downtown Asheville makes this vacation rental a perfect getaway. "Mountain Vista Alchemy" as we endearingly call our home, has expansive mountain vista views from most parts of the house.
Bungalow /River Arts/French Broad River
Location: As for Upstream Cottage, this private home is located just outside downtown Asheville, overlooking the French Broad River and the Biltmore Estate property; an easy 5 minutes to downtown Asheville, the Biltmore Estate, Shopping in Biltmore Village, the River Arts District and Haywood Road with its energetic collection of restaurants and shops! At Upstream Cottage, you are within walking distance to Climbmax climbing gym and several coffee shops as well as river access to float the river with shuttles available by Asheville Outdoor Center located just down the street and rentals through Zen tubing. You can even enjoy a relaxing float to the newly opened New Belgium brewery located just around the corner. You are only 15 minutes to Asheville Regional airport. You are essentially close to 'everything' in and around Asheville. The home is accessed via only paved roads.
Sours: https://alchemygetaways.com/asheville-north-carolina/
🌲Welcome to Red Apple Cabin Vacation rental home in Blue Ridge Georgia on top of the mountains🗻
Apply for a homestay permit
---
A homestay is use of land that can be permitted in your home if:
You live in a residentially-zoned area
You live in the house or apartment ("dwelling unit") full-time;
You propose to rent one to two bedrooms; and
You propose to rent out these bedrooms for less than 30 days at a time.
Rental of an entire dwelling unit for less than a month is called a short-term vacation rental (STVR). STVRs are only permitted in the resort zoning district.
Notice: Review the ordinance and resource links below for more information and to apply for a new homestay permit or annually renew an existing homestay permit.
---
Resources
Apply for a New Homestay Permit
Renew and Existing Homestay Permit
Read the Ordinance (See Item 9 – Homestays)
Homestay Frequently asked questions and answers
---
Contact Information
Shannon Morgan, Development Review Specialist
828-259-5829
---
Updated 02/05/2020
---
Sours: https://www.ashevillenc.gov/service/apply-for-a-homestay-permit/
Nc vrbo asheville
Enjoy the Fall Color Change at these Incredible Vacation Rentals in Western North Carolina
Looking for a mountain vacation rental to witness the colors of fall pour over the mountainside? It may seem early, but the time is NOW to book vacation rentals in the mountains for the fall season. The mountains of North Carolina are famous for their dramatic shows during fall when the leaves change. There's no better way to enjoy it, than with a hot cup of coffee in your jammies at sunrise. Here's a list of vacation rentals where you can enjoy the fall colors.
Fall is the most popular time to book a cabin in Western North Carolina. If your dream location is booked already, we suggest getting an early start on the next fall season.
If you are looking for more to do during your stay, we have a guide to fun things to do in Western North Carolina. 
Looking for a different kind of rental? These vacation rental cabins all have indoor pools!
Through the Stay22 affiliate program, Kidding Around earns when you book through these links.
Amazing Fall Color Vacation Rentals in Western North Carolina
These vacation rentals are perfect for enjoying the fall colors in Western North Carolina!
Treehouse: America's Smallest Castle
Near Asheville, NC
This isn't your ordinary treehouse, the owners call it a "tree castle." The treehouse theme runs through every interior and exterior space in this gorgeous house. Add in the beautiful wooded setting and views and you have the perfect spot for a small family to enjoy the fall.
Bamboo House at Mountain Meadows
Asheville, NC
This luxurious house has many things to offer including extraordinary views on the deck set up in the trees. You'll enjoy relaxing evenings in the hot tub and both an indoor and outdoor fireplace.
4 bedrooms and 3 bathrooms
Sleeps up to 8 people
5 miles away from downtown Asheville, NC
Outdoor furniture and firepit
Hot tub
Grill
Book Bamboo House at Mountain Meadows on VRBO.
Rustic Cabin
Near Bryson City/ Nantahala Outdoor Center
This house has an amazing view of the tree-filled mountains, perfect for enjoying autumn colors. We love that guests can enjoy the view from the hot tub as the sunsets. Former guests call this rental "immaculate" and love all the features that make this house feel like home.
3 bedrooms, 1 bathroom
Sleeps 6
Covered back porch, and deck
Hot tub
Accessibility: Handicapped friendly features
5 miles from the Nantahala Outdoor Center
Book Rustic Cabin on VRBO.
Mountain Oasis
Near Asheville, NC
This house is full of family-friendly amenities, plus great outdoor spaces where you can enjoy the fall colors. Your family will love the private inground pool, pool table, hot tub, and gas fireplace.
3 bedrooms, 3 bathrooms
Sleeps 8
Hot tub and pool
Pool table
15 minutes to Downtown Asheville, NC
Book Mountain Oasis on VRBO.
Log Cabin on Spivey Mountain
Near Asheville, NC
This gorgeous log cabin has wooded views perfect for fall colors, large decks, and a hot tub, making it the perfect WNC fall family escape. You'll love the stone fireplace and exposed beams inside. Plus, you're just a few minutes from all downtown Asheville, NC has to offer.
Treehouse in Highlands
Highlands, NC
Enjoy autumn's colors from this log cabin set up in the trees. We love the huge stone fireplace in the family room, plus all the beautiful interior woodwork and cabin furniture. Outdoors is another beautiful fireplace and hot tub.
4 bedrooms, 4 bathrooms
Sleeps 12
Hot tub
Fireplace
Log cabin, Treehouse height
Book Treehouse in Highlands on VRBO.
Lakefront Cabin
Near Glenville, NC
Experience an amazing fall retreat in a lakefront cabin with a private dock including kayaks for your use. Even your furry friends can come along to this cabin. Enjoy fall color views across the lake and all around the cabin.
2 bedrooms, 2 bathrooms
Sleeps 6
Private dock with 2 included kayaks
Deck
Stone fireplace
Book Lakefront Cabin on VRBO.
Where do you like to stay with fall color views?
Sours: https://kiddingaroundgreenville.com/fall-rentals
24 HRS in Asheville North Carolina - 5 Things You Should Do And See
.
Similar news:
.
207
208
209
210
211