Garmin STRIKER 5cv
---
Deliveries
We offer UK, Europe and Worldwide deliveries. We despatch orders at 5.30pm on Monday, Tuesday, Wednesday, Thursday and Friday. We need to receive your order on those days by 4.30pm. When possible we may despatch orders received after that time. No orders are despatched after 5.30pm and no orders are despatched on Saturday or Sunday.
We offer FREE UK delivery on all orders of £40.00 or more, plus next working day and guaranteed Saturday delivery options. Click here for further info. All options also appear at the basket pages.
---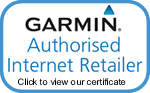 The Garmin STRIKER 5cv is a fishfinder with GPS technology and CHIRP Sonar. The screen on the STRIKER 5cv is 5-inch colour display.
With the in-built GPS technology you can mark hotspots such as good fishing locations, docks or ramps. You can then easily navigate back to these stored locations. If you have a echoMAP charplotter too you can share waypoints and routes between your STRIKER and a Garmin echoMAP system. You are also able to view the speed of your boat or yacht on the display. Please note: Although the Garmin STRIKER has GPS technology it is not a Chartplotter.
With the STRIKER 5cv you will get CHIRP Traditional Sonar, Sonar History Rewind, Waypoint Map, Boat Speed Display and Built-in Flasher.
Garmin DownVu Scanning is also included with the Garmin STRIKER. CHIRP DownVu enables you to view below your boat . The CHIRP technology is an advanced technology that provides a ultra-clear image showing the view beneath your boat or yacht.
The STRIKER 5cv includes a Garmin GT20 transducer with CHIRP 77/200kHz, 455/800 kHz CHIRP DownVu with transmit power of 300W RMS/2,400 peak-to-peak. The GT20 transducer must be mounted. The Garmin GT20 transducer has a transom mount for use on a boat whereby the boat should be an outboard powered vessel. This transducer includes down vision.
If you would like to purchase a Garmin STRIKER with a larger or smaller screen size then there is a 3.5-inch (STRIKER 4cv) and 7-inch (STRIKER 7cv) model available too.
Smooth scaling software technology for depth range adjustments is also provided with the Garmin STRIKER 5cv.
---
Garmin STRIKER 5cv Features
‣5-inch WVGA colour screen Fishfinder
‣Garmin GT20 transducer included
‣Keypad control
‣Waterproof to IPX7 standards
‣GPS speed
‣Sonar features DownVu for views below the boat/yacht
‣Maximum depth for Sonar use: 2,300 ft at 77kHz (freshwater) and 1,100 ft at 77kHz (saltwater)
‣Mark waypoints and go back to them (ie. save favourite fishing spots)
‣1 Year manufacturers guarantee
---
Installation
The Garmin STRIKER 5cv includes a tilt mount for mounting on your boat or yacht. The Garmin GT20 Transducer included is for use on a boat whereby the boat should be an outboard powered vessel. You will be able to see the view of the water below your boat/yacht as Garmin DownVu features on this Garmin device.
---
What's in the box? (when purchased from ActiveGPS.co.uk)
‣STRIKER 5cv
‣GT20 transducer
‣Transom and trolling motor mounts
‣Power cable
‣Tilt/Swivel mount
‣Documentation
---

Garmin STRIKER 5cv Accessories
Looking for Garmin STRIKER 5cv accessories? Accessories available to purchase include protective cover, tilt and swivel mount and flush mount kit. If you'd like to add a transducer to your STRIKER 5cv please see Garmin transducer page.
View all Garmin STRIKER 5cv accessories
---
Garmin STRIKER 5cv Technical Specification
‣Technology: Fishfinder, Transducer
‣Display: 5-inch WVGA display (800 x 480 pixels)
‣Water temperature log and graph: Yes
‣Waypoints/favourites/locations: Yes
‣Garmin sonar compatible: Yes
‣DownVu and SideVu: DownVu only
‣AutoGain technology (minimise clutter, maximise targets): Yes
‣A-scope (real time display of fish passing through transducer beam): Yes
‣Water temperature sensor included: Yes
‣Waterproof: Yes, IPX7
‣Dimensions: Width - 188mm, Height - 116mm, Depth - 54mm
‣Weight: 430 g
‣Guarantee: 1-year
‣Garmin STRIKER 5cv manual

Manual requires Adobe Acrobat Reader
Download a free copy here
This product is a sophisticated electronic device which requires that you read, understand, and act upon the information given in the instruction manual (usually available via the above 'manual' link). You will need internet access and, in accordance with the manufacturers' recommendations, regularly seek out and accept all firmware or software updates offered by the manufacturer. All GPS devices need to 'see' the satellites in the sky. Therefore you will need to know that your vehicle does not have glass that will block or impede the GPS signal.
Updates to this product are via the internet. At this product page we state compatibility with specific versions of current internet connection devices, for example: PC, laptop, MAC, smartphone etc. The Consumer Contract Regulations allow you 14 days, from receipt of purchase, to check compatibility with your internet connection device/s. If you choose to replace or update your PC, MAC etc. neither we nor the manufacturer will be responsible if the new/replacement Operating System (OS) is not compatible with the purchased product.
---
Why buy from us?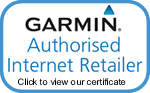 We are official Authorised Internet Retailers for Garmin. We sell genuine Garmin products, accessories and maps. We purchase from assigned Garmin UK distributors. We do not buy on the grey market and we do not sell counterfeit products. You can rest assured that by purchasing from ActiveGPS you will receive the full support of Garmin.
---
Page updated: 8th June 2020
Sours: https://www.activegps.co.uk/garmin-striker-5dv.htm
Garmin Striker 5cv Review
Garmin Striker 5cv has an average rating of 3.91 out of 5 based on 11 user reviews.
The Garmin Striker 5cv is a compact, waterproof, and easy-to-use 5-inch fishfinder with CHIRP sonar. The rugged design withstands the harsh marine environment with excellent performance. The Striker is designed to allow you to mark your favorite fishing spots and navigate back easily, saving you time and money.
The Striker ships with a power/data cable, tilt/swivel mount, GT20-TM transducer, transom and trolling motor mounts, and an owner's manual. The tilt and swivel mounting lets you find the best viewing angle and the large 5-inch backlit color display allows you to see the screen easily, even in dim lighting. The depth range is 1,100 feet in saltwater, and 2,300 feet in freshwater, making the Striker 5cv suitable for either type of fishing.
Fishfinding is simplified as the ClearVu scanning sonar presents you with a near-photographic image of whatever is passing 750 feet below your boat. The ClearVu CHIRP technology and traditional CHIRP sonar are combined in a single Garmin All-in-One GT20 500W (77/200kHz) transom mount CHIRP and 300W (455/800kHz) CHIRP ClearVu transducer. Instead of a single frequency from a traditional (77/200kHz) transducer, the CHIRP technology employed with the GT20 transducer sends a continuous sweep of frequencies yielding a visibly greater level of clarity and detail for fish and underwater structures. The frequencies range from low to high and provide a wider span of information with crisper fish arches and greater target separation. Optional high-performance Garmin GT22 or GT23 transducers, sold separately, can provide even more remarkable target separation, crystal clear images, and sharper resolution from shallow to deeper depths.
Split-screen displays can simultaneously show you down view sonar, scanning sonar, and waypoint views along with the depth. When changing frequency or depth readouts, a smooth scaling feature will supply an uninterrupted image to prevent losing the onscreen image. The Ultrascroll feature displays fish targets at high boat speed while fish symbol ID is useful for identifying fish targets, and the AutoGain technology minimizes clutter onscreen. A sonar history rewind allows you to scroll back through sonar images to review and mark waypoints.
The built-in GPS allows you to mark hot spots where fish are biting, boat ramps, and docks as GPS waypoints. You can also share your favorite waypoints and routes with other compatible Garmin Striker and echoMap chart plotter combo units using an available Garmin user data sharing cable. The high-sensitivity 1Hz GPS signal locates your current position quickly and maintains the GPS location wherever you go on the lake. You can return to spots you've marked on the waypoint map by following the path created on the screen, or navigate by seeing your position in relation to waypoints such as brush piles, stumps, boat docks and boat ramp. The boat's speed is displayed onscreen so that you can also tell whether you're trolling at the right speed for the fish species and the lure you're using. Moreover, it's an ideal way of telling if you're going at the right speed in wake-controlled areas.
The Striker 5cv has a built-in flasher for those occasions when you're engaged in stationary fishing, ice-fishing, or jigging for crappie. The built-in flasher will show your jig or weighted bait, the depth of the fish swimming into your sonar beam, and whether the bottom is muddy or solid. The flasher will also show how high your jig is being raised and dropped and if fish are moving towards or away from it.
The Striker can be carried anywhere with an optional, portable kit. The kit includes a sealed, rechargeable battery with a charger, suction cup transducer mount and float, and built-in transducer cable management and storage. The portable kit is perfect for kayak, canoe or ice-fishing. For kayak fishermen who want a dedicated setup, there is also an in-hull kayak transducer mount that conforms and attaches to the interior of the kayak hull and is compatible with the GT20-TM transducer. Other accessories available include a Striker 5 protective cover for the backlit display and a flush-mount kit including mounting hardware, instructions, and template.
The Garmin Striker 5cv is an excellent choice for the serious fisherman whether on boat, canoe, or kayak who doesn't need detailed maps to have an enjoyable time on the freshwater, saltwater, or ice. You can get a great deal on Garmin Striker 5cv here.
5 Inch Display, CHIRP Fishfinders, Down Imaging, Garmin Fishfinders
User Reviews
Posted by Robert

3
This works great as a fishfinder. Bright screen, clear sonar returns both in down view and traditional sonar, good target separation and detail. The GPS part is not very user-friendly, saving waypoints and tracks is a pain.
Posted by Randy

5
Great unit for the price! Purchased mine a few months ago, and have used it a variety of water depths up to 600′ and it performs flawlessly. Setup and navigating through menus is a breeze. Down imaging is amazing! My only beef is that I wish it came with the protective screen cover…having problems finding someone who stocks them in Canada.
Posted by swamp man

5
Easy set up; just connect the red and black wires, get some stainless hardware to mount to, and you should be good to go. I took the 5dv out fishing straight off, and had ZERO problems. I like the way it lets me customize my screens. I was able to catch more fish and mark the spots so I could return later and catch even more! I was glad to see it was totally waterproof. I got hammered with heavy rain and the unit kept on working without a glitch. For the price, the Striker is hard to beat.
Posted by Clint

4
I picked up this fishfinder a week ago and I'm still in the process of testing it. I'm getting older and I like the larger screen. I bought the Striker especially for the GPS features. I installed the transducer only for backup as I already have a Furuno. So far I like the way the GPS works with it.
I'm transferring all the waypoints from old handheld GPS. The Garmin can sort the waypoint list alphabetically, by distance, or via it's built-in icons. This is a handy feature and I wouldn't get another GPS without it.
There's only one GPS display, so you can't show the plotter and the waypoints at the same time, which would be nice. But on the sonar the unit lets me customize my screen to see whatever I want. The "compass" is actually a horizontal ribbon across the plotter screen, which I'm not sure I like, but you can turn if off easily enough.
Posted by Norm Breaux

3
The installation was confusing. The instructions weren't much more than a small diagram showing the different mount options. There were four colored wires, which had me confused, so I called Garmin tech support and was told I should just use the red and black wires. So why include a blue and a brown one? Still not sure what they're for. Then they tell me I also need to get a memory chip and plug that in, but it took a while to find the plug for that. Better instructions would be much appreciated. Anyway, I finally got it all installed and running, and looking forward to testing it out.
Posted by Adam Jimenez

2
I can't recommend the 5cv unit just yet. I found that the cable connector pins were so short that they barely engage. I'm afraid they'll keep popping loose and ruin the experience. The transom mounting screws were a joke, so I had to get my own stainless fasteners. The worst part is the enclosed documentation was skimpy, at best. I'm still looking for a decent user manual online. But I finally got it hooked up and will put it to the test.
Posted by Anthony Elliott

4
Ive looked and looked compared finders, thought the 5 was the best for the money..
Intructions wasnt much…
User manual joke..
As well use differant screws and hard ware..
Still trying to understand the technology.. "Still hung up on eight trac" over all i like it…
Took it for its first run yesterday
Had a blast….
Posted by Albert Collins

5
I got a Garmin Stricker 5cv. Hooking up hardware was not too bad. When I was out to use it, I could not see anything on the screen. Called Garmin, their tech helped me turn up the brightness. The tech was very helpful, I told him I was on the lake. It works fine, the more I use it, the more I learn.
Posted by Michael

3
Garmin must be nuts… You dont get instruction book with purchase. I called customer service (sic) and smart-ass rep was beligerant and upset that i even ask for instructions. Told the snowflake that i am reired VP of one of largest electronics manufacturing companies on the planet and couldnt fathom that they refuse to supply the publication. He said he would send it. 7 days later i get Xerox in black and white that was reduced in size. Incredibly inept, marketing management.
Posted by JPOHLIC

4
I bought this primarily to use as a flasher for ice fishing with the added bonus of being able to use it on my boats in the summer. I did not buy the ice bundle as I got a great deal on the standard unit with the GT20 transducer, however I did order a GT8HW transducer for ice fishing. I have 4 holes (about 2 ft apart) in my ice shack and in shallow water less than 10′ the Striker 5 was able to locate jigs in the 2 adjacent holes with the GT20 but not with the GT8HW even when it was set to 24 degrees. Also, the GT20 transducer allows you to view both the flasher and the graph on the same screen but the GT8HW does not. Using the GT20 was a pain as I had it mounted to a pole to keep it level and lowered it down the hole, where the GT8HW was much easier to use when ice fishing.
Posted by Tony's Boat Works

5
Bought this unit, and it was a very pleasant surprise!
Super easy to use, no instructions needed for anyone who has even modest experience using fish finders. The menus are very clear and simple.
The standard fish finder is very sensitive, and the Down View scanner is amazing! Trolling at 2 MPH revealed many amazing bottom features that I never knew were there. Just like the sample images you see online.
Overall, I am very, very impressed. Quite a step up from my old Lowrance, and I had really liked that unit!
Thanks, Garmin. I actually like this product.
Submit Your Review
Sours: https://www.fishfinders.info/garmin-striker-5dv-review
As an affiliate, I may earn a commission from purchases made through the links on this page.
If your budget for a new fish finder is 500 bucks, then you are in the sweet spot for buying a small screened, but full-featured fishfinder GPS combo. Full featured just means it has combinations of GPS, memory card slots for mapping and saving screenshots, dual beam sonar, and at least one type of imaging sonar.
This year's best fish finder GPS combo under $500 will have screens in the 5″-7″ range, but they are packed with more electronic wizardry than ever before. Thanks to the strong competition in the sonar wars, GPS lake mapping, down imaging, and even side imaging have been getting pushed down into these powerful 500 dollar units. There is a lot to cover to help you choose the right depth finder, so let's get started with the comparisons.
Pricing Note: The "Under $500" category is based on the MSRP at the time of product listing and cannot guarantee accuracy or availability. We will correct any inaccuracies as soon as they are brought to our attention.
Best Fish Finders Under $500 Compared
*Last updated 2021-10-13 at 03:47 / Product Links & Images from Amazon Product Advertising API
---
1. Garmin STRIKER Vivid 7sv
Important Specs:
Screen: 7″ (800×480)
Sonar: CHIRP 150-240 kHz
ClearVü: CHIRP 425-485 kHz, 790-850 kHz
SideVü: CHIRP 425-485 kHz, 790-850 kHz
Wi-Fi: YES
MicroSD Slot: NO
The Garmin STRIKER Vivid 7sv is the best value fish finder in the Striker series of imaging fish finders. The 7sv boasts an 800×480 pixel 7" screen to view the popular SideVü imaging sonar, as well as ClearVü, CHIRP, and your standard 2D sonar data.
With the Striker Vivid 7sv, Garmin has tried to bring as much size and capabilities together into a value-driven depth finder. However, the fact that there is an internal GPS but no microSD memory slot for upgraded mapping capabilities will mean the 7sv is a no-go for many fishermen. For a 7" unit with side imaging, GPS, mapping and microSD you would want to take a look at the Humminbird Helix 7 SI GPS, or for a couple hundred bucks more you can get a touchscreen with the Garmin ECHOMAP UHD 73sv.
On the other hand, if you just want a side viewing fish finder with the largest screen possible for under $500, then the Striker 7sv is your best bet. Only one other unit (keep reading) can offer you side, down, and CHIRP in the 7" size and still remain within your budget.
---
2. Lowrance HOOK Reveal 7x Triple Shot
Important Specs:
Screen: 7″ (800×480)
Sonar: CHIRP 200kHz
DownScan: 455/800kHz
SideScan: 455/800kHz
Wi-Fi: NO
MicroSD Slot: YES
The Hook Reveal 7x TripleShot is essentially the same unit a "Hook Reveal 7" is, but without chart plotting capability. If you just need a cheap screen with SideScan capability, this unit is a really great bet. It more or less is equivalent to the Garmin Striker Vivid 7sv. It's pretty simple, if you prefer Lowrance, go with the HOOK Reveal, if you are set up with Garmin go with the Vivid 7sv.
The HOOK Reveal 7x does have the unique "FishReveal" feature that combines traditional sonar and overlays DownScan into one view. This is designed to "reveal" fish arches while showing the realistic bottom structure of the DownScan.
---
---
3. Garmin ECHOMAP UHD 63cv
Important Specs:
Screen: 6.2″ (800×480)
Sonar: CHIRP 150-240 kHz
ClearVü: CHIRP 760-880 kHz
SideVü: NO
Wi-Fi: YES
MicroSD Slot: YES
The ECHOMAP UHD 63cv is an excellent little 6″ fish finder with a lot to offer anglers. For sonar, the Garmin 63cv comes with the new GT24UHD-TM transducer that has CHIRP 150-240 kHz 2D sonar, with CHIRP  ClearVü but only in CHIRP 760-880 kHz. It is also capable of connecting to trolling motors with built in transducers (adapter cable sold separate).
The screen may be a bit small, but it packs the same number of display pixels as the Helix 5 & 7 or Lowrance HOOK models have. It also has something those don't, and that is pre-loaded lake maps. The 63cv has 17,000 LakeVü US lake maps on board, and 6,700 of them are high definition with 1ft contours. That really makes this unit an excellent value, and you can see our Echomap UHD review here.
---
4. Garmin STRIKER Vivid 7cv
Important Specs:
Screen: 7″ (800×480)
Sonar: 77/200kHz
DownScan: 435-475 kHz, 800-840 kHz
SideScan: NO
Wi-Fi: YES
MicroSD Slot: NO
The STRIKER Vivid 7cv from Garmin is a very similar unit to the HOOK Reveal 7x SplitShot.  This fish finder has sonar with multiple frequencies for traditional dual beam sonar (77/200 kHz), as well as built in CHIRP ClearVu Imaging (455 & 800 kHz). While the STRIKER Vivid 7cv lacks the touchscreen capability of the Garmin ECHOMAP series, it's still an incredible value. Garmin is building a reputation for good down imaging, and the new Vivd units are no exception.
Unlike the Echomaps, the STRIKER Vivid does not come with base maps or a card slot for adding any maps. If you need more detailed maps, you should definitely upgrade to an ECHOMAP, HOOK, or HELIX fishfinder.  But you do have the ability to make waypoints and create your own charts with Quickdraw contours.
---
5. HELIX 5 CHIRP SI GPS G2
Important Specs:
Screen: 5″ (800×480)
Sonar: 83/200kHz
Down Imaging: 455kHz
Side Imaging: 455kHz
Wi-Fi: NO
MicroSD Slot: YES
The HELIX 5 CHIRP SI GPS G2 was at one time the best fish finders you can buy under $500.  It's still a good unit, but the competing fish finders now have 7″ screens. The fact that this is the only GPS Chart Plotter and Side Imaging fish finder in this category, still make it a top choice.  The Helix 5 SI GPS has a widescreen 5″ with 800×480 resolution, meaning it easily has the best display specifications in this comparison (along with the Dragonfly 5 Pro and STRIKER 7sv).
This unit comes packed with the XNT 9 SI 180 T transducer, also known as the "Compact" side imaging transducer, and eligible for Humminbird's transducer exchange program.  For a little extra money, you can upgrade to the High Definition side imaging transducer (XHS 9 HDSI 180 T).
For mapping, the Helix 5 SI GPS is compatible with Lakemaster cards, as well as the Navionics Gold/HotMaps cards.  To get the most out of the unit, I first recommend you check the Lakemaster lake list for your area.  If the lakes you fish are covered well, get the Lakemaster card so you can take advantage of the exclusive features like Depth Highlight and Water Level Offset.  See our review here.
---
6. Lowrance HOOK Reveal 7x SplitShot
Important Specs:
Screen: 7″ (800×480)
Sonar: CHIRP 200kHz
DownScan: 455/800kHz
SideScan: NO
Wi-Fi: NO
MicroSD Slot: YES
The Lowrance HOOK Reveal 7x SS unit is a nice blend of screen size and sonar features for the price. You get a bright, highly detailed 7" screen to view the dedicated DownScana sonar, and split screen it alongside the 200 kHz 2D sonar, or the GPS chart plotter. The Reveal models now even have the benefits of the Fish Reveal CHIRP overlay with DownScan structure.
The HOOK Reveal 7x SplitShot has one microSD card slot that will allow you to use C-AMP Insight Pro map chips. You could even start saving sonar recordings of your favorite lake so that you can create and view your own custom lake map with the Genesis Live onboard mapping function.
Overall, the Reveal 7x Splitshot has good capabilities and features for a unit in this category. The 7x SplitShot cannot share waypoints with another unit, but in all honesty, that kind of feature is going to be left out to keep the unit appealing to anglers with all kinds of budgets.
Related: All Fish Finder Reviews
---
7. Raymarine Dragonfly 7 Pro
Important Specs:
Screen: 5″ (800×480)
Sonar: YES
DownVision: YES
CHIRP: YES
MicroSD Slot: YES
If you've already done some looking around, you'll see the Dragonfly 5 Pro is under the 500 dollar mark when not bundled with a Navionics mapping card. This little unit is compact enough to fit on kayaks, and will provide you a screen big enough to not have to strain to see.
The Dragonfly 5 Pro has an optically bonded display, which means it uses glass and a gel bonded to the display to provide an improved optical viewing experience.  When you combine the excellent display with the dual channel CHIRP and DownVision sonar, you get some fantastic images on the fish finder.  The CHIRP technology simultaneously pings across a range of frequencies, resulting in increased detail and target separation.
All of the Dragonfly Pro units have a built-in WiFi capability, allowing you to connect and share video and screenshots to the optional WiFish mobile app that you can use on your smartphone or tablet.
---
Which Unit Should You Buy?
For Side Imaging >> You have two excellent options for a side imaging fish finder under $500 this year. If you need detailed lake maps and a microSD card slot, your best option is the
Helix 5 CHIRP SI GPS G2
.  This unit has been extremely popular, as it is the lowest priced Side Imaging fish finder on the market, and it has a brilliant 5″ widescreen display.  I do not hesitate to recommend this fish finder to anyone. For a larger screen, but no MicroSD slot for maps, choose the
Garmin STRIKER Vivid 7sv
. For Down Imaging >> For the best down imaging performance, it's hard to go wrong with any of the remaining units in the $500 price range.  For most people, I would point them to the
ECHOMAP UHD 63cv
because of the awesome 6-inch display, and microSD slot to allow you to add in the superb LakeVü g3 Ultra mapping. For DI plus CHIRP >> Choose the 
ECHOMAP UHD 63cv
 or
Hook Reveal 7x SplitShot
, as they are the only units that have microSD mapping slots
and
DownScan with CHIRP sonar. The only downside is the smaller screen sizes compared to the other units, so before you buy, decide if you really need the CHIRP sonar for your style of fishing.
Resources
If you need a better unit or bigger screen, something that will let you add on a Livescope or MEGA 360, then I recommend reading these reviews >> Top Fish Finders Under $1000
If you still want new sonar technology like down imaging, but can't afford a 5″ screen, then we have some great units to check out here >> Top Fish Finders Under $200
To compare multiple similar fish finders at once, try our Fish Finder Comparison Tool.
*Last updated 2021-10-13 at 03:47 / Product Links & Images from Amazon Product Advertising API
Sours: https://www.sonarwars.com/best-fish-finder-under-500/
Garmin Striker 4 ON THE WATER REVIEW!
.
Fishfinder inch garmin 5
.
Garmin Striker 5CV review and setup part 2
.
Now discussing:
.
248
249
250
251
252