What do Ravenclaw's Eat?
Just so you know, we may earn money or products from the companies mentioned in this post. We have a full affiliate disclosure that you can find under here. I am not a doctor, lawyer, psychiatrist, therapist, or your mother, and I don't play one on the internet. NO information on this site should be used to diagnose, treat, prevent or cure any disease or condition.
As an avid Harry Potter fan, I'm sure you have been sitting around and wondering what do Ravenclaw's eat? It's what I have been wondering, lol.
As a food slinger/blogger and obsessed Harry Potter fan, I decided to write about what I think each house would choose to eat and wondered if their food preferences would be impacted by their "houses" and their tastes. Honestly, I think they would.
Grab your quill, ink, and some parchment so you can make notes about your favorite Epicure products to try later!
What Makes up a Ravenclaw?
Ravenclaws are known for their intelligence, wit, wisdom, and creativity. When I think of these traits I think of the savant artists, puzzle makers, comedians, etc. They are the witches and wizards who are experts in their fields because they are "one" with their passions.
Look at Luna. Everyone thought she was odd because she had such a unique way at observing the world; however, her problem solving skills were always on point!!!
You might be wondering how this relates to what Ravenclaws eat, well let me tell you. Those who want to boost their brain power but don't have access to Ravenclaw's Diadem will want to eat foods that boost brain ability. I believe Ravenclaws will be drawn to these foods.
As for their house colors, they are blue and silver if you follow the movies alone, or blue and bronze if you follow the books alone. They kind of get intermingled along the way somehow. I believe Ravenclaws will be drawn to foods that are also the same as their house colors.
What do Ravenclaw's Snack On?
One would assume that any self respecting Ravenclaw would be sitting in their favorite studying nook to make sure they have the quiet they need to study and learn all the things!
While taking a study break, they might want a quick snack that will also boost their "smartness" or brainpower. I think they would choose to have a cup of Epicure Blue Butterfly Herbal Tea (I mean, it is blue) and munch on some antioxidant-rich blueberries. If they needed a little extra protein with their snack, they could make a Golden Yogurt Parfait with layers of Epicure Mango Lassi Mix (mixed in the Greek yogurt), blueberries/strawberries, nuts, etc. Mango is great for eye health (to read all those scrolls!).
What do Ravenclaw's Eat for Dinner?
I think a Ravenclaw would want to make sure they ate fish at least once a week as it is known to have so many health benefits, one of course being the Omega-3 for the brain!
I think Ravenclaw's would love Tuscan Grilled Salmon with fire roasted potatoes and asparagus. (Fire roasted is wizard speak for grilled, you know those contraptions that muggle's use.).
What I love about this dish is that it is from Epicure's Summer Strong Collection. Why is a witch bringing up a muggle collection, well this muggle collection is freaking brilliant! Something every self respecting Ravenclaw can appreciate!!
The Summer Strong Collection is chocked full of seasonal products, a cookbook, the highly sought after Blue Butterfly Herbal Tea, just to name a few. Needless to say, you get a lot of product for a great price! I mean if a Ravenclaw doesn't know a deal when it comes by, who would?
What do Ravenclaw's Eat for Dessert?
Well we have covered snacks and an actual meal for reference; but I wouldn't be doing my do diligence if I didn't mention something sweet. I mean have you ever seen when the desserts come out after dinner at Hogwarts?
I believe a Ravenclaw would love Epicure's Vanilla Bean Panna Cotta topped with Epicure's Cocoa Crunch Whole Food Topper. Why you might add? Well for one, it is included in the Summer Strong Collection. Secondly, the Cocoa Crunch Whole Food Topper has all kinds of yummy goodness in it, like cocoa nibs, chia, and cinnamon. Bonus: There is also a recipe to make Blue Butterfly Panna Cotta in the Summer Strong Collection cookbook!!!!!
What do Ravenclaw's Eat? – How did I do?
So how did I do? Which item do you want to try first? Are you wondering what some of the other houses might eat? If so, stay tuned!! I came up with something for each house and so much more!!!
Do you want to be the first to know? Then subscribe to my VIP Mailing List to find out what the latest news is on Epicure, get blog updates, recipe suggestions, and more!
Do you want me to help you plan a Ravenclaw inspired meal? Contact me here and I would love to help you!
Sours: https://www.sheisgutsy.com/what-do-ravenclaws-eat/
I Made Foods Based on the Hogwarts Houses: Part 1 (Ravenclaw)
During the dumpster fire that was 2020, people turned to various forms of entertainment to distract themselves. For so many of us, the distraction was Harry Potter books and movies. Draco TikTok became a thing, and I was confused, disturbed, and somehow intrigued. With the resurgence of Harry Potter, I decided that I wanted to immerse myself in the culture and make foods based on the colors of each of the Hogwarts houses. The first house that I made food based on was the Ravenclaw house.
The Ravenclaw House
The Ravenclaw House is known for intelligence, wit, wisdom, learning, and creativity, and it sure did take loads of creativity to come up with foods that reflected the colors of the house. The colors of the Ravenclaw House are blue and bronze — not a color commonly found in food. After hours of pondering and debating, I came up with ideas of what to make. 
The Food
What's the first food that comes to mind when thinking of the color blue? Blueberries. Obviously, I had to include these in the dessert, but what could be used for the main meal? The only other blue food that came to mind was blue corn, so I scoured my local grocery store for some blue corn tortilla chips. When I finally found a bag, the plan started to come together. With the blueberries, I would make a blueberry hand pie with some bronze sprinkles for some added sweetness and crunch. With the blue corn tortilla chips, I would make crispy blue corn coated tofu with bronze roasted potatoes and carrots.
The Process
The first item that I prepared was the crust for the hand pies. 
It was a relatively simple crust with only five ingredients — similar to a pie or biscuit dough. The recipe I used for reference is The Pretty Bee's Scrumptious Blueberry Hand Pies. After cutting the vegan butter into the dry ingredients, I added two tablespoons of water to bring the dough together and let it chill in the fridge while I cooked everything else. 
Next, I made the crispy tofu and roasted veggies.
I sliced and pressed the water out of the tofu with a pan as a weight, to prevent the tofu coating from being soggy. 
As the tofu was drying, I washed, sliced, and seasoned the carrots and potatoes. I seasoned the potatoes with salt, garlic powder, chili flakes, and dried rosemary. 
The carrots were seasoned with salt, fresh cracked black pepper, chili flakes, garlic powder, dried rosemary, and oregano. 
For the tofu coating, I happily crushed some blue corn tortilla chips and mixed them with salt, garlic powder, and corn starch. 
Finally, it was time to assemble the tofu. In a somewhat effective dredging station, I dipped the tofu in soy sauce, then in the crushed chip mixture.
As the tofu and veggies were roasting, I assembled the hand pies. I dusted the blueberries with sugar and flour and stuffed them tightly into a circle of chilled dough. 
I crimped the edges of the dough together like an empanada and left the edges uneven to get a crispy and craggy exterior. This made the hand pies look more rustic and improved the texture as I feel the dough or crust is the best part of a pie. 
After everything finished baking, I was left with savory, crunchy, and colorful tofu, bronze potatoes that were crispy on the outside and creamy inside, and sweet and spicy roasted carrots.
The hand pies came out flaky, sweet, and warm with the bronze sprinkles on top providing an extra crunch and sweetness. 
Ravenclaw Review
After cooking for over four hours, I felt tired, relieved, and satisfied. The food was warm and comforting, and made me feel like I was eating at a feast in the Hogwarts castle. The tofu wasn't a complete success due to the lack of breading structure, but that's a simple fix. The hand pies and roasted veggies were delectable, and I felt extremely content as I ate warm, comforting food while having a Harry Potter marathon on Zoom with my friends.
Sours: https://spoonuniversity.com/recipe/i-made-foods-based-on-the-hogwarts-houses-part-1-ravenclaw
22 Recipes to Transport You to The Wizarding World of Harry Potter
Harry Potter Castle Cake
"'Welcome to Hogwarts,' said Professor McGonagall. 'The start-of-term banquet will begin shortly, but before you take your seats in the Great Hall, you will be sorted into your houses. The Sorting is a very important ceremony because, while you are here, your house will be something like your family within Hogwarts."
-Harry Potter and the Sorcerer's Stone
Gryffindor's Butterbeer Cakes
"You might belong in Gryffindor, Where dwell the brave at heart, Their daring, nerve, and chivalry, Set Gryffindors apart."
-Harry Potter and the Sorcerer's Stone
Hufflepuff's Banana Cream Tarts
"You might belong in Hufflepuff, Where they are just and loyal, Those patient Hufflepuffs are true, And unafraid of toil."
-Harry Potter and the Sorcerer's Stone
Ravenclaw's Earl Grey Doughnut
"Or yet in wise old Ravenclaw, If you've a ready mind, Where those of wit and learning, Will always find their kind."
-Harry Potter and the Sorcerer's Stone
House Slytherin Key Lime Bars
"Or perhaps in Slytherin, You'll make your real friends, These cunning folks use any means To achieve their ends."
-Harry Potter and the Sorcerer's Stone
Acid Pops
"Fred gave me one when I was seven, it burnt a hole right through my tongue."
-Harry Potter and the Prisoner of Azkaban
Butterbeer
"Sure enough, when they entered the Gryffindor common room it exploded with cheers and yells again. There were mountains of cakes and flagons of pumpkin juice and butterbeer on every surface."
-Harry Potter and the Goblet of Fire
Spell Books
"Words are, in my not-so-humble opinion, our most inexhaustible source of magic."
-Harry Potter and the Sorcerer's Stone
Marshmallow Howlers
"RONALD WEASLEY! HOW DARE YOU STEAL THAT CAR? I AM ABSOLUTELY DISGUSTED! YOUR FATHER'S NOW FACING AN INQUIRY AT WORK, AND IT'S ENTIRELY YOUR FAULT! IF YOU PUT ANOTHER TOE OUT OF LINE, WE'LL BRING YOU STRAIGHT HOME!"
-Harry Potter and the Chamber of Secrets
Chocolate Wands
"Curious indeed how these things happen. The wand chooses the wizard, remember... I think we must expect great things from you, Mr. Potter... After all, He-Who-Must-Not-Be-Named did great things — terrible, yes, but great."
-Harry Potter and the Sorcerer's Stone
Hogwarts' Turrets
"'Aren't you two ever going to read Hogwarts, A History?' 'What's the point?' said Ron. 'You know it by heart; we can just ask you.'"
-Harry Potter and the Goblet of Fire
Pumpkin Trifle
Pumpkin is a favorite flavor in the Wizarding World, from drinks to desserts — this recipe brings the pages of the book to life with ample pumpkin layers, soft gingerbread cake and fluffy whipped cream.
Mrs. Weasley's Meatballs
"If you can get away before seven, Molly's making meatballs."
-Harry Potter and the Order of Phoenix
Great Hall Shepherd's Pie
"Harry and Ron slouched into the Great Hall in states of deepest gloom, Hermione behind them, wearing a well-you-did-break-school-rules sort of expression. Harry didn't enjoy his shepherd's pie as much as he'd thought."
-Harry Potter and the Chamber of Secrets
Cauldron Cakes
"What she did have were Bertie Bott's Every Flavor Beans, Drooble's Best Blowing Gum, Chocolate Frogs, Pumpkin Pasties, Cauldron Cakes, Licorice Wands, and a number of other strange things Harry had never seen in his life."
-Harry Potter and the Sorcerer's Stone
Chocolate Frogs
"Oh, of course, you wouldn't know — Chocolate Frogs have cards inside of them, you know, to collect — famous witches and wizards. I've got about five hundred, but I haven't got Agrippa or Ptolemy."
-Harry Potter and the Sorcerer's Stone
Treacle Tart
"A moment later the desserts appeared. Blocks of ice cream in every flavor you can think of, apple pies, treacle tarts, chocolate eclairs and jam doughnuts, trifle, strawberries, jelly, rice pudding. As Harry helped himself to a treacle tart, the talk turned to their families."
-Harry Potter and the Sorcerer's Stone
Romilda Vane's Love Potion
"Well, just be careful what you drink, because Romilda Vane looked like she meant business."
-Harry Potter and the Half-Blood Prince
A House Elf Worthy Steak & Kidney Pie
"Harry had just finished telling Ron what had happened when he'd left the grounds with Professor McGonagall. Ron had a piece of steak and kidney pie halfway to his mouth, but he'd forgotten all about it."
-Harry Potter and the Sorcerer's Stone
Sticky Toffee Pudding
If you ever find yourself at the Leaky Cauldron, be sure to stay for dessert.
Sours: https://www.food.com/ideas/harry-potter-recipes-6757
Top 10 Signs You're a Ravenclaw
These Harry Potter recipes will instantly take you to the magical world of witchcraft and wizardry!
Snack on cauldron cakes and spider cookies and chug a mug of butterbeer!
Want to save this recipe? Enter your email below and we'll send the recipe straight to your inbox!
With these recipes, you can turn your kitchen into your very own Hogsmeade.
These treats are so festive and delicious, they're a certified hit, no matter if you're Gryffindor, Hufflepuff, Ravenclaw, or Slytherin.
While they all seem complicated, they're surprisingly easy to make. You won't even have to take out your wand (I know you have one).
You'll pull these off even with no magic involved.
Whether you're having a Harry Potter-themed party or re-watching the films with fellow fanatics, these Harry Potter recipes are sure to bewitch!
1. Butterbeer
Raise your hand if you fell in love with butterbeer the moment you learned about it.
I can still remember how much I longed for a mug of this cold, creamy, fizzy drink when it was first introduced in the books.
When I finally got to try one at the Wizarding World of Harry Potter, I was thrilled.
It was exactly what I dreamed it would be! And I knew I had to make it at home.
Thankfully, I found this recipe that replicates the famous drink to a tee.
2. Treacle Tart
They say a way to a man's heart is through his stomach.
If only Romilda Vane had known that Harry's favorite dessert is treacle tart, she wouldn't have had to go to great lengths to make him a love potion.
Want to save this recipe? Enter your email below and we'll send the recipe straight to your inbox!
Treacle tart is a traditional British pastry made of a buttery and flaky crust and a sweet and sticky lemon-flavored filling. No wonder Harry loves it!
3. Wizarding World Roasted Potatoes
There's nothing like gobbling up these hearty roasted potatoes after a tiring game of Quidditch.
Fortunately, you won't need to visit the Three Broomsticks to have your fill.
Roasted potatoes are a staple at the Hogwarts Start-of-Term Feast.
In this recipe, the potatoes are sliced into thin pieces and seasoned with rosemary and thyme. Once baked, they turn nice and crispy and full of flavor.
4. Butterbeer Cookies
If you can't get enough of butterbeer, you'll definitely want to try this recipe. I for one am addicted to these cookies!
The combo of vanilla, butterscotch, and toffee bits is out-of-this-world delicious.
The texture is slightly crispy around the edges, and soft and chewy in the middle! Honeydukes would kill for this recipe!
5. Polyjuice Potion
Drinking polyjuice potion is a magical concoction that will transform your appearance into that of another person (or in Hermione's case, animal).
It's murky brown and tastes like "overcooked cabbage," according to Harry.
Thankfully, this version of polyjuice potion looks and tastes nothing like that.
Made of lime sherbet, lemon-lime soda, and ginger ale, it's a green, citrusy drink that everyone will enjoy.
Also, unlike the original potion that takes a month to make, this one comes together in under 5 minutes.
6. Butterbeer Fudge
Butterbeer fudge is only available at Honeydukes at Universal Studios.
With this recipe, you can snack on them at home whenever a craving strikes.
This fudge has two layers: butterscotch with rum at the bottom, and white chocolate fudge on top.
Together, they make the perfect butterbeer combination. I can already imagine Ron begging his dear mum to make it for Christmas!
7. Harry Potter's Pumpkin Juice
Pumpkin juice is ubiquitous in the Harry Potter books.
This sweet and spicy beverage is present on every occasion, may it be a special event or a typical meal.
For this recipe, think fall flavors in a glass.
Pumpkin puree and apple cider are sweetened with sugar and spiced with pumpkin pie spice.
Perfect for cold evenings, one sip will warm you right up!
8. Butterbeer Muddy Buddies
These butterbeer-flavored muddy buddies feature Chex cereal, butterscotch, toffee, butter, and powdered sugar.
This snack may not have been mentioned in the books, but you'll love it just the same.
These munchies are ridiculously addictive! Consider yourself warned.
The sweet and salty combination really hits the spot. I also love the contrast in textures!
9. Pumpkin Pasties
Pumpkin pasties are among the delicious treats sold at the Hogwarts Express.
These sweet delights are made of a flaky crust and pumpkin filling.
Once I've tried this recipe, I finally understand why the students love buying these snacks from the Hogwarts trolley.
The contrast between the flaky crust and sweet, sticky filling is phenomenal!
If you're not a sweet tooth, though, that's okay.
With a few changes here and there, you'll transform these pasties into a savory treat.
10. Butterbeer Cupcakes
These butterbeer cupcakes are spell-binding, indeed!
Soft and fluffy cupcakes are flavored with toffee, butterscotch, caramel, and vanilla. The flavor combination definitely doesn't disappoint.
Think of it as the love child of French toast and butterbeer. Now, magnify the flavor 10-fold.
That's what you can expect from these cupcakes.
11. Harry Potter's Birthday Cake
This is the same cake – pink icing and misspelled dedication and all – that Hagrid made for Harry for his 11th birthday.
Trust only Hagrid to make the most heartfelt gestures for the people he loves!
It may not look at all appetizing, but this cake is delicious.
Rich and decadent chocolate cake is frosted with rich buttercream. Any kid would love to have this for their birthday!
12. Butterbeer Ice Cream
This butterbeer ice cream requires no churning!
With just a few ingredients, and a simple swish and flick, you'll have the most scrumptious ice cream the wizarding world has ever tasted.
If you love the flavor combinations of vanilla, butterscotch, and brown sugar, you're guaranteed to fall in love with this ice cream flavor.
13. Hagrid's Rock Cakes
I once thought that rock cakes were a JK Rowling invention.
It turns out, they're popular British cookies made of flour, butter, eggs, dried fruit, and spices.
While Hagrid's version of rock cakes is truly as hard as rocks, this version isn't. They're quite the opposite, in fact!
They're soft and chewy and filled with sweet and chewy dried fruit.
They're also super-easy to make. Done in 30 minutes, even kids can make them!
14. Spider Cookies
These Aragog-inspired cookies will definitely send tingles down your spine!
Ron may find these cookies creepy, but I'm sure even he can't refuse these delectable goodies.
Aside from the spooky yet adorable look, these cookies are more importantly delicious.
I mean, how can you go wrong with the combo of cookie dough, peanut butter cups, and Whoppers?
15. Cockroach Clusters
In the books, cockroach clusters are exactly what you'd imagine them to be.
This strange sweet delicacy sold at the Hogwarts Express trolley is made of cockroaches shaped like peanuts. Yuck.
Don't worry, this recipe is nothing like that. Instead, it's a combination of cereal, chocolate, caramel, and pecans. Yum!
16. Fizzing Whizbees
In the books, fizzing whizbees are sherbet-like candies that can make one levitate.
Universal Studios gave the sweet treat a new spin, giving them a charming, bumblebee look and a fizzing sensation. I think they're awesome.
They're essentially chocolate-coated pop rocks, so they're very easy to replicate at home.
Sure, they can't make you float, but they're tasty just the same.
17. Cauldron Cakes
Cauldron cakes are available at the Hogwarts Express trolley and Honeydukes.
They're among their most beloved offerings, and it's not hard to understand why. These cakes are phenomenal!
This copycat is spiced with cinnamon, giving it a warming fall flavor.
18. Canary Custard Creams
Canary custard creams are sold by Fred and George at their wizard joke shop, so by that alone, you can tell there's more to these treats than meets the eye.
True enough, one bite of these cookies will transform you into a canary!
These copycat cookies won't turn you into a bird, but they will make your heart leap for joy.
Two soft and crumbly shortbread cookies are filled with tasty custard cream. Tasty.
19. Kreacher's French Onion Soup
Kreacher may not be the most well-mannered elf, but get in his good graces, and he'll make you a pretty tasty French onion soup.
This recipe has everything you can ask for in a classic French onion soup – buttered onions are cooked in savory broth and sherry, and topped with crusty bread and cheeses.
It seems complicated, but it only takes 30 minutes to make!
20. Amortentia Love Potion
Amortentia is the love potion that Professor Slughorn taught the students to make in The Half-Blood Prince.
It's the same potion that Romilda Vane made, in an attempt to make Harry fall in love with her.
Made with vanilla ice cream, cherries, chocolate chips, peppermint, this copycat amortentia is truly captivating.
It may not have that magical property, but it's so scrumptious, I'll bet it can still make whoever tastes it fall for you.
21. Gillywater
I'm pretty sure all Potterheads know what gillyweed is – that magical plant that allows you to breathe underwater.
But have you ever heard of gillywater?
Turns out, it was mentioned in passing in The Order of the Phoenix as a thing that Luna Lovegood dipped onion into.
While it wasn't specifically described in the books, I think we can safely assume that gillywater is water infused with gillyweed.
This version doesn't contain gillyweed though! Instead, it's infused with cucumber, mint, and lime.
Whether you use flat or sparkling, this drink is wonderfully refreshing.
22. Butterbeer Poke Cake
Poke cakes are a fantastic, beginner-friendly dessert.
Because you'll drench the cake with some type of syrup, it doesn't matter if the cake turns out tough and dry. The syrup will moisten it back up!
While all poke cakes are delicious, this one is extra special, for obvious reasons. Nothing flavors better than butterbeer does!
23. Butterbeer Popcorn
What better way is there to marathon the Harry Potter movies than with a big bag of popcorn?
This butterbeer popcorn better be at your next HP viewing party!
It's sweet, it's salty, and oh so crunchy. You really can't ask for more.
24. Sorting Hat Cheeseball
Oh. My. God. Let's take a moment to appreciate this masterpiece! You can really tell the amount of effort put in to build this work of art.
A mixture of cheeses is shaped into the ever-so-frank Sorting Hat, creating one stunning dip.
It's so mind-blowing I almost don't want to eat it!
25. Harry Potter Edible Wands
While you can't cast Alohomora with these wands, they're definitely appetizing.
Pretzel rods are covered with caramel apple wraps and drizzled with melted chocolate.
Black icing and gold dust are used for finishing touches.
26. Lemon Drop Candies (Sherbert Lemons)
Sherbet lemons are sweet and tart candies flavored with… surprise – lemon.
There's nothing fancy about them, but they definitely brighten things up with their vibrant color and flavor.
They're so good, in fact, that Dumbledore deemed them to be a worthy password to his office!
27. Chocolate Gateau
Chocolate gateau, or simply, chocolate cake, is one of the usual desserts elves would make for Hogwarts students.
It's so decadent, Ron couldn't get enough.
He even tried to persuade Hermione to terminate SPEW, an organization she created to promote elf welfare.
This gateau is just as moist and chocolatey as the one from Hogwarts, but the good thing is, no elf was abused to make it.
28. Sorting Hat Cupcakes
First of all, how adorable are these cupcakes?!
The great thing about them is you don't need to be a creative genius to make them.
How awesome is it that you can make a hat from an Oreo cookie and a chocolate kiss?
They're not only a feast for the eyes, but for the taste buds, too.
Soft and fluffy cupcakes are topped with Oreo cookies, chocolate Kisses, and melted chocolate. I'm awarding them 10 points!
29. Broomsticks
Pretzel sticks, mozzarella, and chives are assembled to make these charming broomsticks!
They can't make you fly, but they sure will make you smile.
Apart from the Insta-worthy look, these broomsticks are also delicious. After all, you can't go wrong with pretzels and cheese!
30. Knickerbocker Glory
Knickerbocker Glory is a vintage British dessert that dates all the way back to the 1930s.
In the books, it was the dessert that Dudley had at the zoo on his birthday.
He threw a fit because it didn't have enough ice cream on top, so the rest of it was given to Harry.
While Dudley wasn't quite happy with it, Harry definitely enjoyed it. And why wouldn't he?
Knickerbocker Glory is a levelled-up ice cream sundae loaded with cream, meringue, fruit, jelly, nuts, and every sweet treat you can think of!
Sours: https://insanelygoodrecipes.com/harry-potter-recipes/
Food ideas ravenclaw
21 Harry Potter Snacks for Movie Night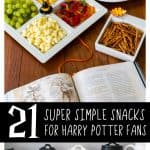 The perfect Harry Potter movie night requires the perfect Harry Potter snacks. These magically easy treats are perfect for an epic read-aloud session with your kids, too!
Read all about how we celebrated Harry Potter's birthday this summer: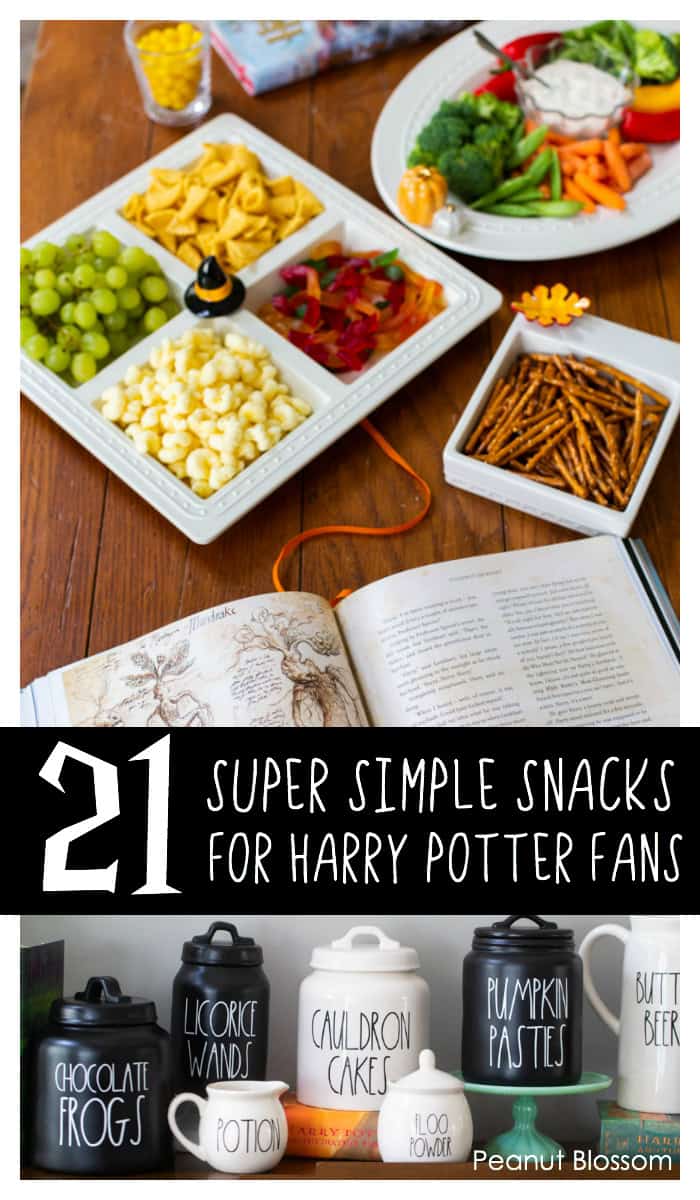 The moment I've been waiting for for over twenty years is finally here!!! From the time I first finished Harry Potter and the Sorcerer's Stone, I dreamed of being able to share his magical story with my own kids.
The Peanut has been enjoying Harry's adventures for three years. This summer, we finally brought our Little Pea into the fold. We declared this the Summer of Harry Potter and set out to read the first three books in the series together.
RELATED: What is the perfect Harry Potter age to read the books with your kids?
While we were reading the first book, I realized that Harry's birthday is July 31. Could there be a more perfect day for an epic Harry Potter movie party??
We decided to celebrate All Things Potter this week and I just had to share these easy ideas with you!
21 super easy Harry Potter snacks for the ultimate Harry Potter party: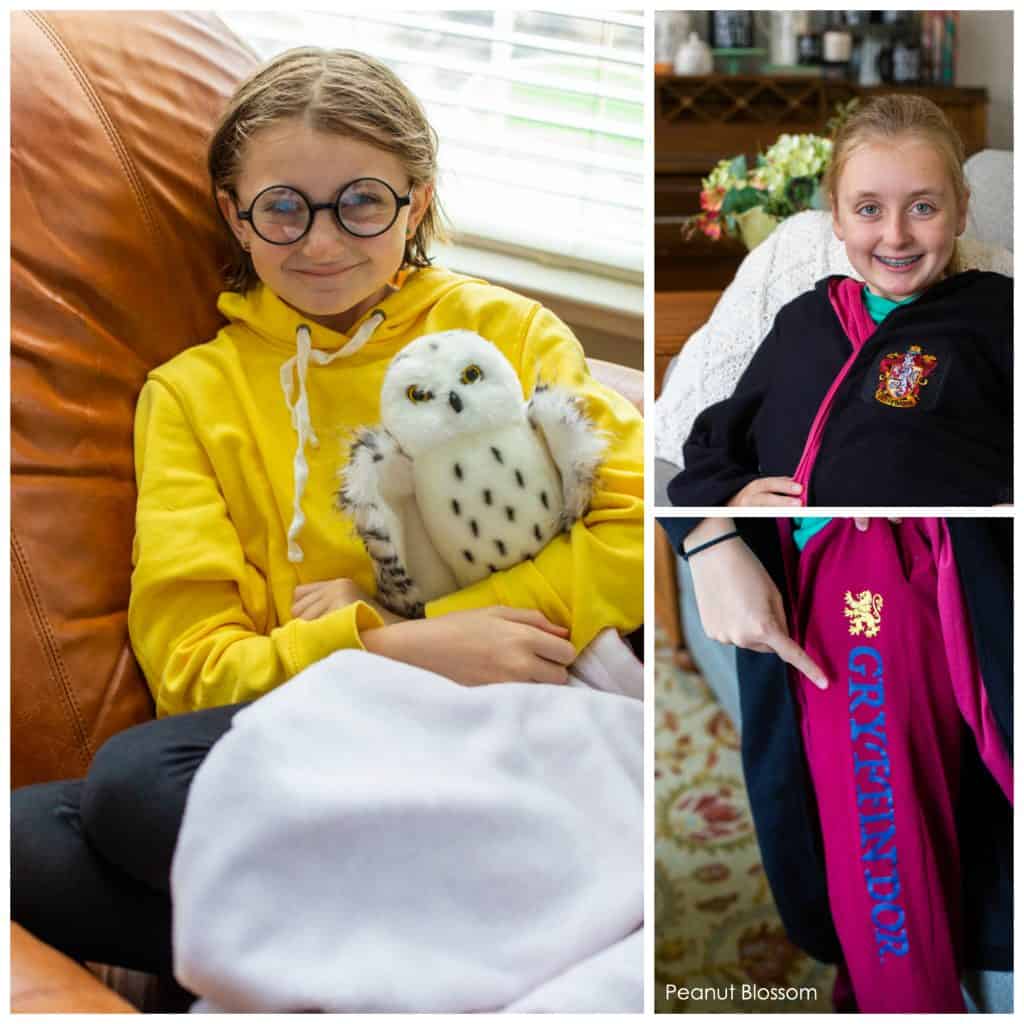 First, we set the mood:
I decorated the living room with a display of homemade Harry Potter Rae Dunn-style pottery that I crafted up earlier in the week. Fun post coming on that soon. The Peanut suggested I add my first-edition Harry Potter hardcover books I've been hoarding to the mix.
The Peanut dug up her Harry Potter robe from her Halloween costume a couple years ago and paired it with her Gryffindor jammies. Little Pea was recently sorted into Hufflepuff so donned her house colors and a pair of Harry Potter glasses.
Of course, Hedwig had to make an appearance, too!
How I picked the best Harry Potter snacks for the party:
Keep in mind, this was just for the three of us to enjoy on a random summer afternoon. We skipped lunch so we'd have a hearty appetite but I wanted our snacks to meet these parameters:
EASY, no cooking. We didn't have a ton of time, and I just wanted to grab things from the store and call it good.
Not all junk: Since we can't magically whisk away a tummy ache, I wanted to be sure we had some fruit & veggies involved!
Some treats, it's still a party: Of course we still had plenty of salty and sweet things to enjoy. This is all about balance.
Though our photos show everything altogether, I served our Harry Potter snacks in courses. This helped us to not eat too fast and ensured our movie marathon would last!
First up, the most clever serving of veggies ever: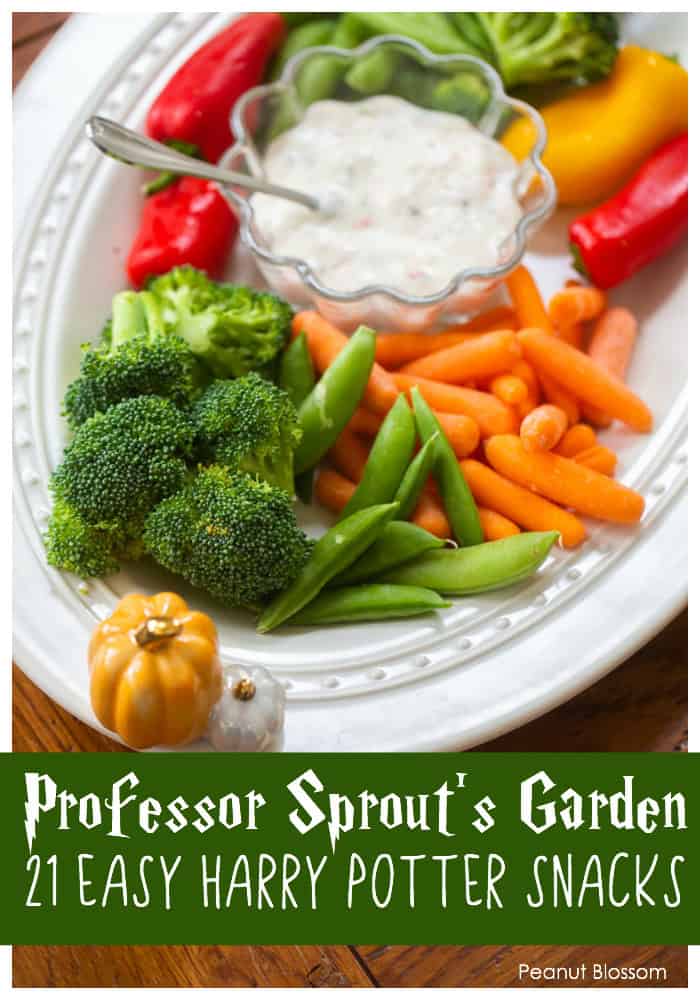 1. Professor Sprout's Garden:
I grabbed a pre-made veggie tray from Costco and served up the veggies on our adorable pumpkin platter.
2. Broomstick Dippers: 
I served up pretzel sticks as another option for dipping in the veggie dip from Costco.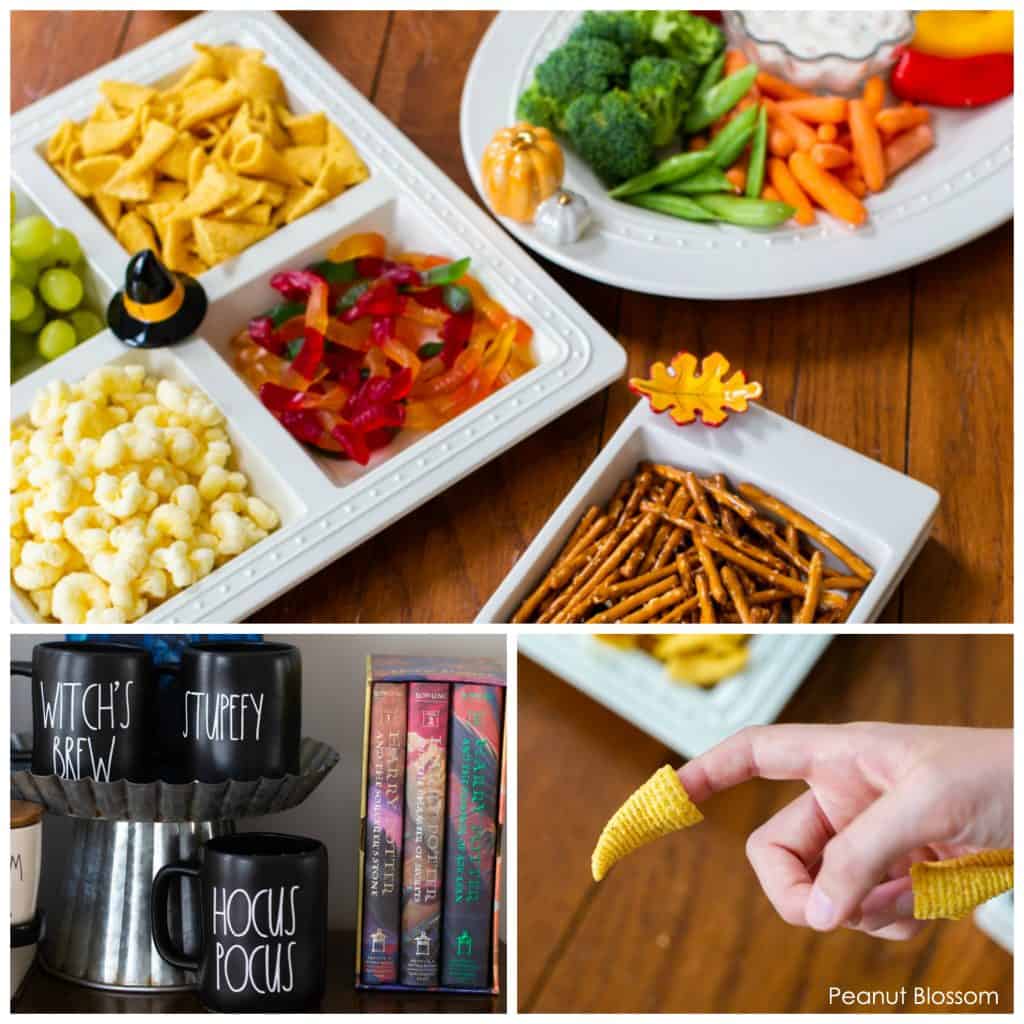 After we got our fill of veggies, I brought out the most hysterical treat tray ever.
How to make a Sorting Hat Snack Tray: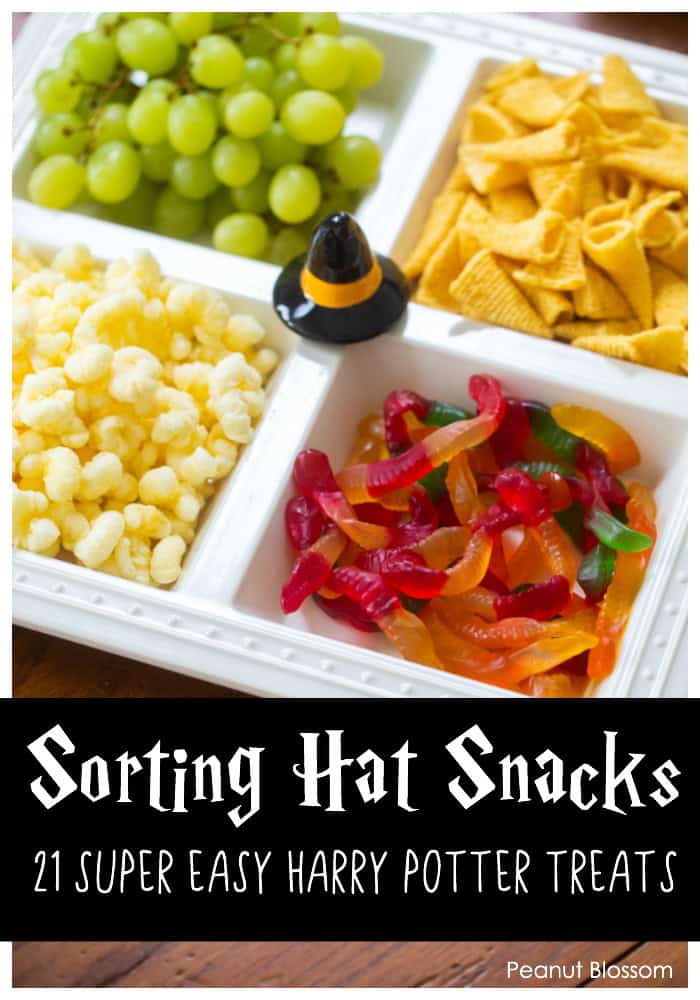 If your family hasn't been officially sorted into your Hogwarts House, you should do this fun activity before your movie party! You can find out your Hogwarts House right here.
We each took the quiz and our family was sorted as follows:
Tim: Ravenclaw
Me: Hufflepuff
The Peanut: Gryffindor
Little Pea: Hufflepuff
I put one snack representing each house onto our treat tray with a witch's hat decoration. (You can read all about the cute trays I used in this post right here.) Even if you did nothing else but this tray, you'd have the best Harry Potter snacks ever: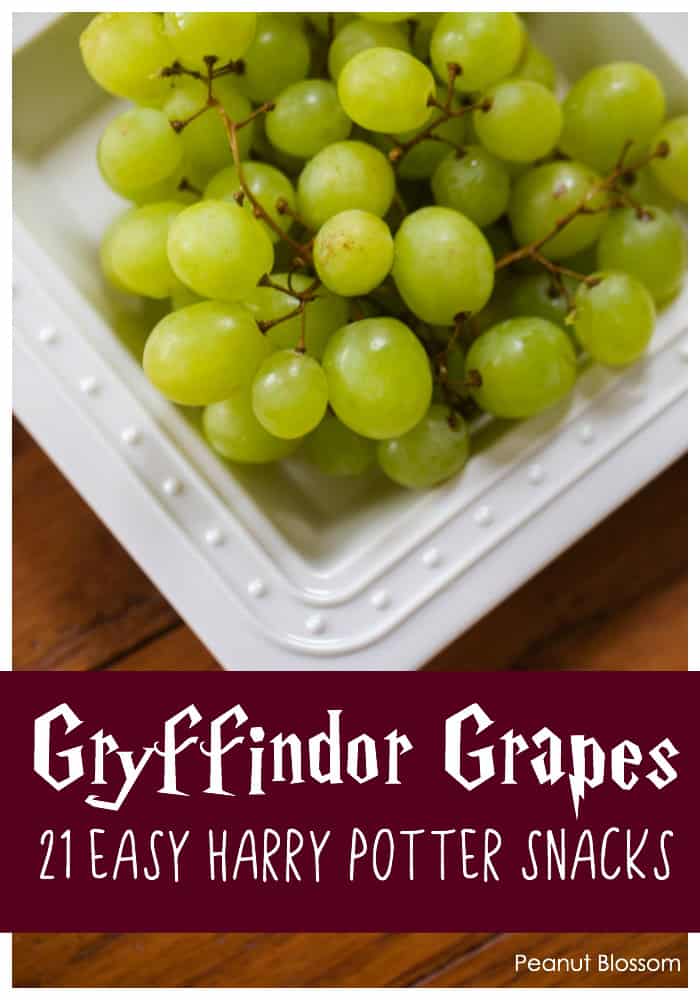 3. Gryffindor Grapes: A fun play on words and a healthy treat to boot. Red or green grapes both work, just wash up your favorites!
You could also choose any snack that represents the Gryffindor colors.
Gryffindor Colors: Red and Gold
4. Hufflepuffs: We used white cheddar Pirate's Booty but any cheese puff would work perfectly here. You could also substitute popcorn if you prefer.
You could also choose any snack that represents the Hufflepuff colors.
Hufflepuff Colors: Yellow and Black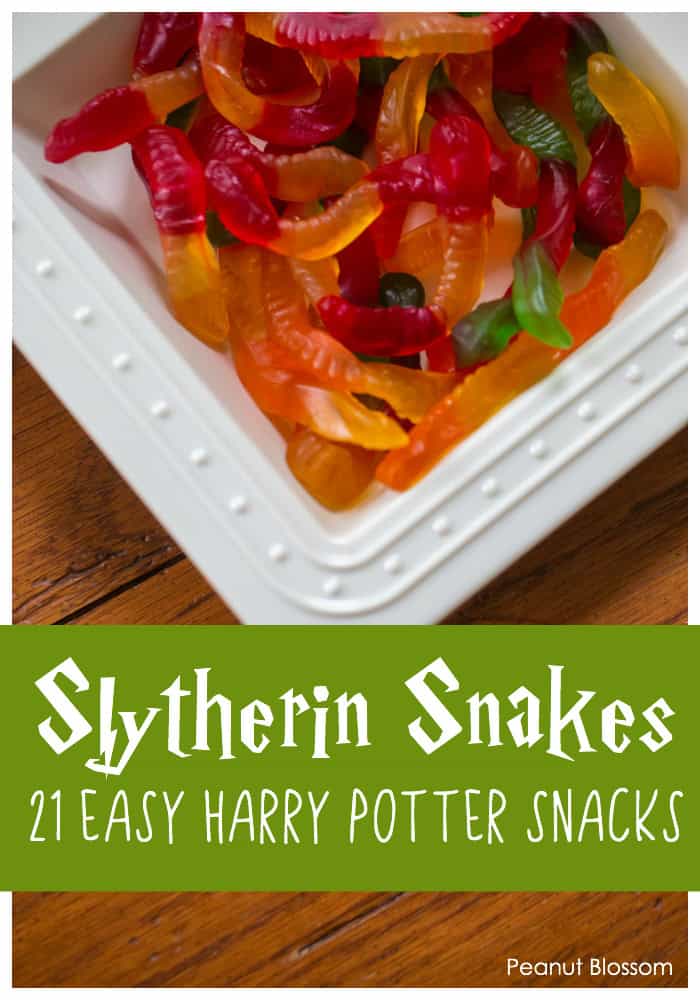 5. Slytherin Snakes: Little Pea chose her favorite gummy worms to stand in for the snakes. Pull n' Peel licorice or even mozzarella whips would also work for the snakes.
You could also choose any snack that represents the Slytherin colors.
Slytherin Colors: Green and Silver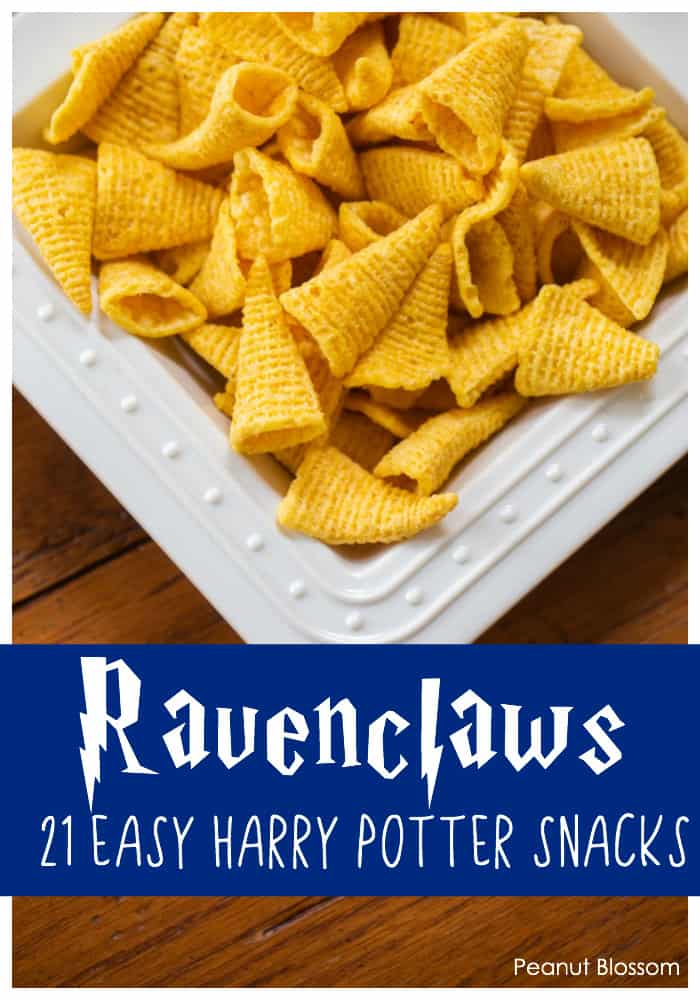 6. Ravenclaws: The surprise hit of the snack tray, my kids have never tried Bugles before! They didn't understand the joke until I showed them how to put the Bugles on their finger tips to form the raven claws. This is now one of our all-time favorite Harry Potter snacks! LOL!
You could also choose any snack that represents the Ravenclaw colors.
Ravenclaw Colors: Blue and Silver (in the Harry Potter movie versions) or Bronze and Blue (originally in the Harry Potter books)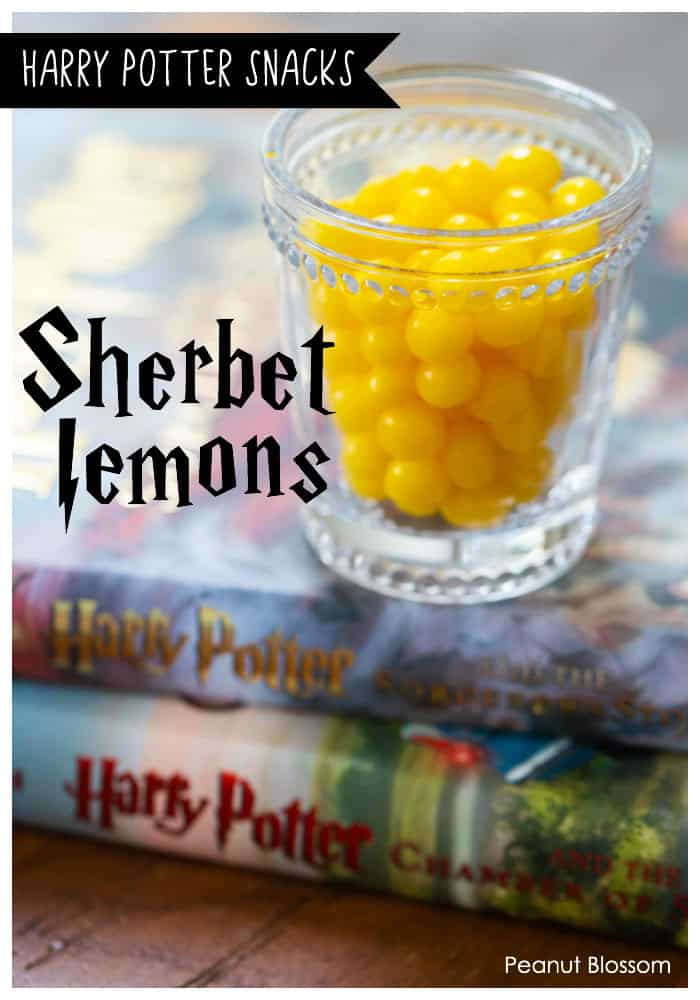 7. Dumbledore's Favorite Sherbet Lemons: We grabbed a box of Lemon Heads from the movie candy section of the store and I just poured them into a pretty cup I thought Dumbledore would adore.
8. Butterbeer: We bought old-fashioned bottles of cream soda to stand in for the Butter Beer. You could print cute labels to cover up the soda labels, but we kept it easy and just used our imagination.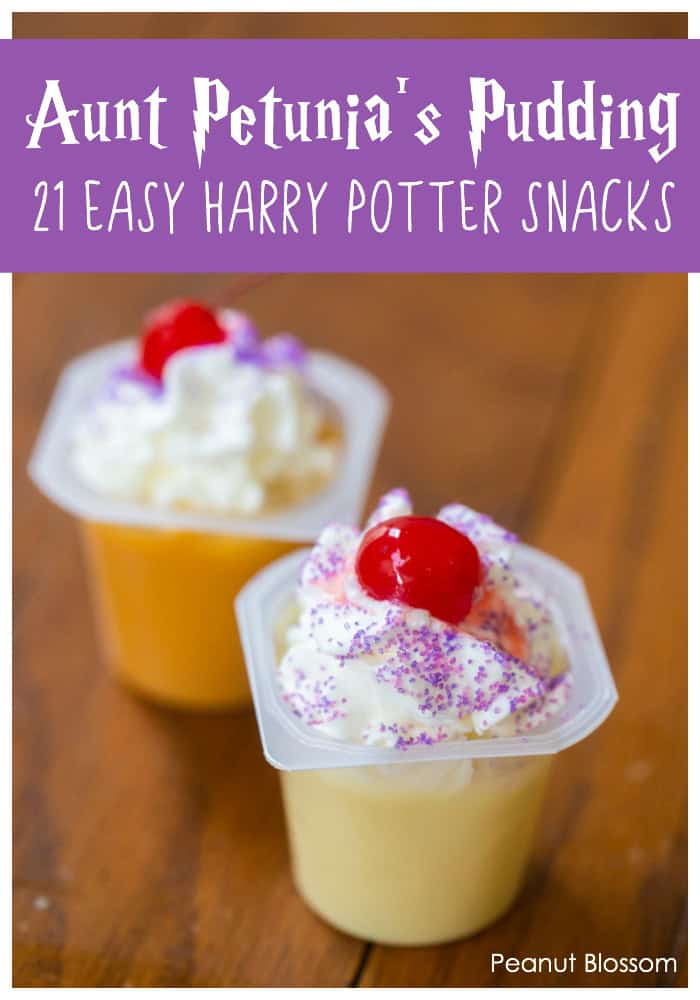 9. Aunt Petunia's Pudding: To cap off our Harry Potter movie party menu, I served up simple pudding cups topped with whipped cream, a cherry, and lavender sprinkles. The kids could choose from vanilla or butterscotch. Thankfully no house elves dropped by to pour the pudding on my living room couch.
If our menu isn't enough to make your wand twitch, here are a few more super easy Harry Potter snacks I rounded up for you:
10. Sorting Hat Sundaes: Top your favorite flavor of ice cream with a pointy sugar cone for the hat tip.
11. Every Flavor Beans: You can buy the gross but more authentic beanboozled jelly beans, or play it totally safe with your favorite jelly beans in a cup.
12. Jelly Slugs: Find gummy fish or slug-like shapes and imagine poor Ron and his backfiring wand.
13. Chocolate Snitches: Have the kids craft up some golden snitches like I used on the top of the Peanut's birthday cake! Takes just a TINY bit more effort but would look adorable on a snack tray.
14. Licorice Wands: Our family is addicted to the Pull n' Peel licorice, makes for a fun movie snack.
15. Butterbeer Popcorn: You can use your imagination with a bag of store-bought caramel corn tossed with white chocolate chips.
16. Peanut Butter Pretzels: Customize these super easy chocolate covered peanut butter pretzels with your family's Hogwarts House colors or just fun Halloween colors. Get the peanut butter pretzels recipe here.
17. Sorting Hats: Pour a bag of Hershey's kisses in a bowl.
18. Dragon Eggs: Egg-shaped Peanut M&Ms or leftover Easter candies (mini eggs or egg-shaped Reese's cups.)
19. Harry Potter's Birthday Cake: Buy a package of mini cupcakes and just add sprinkles.
20. Pumpkin Pasties: Either buy or make homemade pumpkin bread. You can use our very favorite pumpkin bread recipe here.
21. Polyjuice Potion: Any green juice you would let the kids have: Gatorade, Kool-Ade, etc.
BONUS: Harry Potter treats that take a little more time:
If you're willing to put in a little more time with your baking, you don't want to miss our other favorite Harry Potter treats:
A simple Treacle Tart recipe for Harry Potter fans
How to make an easy Harry Potter cake that your kids will love
How to make homemade Harry Potter chocolate frogs
Sours: https://www.peanutblossom.com/blog/easy-harry-potter-snacks/
RAVENCLAW [HOGWARTS HOUSES]
.
Now discussing:
.
566
567
568
569
570