VIZIO XVT553SV LCD TV (XVT553SV)
Screen Size
55" (140cm) Diagonal
Display Technology
LCD
Backlight Source
Direct-lit LED (dimming)
Resolution
1920x1080
Pixel Pitch
0.63 H×V
Aspect Ratio
16:9
Contrast Ratio
**
Brightness
500 cd/m2
Displayable Colors
1.1 billion colors
Viewing Angle
178°
Display Life
30,000 hours
Response Time
5ms
Screen Filter
**
Compatibility
Color System
NTSC, ATSC
Formats
480i, 480p, 720p, 1080i, 1080p_60
Composite
RCA
Back
Component (HDTV)
3 RCAs
Back
VGA In
15-Pin Dsub
Back
Tuner
Co-ax
Back
HDMI
HDMI (5 sets)
Back
Network
RJ-45
Back
Wireless Networking
Wireless
Back
USB
4 pin (3 sets)
Back
General
Bezel Color
Black
Power Supply
100V - 240V
Power Consumption
225 Watts
Standby Power
1.0 Watts
Dimensions (W x H x D)
(without stand or speakers)
132.5cm x 84.5cm x 7.5cm
Weight
34.5 kg
Speakers
15.0 W × 2
FCC Class
FCC Class B, Home Use
Warranty
1 year
MSRP
$2,199
Production Status
Out of Production
Last Ship Date
Jul 2011
Additional Features
3D Picture Support
No
3:2 Pull Down
Yes
V-Chip
Yes
Closed Captioning
Yes
Picture-In-Picture
Yes
** this item is either not applicable, unpublished, or unknown
VIZIO's Description
VIZIO®'s XVT553SV 55" TruLEDTM LCD HDTV with VIZIO Internet Apps™ delivers the ultimate HDTV experience! Packed with the latest technology, this high performance HDTV combines advanced picture quality, immersive virtual high definition sound and premium wireless Internet connectivity with built-in WiFi 802.11n dual-band so you can enjoy the convenience of on-demand movies, TV shows, social networking, music, photos and more with just the push of a button on the premium Bluetooth QWERTY keyboard universal remote!

Featuring full array TruLED™ backlighting with Smart Dimming for brilliant clarity, 240Hz SPS* refresh rate for sharper, blur free images, full 1080p high definition detail and 10,000,000 to 1 Dynamic Contrast Ratio delivering deeper blacks and brighter whites through contrast and dimensions, the XVT553SV renders every image with amazing precision, color and contrast. Enjoy immersive virtual high definition sound with SRS TruSurround™ HD premium audio processing and SRS TruVolume™, eliminating volume inconsistencies between programming. Take pleasure in knowing this energy efficient LED LCD HDTV exceeds new ENERGY STAR® 4.0 Guidelines, conserving our planet's resources while saving you money

LCD TVs
Shipping
80" (203cm) - M801D-A3

70" (178cm) - M701D-A3

70" (178cm) - E701i-A3

70" (178cm) - P702uiB3

65" (165cm) - E650i-A2

65" (165cm) - P652uiB2

60" (152cm) - P602uiB3

60" (152cm) - M602I-B3

60" (152cm) - E600I-B3

60" (152cm) - M601D-A3

60" (152cm) - E601i-A3

55" (140cm) - E551VL

55" (140cm) - M551D-A2R

55" (140cm) - E550I-B2

55" (140cm) - P552uiB2

50" (127cm) - E500I-B1

50" (127cm) - E500i-A1

50" (127cm) - E502AR

50" (127cm) - E500i-A0

50" (127cm) - P502uiB1

50" (127cm) - P502uiB1E

50" (127cm) - M501D-A2R

48" (122cm) - E480i-B2

47" (119cm) - E3D470VX

47" (119cm) - E470i-A0

47" (119cm) - E470-A0

47" (119cm) - M471I-A2

46" (117cm) - E461-A1

42" (107cm) - E420-A0

42" (107cm) - E420d-A0

42" (107cm) - E420i-A0

42" (107cm) - E420i-A1

42" (107cm) - E420AR

42" (107cm) - E421VO

42" (107cm) - E420VT

42" (107cm) - E420i-B0

40" (102cm) - M401I-A3

40" (102cm) - E400i-B2

40" (102cm) - E401i-A2

39" ( 99cm) - E390i-A1

39" ( 99cm) - E390-A1

39" ( 99cm) - E390VL

39" ( 99cm) - E390-B0

39" ( 99cm) - E390i-B1

39" ( 99cm) - E390-B1

39" ( 99cm) - E390i-B0

37" ( 94cm) - E370VT

37" ( 94cm) - E370-A0

32" ( 81cm) - E320i-A2

32" ( 81cm) - E321MV

32" ( 81cm) - E322MV

32" ( 81cm) - E320-A1

32" ( 81cm) - E320-B0

32" ( 81cm) - E320-B1

32" ( 81cm) - E320i-B0

32" ( 81cm) - E320i-B1

32" ( 81cm) - E320i-B2

32" ( 81cm) - M321I-A2

32" ( 81cm) - E320-B2

29" ( 74cm) - E291-A1

28" ( 71cm) - E280I-B1

28" ( 71cm) - E280i-A1

26" ( 66cm) - E261VA

24" ( 61cm) - E241-A1

22" ( 56cm) - E221VA

19" ( 48cm) - E191VA



Announced
55" (140cm) - E551d-A0

55" (140cm) - E551i-A2

55" (140cm) - E550i-A0

40" (102cm) - E400-B2

24" ( 61cm) - E241i-A1

22" ( 56cm) - E221i-A1



Show Discontinued VIZIO HDTVs
Sours: http://www.hdtvsolutions.com/vizio-xvt553sv.htm
Vizio XVT3SV review:
Vizio XVT3SV
Editors' note: Based on the strength of its performance against the competition, we have awarded the Vizio XVT3SV series our Editors' Choice among LCD TVs for 2010. Also, on February 16, 2011, we lowered the Design score from an 8 to a 7, lowering the overall score from 8.3 to 8.0. We feel the new score more accurately reflects the TV's design in the current marketplace.
Series information: We performed a hands-on evaluation of the 55-inch Vizio XVT553SV, but this review also applies to the 42- and 47-inch sizes in the series. All three employ full-array LED backlights with local dimming, have identical specs, and according to the manufacturer should provide very similar picture quality. The review does not apply to the smaller screen sizes in the series, namely the 32-inch XVT323SV and the 37-inch XVT373SV, which employ edge-lit LED backlights.
Design
The all-black styling of the XVT3SV series won't turn many heads.
Design highlights
Panel depth
3 inches
Bezel width
2.2 inches
Single-plane face
No
Swivel stand
No
After repeatedly failing to impress with its bulky, two-tone 55-inchers from 2009 and earlier this year, Vizio finally updated the looks of its XVT models. The new design ditches the silver speaker bar and goes all-black, and also introduces a few rounded edges on the side of the bezel and between the speakers along the bottom. The overall look is a bit sleeker but still generic, and the stand doesn't swivel, but at least the XVT3SV models will blend unobtrusively enough into most decors.
Vizio also cut the depth from 5 down to 3 inches, in case you care. We don't, but we do care that you can't disable the glowing Vizio logo when the TV's turned on. Firmware update, please?
One of the TV's best features is the remote, with its full QWERTY keyboard and Bluetooth functionality.
Remote control and menus
Remote size (LxW)
6.3 x 2.2 inches
Remote screen
N/A
Total keys
91
Backlit keys
0
Other IR devices controlled
Yes
RF control of TV
Yes (Bluetooth)
Shortcut menu
No
Onscreen explanations
Yes
Other:Remote has slide-out QWERTY keyboard and integrated control for other IR devices
Vizio's secret weapon, found on no other TV remote we know of, is a full slide-out keyboard with dedicated keys for letters, numbers, and symbols, just like on a smartphone. Best of all, it's included with the TV for free, not as an expensive option like someother Internet-friendly remotes.
We found the thicker, heavier clicker reassuring in the hand. Its standard keys are easy to navigate and thoughtfully laid-out, although we'd appreciate more differentiation by feel. The lack of any kind of illumination didn't help, and we missed having a dedicated key for aspect ratio. The keyboard worked on all of the apps we tried, and although we found it more cramped and somewhat less responsive compared, say, with the keyboard on a typical smartphone, it's perfectly usable and makes Tweets, Facebook status updates, and username/password sign-ins so much easier than the standard remote/onscreen keyboard combo.
Bluetooth means the remote works without needing line-of-sight, and also promises future functionality. Although we didn't test it, Vizio says the TV can pair with other Bluetooth devices like a full-size keyboard or stereo headphones. Vizio is releasing a pair of such headphones soon, but told us that any recent Bluetooth-compatible set should work.
The universal aspect of the remote was also well-thought-out. Onscreen prompts, as opposed to long lists in the instruction manual, guide you through programming control codes for your devices; the volume and mute keys can "punch through" to operate external gear like an AV receiver. It lacks the full task-based functionality of a Harmony, but this TV remote still goes further than any we've tested toward obviating most users' need to buy a universal model in the first place.
Vizio's menu system resembles another App in appearance, and we liked that the picture settings section is actually integrated into the main App taskbar (see below). Responses were fast, explanations complete, and we had no problems finding our way around. In sum, the remote and menus of the XVT3SV series were among the best we've used, and surpass in many ways the efforts of more well-known brands.
The TV's menus are seamlessly integrated into the Apps system.
Features

Key TV features
Display technology
LCD
LED backlight
Full-array with local dimming
3D-compatible
No
3D glasses included
N/A
Screen finish
Matte
Refresh rate
240Hz
Dejudder (smooth) processing
Yes
1080p/24 compatible
No
Internet connection
Yes (built-in Wi-Fi)
Wireless HDMI/AV connection
No
Local dimming of the full-array LED backlight, our favorite variety, is the main display-related draw. The 55-inch model boasts 120 "zones" of dimming, whereas the 55-inch 2XVT model had 80 (the 42-inch XVT3 has 120 zones and the 47-incher 160, but we don't think the difference will be visible). Vizio says it has also improved the dimming capability of the zones, allowing them to go all the way to black when appropriate with other bright content onscreen (in similar mixed scenes, the zones on the 2XVT models were limited to a minimum of 5 percent above black). See Performance for details on blooming, as well as on the results of our 1080p/24 testing.
We applaud the integration of Wi-Fi, and in our testing it worked much better than on the 2XVT we tested earlier. With the same setup and test Wi-Fi router, we measured around 6,500Kbps according to the XVT3's internal test, whereas the 2XVT came in at around 2,800Kbps.
Though videos often took a while to load via Wi-Fi on the XVT3--around 90 seconds at times on Netflix, for example--they evinced the quality we expected with no dropouts. We did experience a hiccup or two, for example when an Amazon Video On Demand title played in low quality at first, then improved when we restated the app, so as usual we recommend going with the wired connection when you can. And as with all Wi-Fi setups, your mileage will vary with your router and environment. All of the testing below was performed via the wired connection.
Vizio's Apps system appears along the bottom of the screen and can even overlay other Apps.
Streaming media
Netflix
Yes
YouTube
No
Amazon Video on Demand
Yes
Rhapsody
Yes
Vudu video
Yes
Pandora
Yes
CinemaNow
No
DLNA compliant
No
Blockbuster
No
USB
No
Other: SyncTV Kids, Web Video
Aside from Hulu Plus, available now on Samsung and coming to Vizio this fall, the XVT3SV series isn't missing anything major, and its Rhapsody subscription music service remains an exclusive (although Samsung has added Napster, for its part).
Netflix, Vudu, and Amazon VOD generally exhibited the picture quality we expected, and we appreciated that many picture controls were available--including picture modes, backlight level, and advanced controls like dejudder, but excluding contrast, brightness, color, etc. Vizio treats these streaming services as a separate input, and unlike other such TVs can run other Apps simultaneously, allowing you to Tweet or check Facebook while watching Netflix, for example. Think of it as TV multitasking, or just think of streaming services as another TV channel.
Nearly every Rhapsody function is included in the app, turning the Vizio into a celestial jukebox for subscribers (starting at $10 per month; the TV doesn't count as a "device" against your total) and begging for connection to an external audio system (analog and digital audio output is supported). Searches for artists, songs, etc., came up quickly, and autocomplete kicked in as we typed the first few letters. We assembled a playback queue, called up Rhapsody's channels and our own custom playlists, and enjoyed cover art on the big screen. All was not perfect--we experienced some delays and freezes, such as when loading a large My Library list, and once or twice between songs--but in general this ambitious app is a winner.
The free Pandora service also worked well in our testing, syncing custom stations with our online account. Neither audio app lets you run other apps or sources simultaneously, and neither does video from SyncTV Kids, which features full episodes of animated titles like "Babar" and "Class of the Titans."
In the last couple of months Vizio has added a few new apps, including a streaming service titled simply "Web Video." It offers access to video content in a neatly organized list of "channels" like CBS, NBC, Fox, and PBS, in addition to lesser-known names like World Poker Tour, NASA 360, G4, and GeekBrief. Full TV episodes are rare to nonexistent on the major networks, with the exception of the well-stocked PBS feed, but as expected for video that originates online, video quality is pretty bad in general, even from sites like PBS that have higher-quality content online. Vizio says it will add Blockbuster and CinemaNow soon, for what it's worth.
Unlike most other Internet-enabled TVs, the XVT3 series currently does not offer streaming of your music, photos, and video via a home network (DLNA) or USB stick. Vizio says it will add such functionality in time for the 2010 holiday season.
A new App allows access to select Web video, but don't expect the same kind of selection, or video quality, as Hulu Plus or Netflix, for example.
Internet apps
Yahoo widgets
Yes
Skype
No
Vudu apps
No
Weather
Yes
Facebook
Yes
News
Yes
Twitter
Yes
Sports
Yes
Photos
Flickr/Picasa
Stocks
Yes
Other: At press time there were 30 total non-streaming widgets, including 13 Yahoo widgets with three games, eBay and more; MediaBox allows access to Picasa accounts
Although Samsung has also appropriated the popular "apps" title for TVs, Vizio arrived at the Apple iPhone nomenclature imitation party first. It calls its platform VIA, for "Vizio Interactve Apps," although in our book the "I" could stand for "integrated." VIA is the most tightly woven Internet TV experience we've tested yet, and acts like Yahoo Widgets should have all along (see that writeup for basic information).
All of the applications, from Amazon VOD to Netflix to Yahoo Weather, can be found in the Widget Gallery, which conjures up a notification graphic when new apps are available. When downloaded they appear after a few seconds in the taskbar along the bottom of the screen. Load times were entirely tolerable, and navigation was snappy both within apps and between them on the bar itself, even when we filled it with apps.
Notable nonstreaming apps include eBay, Facebook, iMemories (a pay home movie upload and sharing service), a Wikipedia search, and three different weather services. A few questionable widgets are also available, such as an information service for the United Way of Greater St. Louis, and the local news, sports, and weather for Raleigh-Durham, N.C. Numerous games and the usual Yahoo Widgets suspects (reviewed separately here) round out the selection.
The Wiki app enables Wikipedia searches right on the screen.
Picture settings
Adjustable picture modes
9
Independent memories per input
Yes
Dejudder presets
3
Fine dejudder control
No
Aspect ratio modes -- HD
4
Aspect ratio modes -- SD
4
Color temperature presets
4
Fine color temperature control
2 point
Gamma presets
0
Color management system
No
The selection here is fairly standard, aside from the ridiculous number of picture modes Vizio offers. All are adjustable per input, so viewers who like to create different settings for all kinds of material and sources will have a lot to like. We'd like to see gamma presets and especially the ability to adjust dejudder processing beyond the three presets, but neither is in the offing.
Advanced picture settings include dejudder presets and a 2-point grayscale control.
Other features
Power saver mode
No
Ambient light sensor
Yes
Picture-in-picture
Yes
On-screen user manual
No
Other: Help section includes Guided Setup
Vizio lacks that trendy "Eco" subsection in its menu, although power consumption is quite efficient without it (see below) and the company did add an ambient light sensor to the XVT3 series. Picture-in-picture is becoming rarer these days, so that's nice to see. Onscreen help consists mainly of step-by-step setup guides for the remote, network, and more, and though the paper manual and accompanying Quick Start Guide are, as usual for Vizio, clear and well-written, we'd love to see better onscreen help options within individual apps, too.
Connectivity
HDMI inputs
4 back, 1 side
Component video inputs
1 back
Composite video input(s)
1 back
S-video input(s)
0
VGA-style PC input(s)
1 back
RF input(s)
1
AV output(s)
1 stereo audio
Digital audio output
1 optical
USB ports
3 side (inactive)
Ethernet (LAN) port
Yes
The XVT3's five HDMI inputs trump the competition, for what it's worth. An additional component-video input would be nice, as would another composite connection on the side--and fans of S-Video will be sad to hear that Vizio has joined most other makers in ditching that input type. We wish the company would activate the three USB ports for media streaming, but that feature is still "coming soon" according to the company, so for now they're useless.
Between the back and side panels, the XVT3SV proffers a healthy five HDMI inputs.
Performance
The image quality of the Vizio XVTSV series is excellent overall, comparing well against significantly more-expensive LED-based TVs and plasmas in crucial areas like black-level performance and color accuracy--the latter is a particular strength. Its main weaknesses are blooming and off-angle performance, and we also miss the ability to properly handle 1080p/24 sources. All told, however, the Vizio XVT3SV is one of the best-performing LCDs we've tested this year.
The initial Movie preset on the XVT3SV series delivered an extremely accurate grayscale, but was about twice as bright as we prefer for a dim room (it maxed out at 80 ftl) with a relatively bright gamma (averaging 1.8). For our calibration we reduced that light output to our preferred 40 and were able to achieve a much better gamma (2.3 versus our target of 2.2 average) while maintaining the excellent, linear grayscale. Perhaps a more-advanced 10-point system, found on LG and Samsung sets, could have allowed an even more accurate calibration, but that's a quibble given the superb results we achieved using the available controls.
For our principal image quality tests we fired up old favorite "Star Trek" on Blu-ray and set the XVT3 up against the following HDTVs.
Black level: As we expect from an LED TV with full-array local dimming, the XVT3 performed well in this department, surpassing the Vizio 2XVT and both of the Samsung models. Though it couldn't best the LG LH8500, the Sony HX909, or the Pioneer and Panasonic plasmas--all of which cost significantly more--in depth of black delivered, it's otherwise among the best we've tested.
Those deep blacks were mainly visible in darker scenes, as usual, such as the beginning of Chapter 4, which starts with a shot of a star field that darkens as a Romulan ship sweeps in front of the camera. They also lent plenty of punch to mixes scenes, like the shots of young Spock among the formulas in Chapter 2; they showed plenty of contrast without evincing the dimmer highlights we noticed on the Vizio 2XVT.
The one area where the XVT3 came up short compared with its predecessor, as well as to the C8000 and LH8500, was blooming, which appears as stray illumination in dark areas adjacent to bright ones. We noticed more blooming on the newer Vizio in areas like credits, graphics, and the icons of our PS3, where very bright objects appeared on dark backgrounds. The blooming was also significantly more-visible from off-angle.
On the other hand during most scenes in the film, including very dark and mixed scenes where it would show up best, no blooming was visible. Compared with the other local dimmers, the XVT3's blooming wasn't as apparent, or as blue-tinged, as on the HX909 (where the darker blacks also contribute the visibility of blooming). In the scene in Chapter 2 where the car drives across the field at night, the XVT3 also lacked the subtle flashing in the backlight we saw on the LH8500.
Shadow detail on the XVT3 was excellent. When the hostage Federation captain faces the Romulan captain in Chapter 1, the folds on the Romulan's sleeve and robe were well-detailed without being too bright and the fade along his cheek from bright to dark looked as accurate as on our reference and the VT25. Most of the other LED models, including the C8000 and the HX909, obscured these details slightly in comparison, a symptom of darker gamma in deep shadows.
Color accuracy: The XVT3 was among the best TVs in our lineup in this category, thanks to its linear grayscale and balanced color. The results were evident in skin tones, such as the faces of Kirk and Spock in the auditorium in Chapter 4, which appeared natural and well-balanced without the ruddiness or paleness we saw on some of the other LEDs. The red of the cadets' uniforms, the green of the grass in the quad, and the blue sky all looked accurate as well, and colors were saturated without looking garish.
One traditional color-related weakness of LED-based LCDs, namely too-blue black and near-black areas, was in evidence on the Vizio, but the blue didn't stray too much into shadows, and as a result was less prevalent than on some of the competitors. It still represents the XVT3's biggest problem in this category, however, especially compared with the plasmas.
Video processing: The XVT3 series performed almost the same as the 2XVT in this category. Vizio equips the TV with a pair of controls related to dejudder, which it calls Smooth Motion Effect--with Low, Medium, and High settings--and Real Cinema Mode--with settings called Precision and Smooth. As with most such processing, we prefer to leave it off for film-based movies, where smoothing can make it look too much like video. The Low setting, when we did engage the control, produced the fewest artifacts and least-objectionable effect and even preserved some judder (more so than on the 2XVT models, which is an improvement in our book), whereas higher settings piled on the processing. As with previous Vizio, we couldn't see much difference between either of the Real Cinema Mode settings on the XVT3.
Our motion resolution test pegged the XVT3 lower than other 240Hz models we've tested, maxing out at between 600 and 700 lines in any setting with dejudder engaged (and the standard 300-400 with it turned off). Real Cinema had no effect on these numbers, and as usual we weren't able to tell the difference in motion resolution with real program material, as opposed to test patterns.
The XVT3 did not properly handle 1080p/24 material in our testing. Disabling dejudder processing on a 240Hz TV should cause it to implement proper film cadence, but that didn't work in this case. Instead, during the helicopter flyover from "I Am Legend," the Vizio introduced the characteristic hitching pan of 2:3 pull-down. None of the other settings we tried could handle 1080p/24 correctly, either; they all introduced smoothing.
Uniformity: Blooming aside, the XVT3SV maintained brightness and color consistency across its screen better than any of the other LCDs in our lineup, and nearly as well as the plasmas. The banding we saw on the LH8500 and C8000 was nowhere to be found, and the edges of the screen were neither darker (as on the HX909) nor lighter (as on the C8000) than the middle.
From off-angle, however, the Vizio was among the worst in our lineup. Blooming intensified significantly, becoming a sort of blue cloud spreading from light into dark areas. Black-level performance fell off even more than on the other LEDs, although color shift was minimal.
Bright lighting: The XVT3 has the same screen as the 2XVT, and it also performed very well in this category. Its matte finish proved a big asset in well-lit environments, cutting down on reflections from light sources and bright objects more effectively than any of the other displays. It also preserved black levels better than the LG and the plasmas, albeit not quite as well as the Samsung or Sony LEDs.
Standard-definition: The set did relatively well on our standard-def tests, delivering the full resolution of DVD but looking a tad soft on the detail shot of the grass and stone bridge. Jaggies on moving diagonal lines and a waving American flag were kept to a happy minimum, and noise reduction functioned well to clean up the low-quality shots of skies and sunsets. The set engaged film mode, detecting 2:3 pull-down, properly.
PC: Via HDMI the XVT3 performed as well as any 1080p display should, resolving every line of a 1,920x1,080-pixel source with crisp details and no overscan. Via its VGA-style PC input, the image was acceptable but less perfect, with edge enhancement we couldn't completely remove without softening the image, and some subtle flashing in high-res areas.
| TEST | RESULT | SCORE |
| --- | --- | --- |
| Before color temp (20/80) | 6426/6409 | Good |
| After color temp | 6484/6511 | Good |
| Before grayscale variation | 26.9 | Good |
| After grayscale variation | 34.8 | Good |
| Color of red (x/y) | 0.644/0.331 | Good |
| Color of green | 0.303/0.605 | Good |
| Color of blue | 0.154/0.06 | Good |
| Overscan | 0.0% | Good |
| Defeatable edge enhancement | Y | Good |
| 480i 2:3 pull-down, 24 fps | Pass | Good |
| 1080i video resolution | Pass | Good |
| 1080i film resolution | Pass | Good |
Power consumption: We did not test the power consumption of this size in the Vizio XVT3SV series, but we did test the 55-inch model. For more information, refer to the review of the Vizio XVT553SV.
How we test TVs
Sours: https://www.cnet.com/reviews/vizio-xvt553sv-review/
Vizio XVT553SV Is an HDTV Bargain
Vizio has built a reputation for manufacturing flat-screen TVs that deliver great value for the money, and the company's top-of-the-line 55-inch LED-backlit LCD TV, the XVT553SV, does not disappoint. Its suggested retail price of $2200 (as of October 1), is about two­-thirds that of the top-rated model on our Top 5 50-, 52-, and 55-Inch HDTVschart, which it almost matches in features and image quality--and outperforms in energy efficiency.
One nice Vizio accessory is a Bluetooth remote with a slide-out QWERTY keyboard. Roughly the size of a smartphone (but thicker than most), this remote doesn't require line-of-site proximity to communicate with the set (no more worrying that your soft drink or your pet may interfere with your channel surfing)--and the keyboard comes in handy if you use any VIA (Vizio Internet Applications) features that require data entry. The keyboard's keys aren't that large, and holding down the function key while typing can be awkward--but using it sure beats relying on a conventional remote's arrow keypad to navigate an on-screen software keyboard, which is what most sets require.
The XVT553SV's full-array LED-backlit display held its own in our juried image-quality tests. Despite falling short of the superlative quality achieved by the the Samsung UN55C8000 (which earned a high ranking in our Best of 2010 list), the Vizio set collected good to very good ratings across the board. Its minor weaknesses were in details and sharpness, and it also evinced a slight flicker in our motion tests. This isn't too surprising for a set with a native refresh rate of 120Hz. (Vizio bills its refresh technology as "240Hz SPS," but the fine print explains that the set displays 240 scenes per second by combining "advanced 120Hz technology" with a scanning backlight.
In any event, the set's image quality ratings put it in the top quarter of those we've looked at during the past few months. Its audio quality was fairly good, too, pumped out by two 15-watt speakers that use convincing surround-sound simulation technology. It's also one of the greenest sets we've tested, consuming just 66 watts of electricity per hour on average. Disappointingly, its power-off consumption was 0.9 watt, compared with 0 for many LED-backlit sets, but you can correct this fault by hooking the set up via a power-surge strip that you disconnect when not in use.
Vizio's attention to HDTV setup continues to raise the bar for competing vendors. With the XVT553SV, its first-time setup wizard starts by having you set up your Internet connection, via ethernet or either 2.4GHz or 5GHz 802.11n Wi-Fi. Having the 5GHz option available can be quite helpful: It supports many more connections, so it's less prone to interference. (Of course, a wired connection is generally better if you plan to stream media over the Internet--for example, by using Netflix on Demand.)
Once you've set up your network connection, the wizard walks you through setting up inputs and scanning for channels (if you're using a coaxial hookup to receive programs via an antenna or a conventional cable).
As usual, Vizio's on-screen menus provide tons of customization options: presets for optimizing video quality based on content type, advanced image adjustments, picture-in-picture mode, specialized functions like automatically adjusting volume levels, and more. All are readily accessible through nicely designed menus that offer explanations for features as you navigate through them. For additional help, the set comes with an excellent quick-start guide--a poster-size sheet in glossy color that clearly identifies available connections and what they're for. The owner's manual is equally slick, handsome, and helpful.
Vizo's VIA services doesn't offer as many Internet apps as Sony and Samsung, but they include a number of big guns (such as Facebook, Flickr, Netflix, Pandora, Twitter, and Yahoo Widgets). They're easily accessible, too, via a pop-up dock that you can customize by adding the services and content that interest you. Different household members can create their own docks tied to the profiles they create on the set.
The one puzzling aspect of the XVT553SV is its lack of support, as shipped, for playing media on a USB drive. Clearly the set's designers expected it to handle this task: It has three USB ports, and though the owner's manual merely says that the ports are reserved for future use, the troubleshooting section devotes a few sentences to media player problems.
A Vizio spokesperson told us that media player functionality would be added via a firmware upgrade, but it's annoying that Vizio is shipping a product that lacks such an important feature.
Aside from this oddity, the XVT553SV shapes up as new proof of Vizio's oft-stated commitment to delivering high-end quality at low prices. But we recommend waiting for that firmware upgrade before running to the store.
This story, "Vizio XVT553SV Is an HDTV Bargain" was originally published by PCWorld.
Note: When you purchase something after clicking links in our articles, we may earn a small commission. Read our affiliate link policy for more details.
Generic Company Place Holder XVT553SV 55-Inch LCD TV

The Vizio XVT553SV delivers solid image quality and a good collection of Internet features at an outstanding price.

Pros

Very low power consumption
Very low power consumption
Reasonable price
Reasonable price
Great Internet features
Great Internet features
Good image quality
Good image quality

Cons

Requires firmware update to play media on USB drive
Requires firmware update to play media on USB drive
Sours: https://www.techhive.com/article/207306/Vizio_XVT553SV_HDTV.html
Visio Xvt553sv Review
Performance
Features
Ergonomics
Value
Price
: $2,200
At A Glance
: Outstanding resolution • Accurate color • Superior off-axis performance
LED Goes Main Street
I'm a 3D fan to a point. But after a steady diet of four (or was it five) 3D flatpanel reviews in a row, the opportunity to take a brief vacation from those ubiquitous 3D glasses was a pleasure, even as three more 3D sets lay waiting in the wings for our probing eyes and meters. Vizio plans to release its own 3D sets soon, possibly even by the time you read this. But for now, the 2D XVT553SV is the company's premier offering.
The current go-to features for buyers who aren't yet turned on by the rush to 3D are LED back- or side-lighting, a big screen, and Internet connectivity. This 55-inch Vizio has them all.
The 2D Goodies
How soon we forget about those monstrous rear-projection sets. At 3 inches deep and 77 pounds, the Vizio XVT553SV would look anorexic next to any of them; but in today's Jenny Craig flat-panel market, it can't exactly brag about its waistline. But it can't brag about a sticker-shock price, either; value is what Vizio is all about.
The XVT553SV has only one on-set control, a jag wheel that functions as an on/off switch, an input selector, a channel selector (for the onboard tuner), and a volume control for the set's better-than-average audio. For those all-important video adjustments, you'll need to keep the remote handy. Fortunately, apart from a lack of backlighting, the remote is a good one, with unique features that include both IR and Bluetooth operation plus a small, slide-out keyboard for use with the set's Internet apps.
The set's appearance, in basic black, is neat but not flashy. The brightly lit Vizio logo sits at the bottom center of the frame, and you can't dim it or turn it off. The input complement, divided between the back and side panels, is more than sufficient. And while the screen is somewhat reflective, it's far less so than many of its competitors.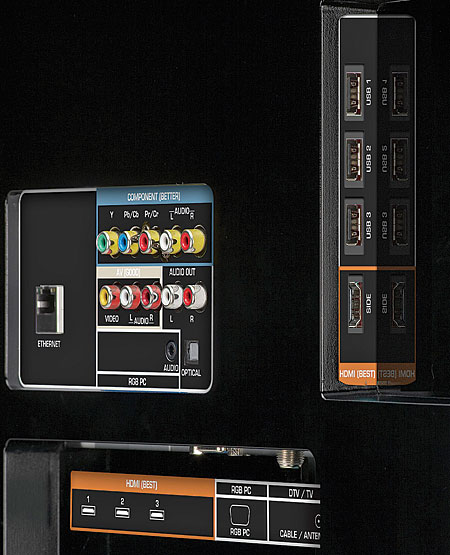 Vizio's owner's manual is one of the clearest, least cluttered, and best organized we've seen. It even gives real explanations for most of the basic controls. For example, "The brightness control adjusts the black levels in the picture. If the brightness control is too low, you will not be able to see the detail in darker parts of the picture, and if the brightness is too high, the picture will look washed out." When was the last time you saw a manual get that right—or even attempt to?
There are nine, count 'em, nine different preset Picture Modes: Standard, Movie, Game, Vivid, Football, Golf, Basketball, Baseball, and Custom. Why you would need different settings for football and golf is beyond me. I chose Movie for all of my testing. Each mode is separately adjustable and can also be set independently for each input.
There are high and low red, green, and blue adjustments for calibration but no color management system (CMS). A Color Enhancement feature, under the Advanced Picture menu, performs some minor color functions but is not a CMS.
The Smooth Motion control, or to use Vizio's full designation, 240Hz SPS Smooth Motion, is also located in the Advanced Picture menu. This feature's Motion Estimation/Motion Compensation (ME/MC) algorithm operates at the set's true refresh rate of 120 hertz; backlight scanning gives this a 240-Hz effect. The Vizio interpolates the extra frames it needs to bring the source frame rate up to the set's refresh rate when Smooth Motion is on; it simply repeats frames when Smooth Motion is off. Unfortunately, the set doesn't display 24-fps material directly (or at a direct multiple of 24 fps) but first converts it to 60 Hz by adding 3:2 pulldown.
Sours: https://www.soundandvision.com/flat-panels/vizio_xvt553sv_lcd_hdtv
Price vizio xvt553sv
UPDATE: We re-ran all the tests with Smart Dimming enabled and provided the results from both sets of testing in the review. The final scores for the review were not changed. You wouldn't want us to (unless you hate Vizio for some reason). Though Smart Dimming improved black level and contrast ratio, it decreased the scores for Peak Brightness, Tunnel Contrast, White Falloff, Uniformity, RGB Color Curve, Motion Artifacting, and Viewing Angle. Because we review and score a television across a wide range of factors, rather than throwing all our emphasis around contrast ratio and black level, the aggregate, weighted final score would have been lower with Smart Dimming enabled. Please enjoy reading the review, in all its nerdy detail.
Vizio has traditionally positioned itself as a discount TV manufacturer, and it's clear that design has taken a backseat. Compared to leading 55-inch televisions from Samsung, Sony, and the like, the Vizio is bulky and cheap looking. There's a lot of plastic around the bezel that makes the Vizio look behind the times.
The Vizio XVT553SV is not an attractive TV, by most reckonings. It's not the ugliest thing we've seen in technology, either. Vizio just chooses not to focus so much on design. From the front, you can see how much bulky plastic is used. It's simply out of touch with modern TV design.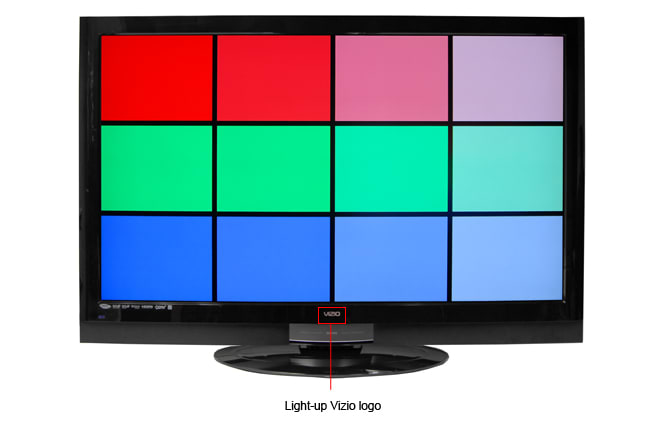 The back of the Vizio XVT553SV is mostly plain, black plastic. All the ports are gathered in one corner. It can get tricky to reach these back ports, though, because the TV panel does not swivel on its base.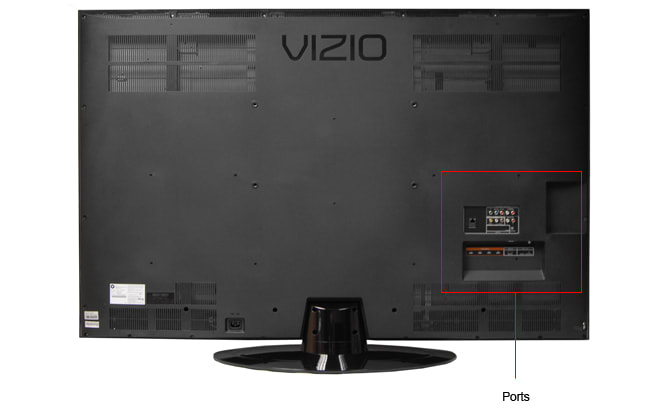 The Vizio XVT553SV is not very thin, at least not by modern, LED-backlit standards. If they wanted to, they could have shed some inches here. In terms of functionality, one side is plain and the other has a few ports and the 'Jag Wheel' controller dial.
The Vizio XVT553SV comes out of the box with the stand pre-assembled and attached to the display panel. Unfortunately, the base does not allow the panel to swivel back and forth, which always irks us a little. It's not hard to do, it just costs a few cents extra. So do it!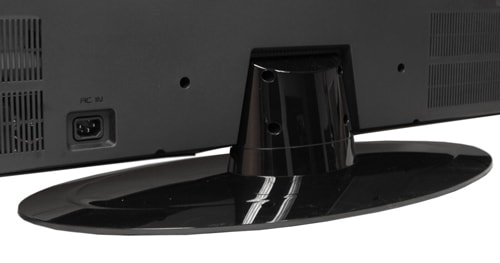 The Vizio XVT553SV has just one button on the whole TV unit that's meant to control power, volume, channel up/down, and input. It's called the 'Jag Wheel,' which must be one of the stupidest feature names we've heard in some time, and in no way describes the functionality. When you push the button, a small menu appears on screen prompting you to choose which option you'd like: power, volume, etc. You scroll down, then push in to select, then sometimes scroll again to enact your choices. The process is unnecessarily complex and time consuming. It's really a matter or re-inventing the wheel, when we had a perfectly good wheel to start. Are six separate buttons really so terrible that Vizio had to sit around until they invented this?

The remote control for the Vizio XVT553SV is great and unlike any TV remote you've seen. It features a slide-out QWERTY keyboard, just like on a cell phone.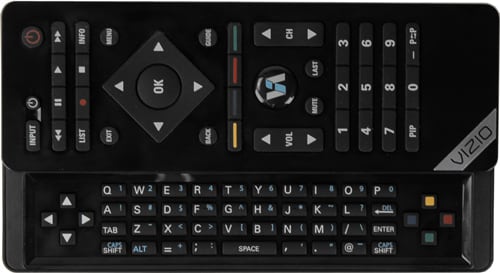 The Vizio XVT553SV is a very large TV, and requires at least two people to safely set up. The TV ships with stand, remote control, batteries, an instruction manual and other documentation.
The Vizio XVT553SV was calibrated with the special video processing features like Smart Dimming and Ambient Light Sensor disabled. We do this because the features tend to be distracting or because they hurt overall image quality. They are disabled for all televisions prior to testing.
Because of some interest in local dimming technology, we ran the tests again with the feature enabled. As you can see, the blacks got blacker, as expected. No surprises there. However, it does come with a cost, as you'll see later on.
Black Level (Local Dimming Off)

With local dimming turned off, the Vizio XVT553SV does have a very bad black level score. At best, the black level was only 0.54 cd/m2. This is several multiples brighter than the black levels on the Samsung and Sony, and even worse than the bad scores from the LG.
When the Smart Dimming feature was on, the black level dropped to an impressive 0.05 cd/m2, but there are some serious side effects. First is that the areas of high contrast have halos that float around them. The second is that the dimming doesn't look that 'smart,' and constantly shifts the backlight depending on the screen content.
More on how we test black level.
Below, you can see how much light the TV loses with the local dimming on.
Peak Brightness (Local Dimming On)
With local dimming turned off, however, the peak brightness of the Vizio XVT553SV was very good, measuring 423.53 cd/m2. That's more than sufficient for any type of viewing. More on how we test peak brightness.
Below is the contrast ratio with Smart Dimming enabled. Obviously, there's a big bump in the contrast ratio score. Be warned, though, that video processing isn't free. You pay for it with poor consistency and other issues, discussed in the Video Processing section.
Contrast (Local Dimming On)

With Smart Dimming turned off, the Vizio XVT553SV had a poor contrast ratio, due to the bad performance in our Black Level test. As such, the contrast ratio measured just 784:1. Compare that with the other TVs below and you'll see how far behind the pack this TV stands. More on how we test contrast.

The Vizio XVT553SV had no problems maintaining a consistent black level, regardless of how much or how little of the screen is black, surrounded by bright white. These results are based on the Smart Dimming featured disabled. If the feature had been enabled, the results would have been terrible, playing hell with the consistency of the black levels:
Tunnel Contrast (Local Dimming On)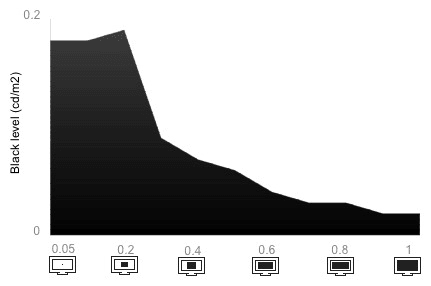 Below are the much more reasonable results with Smart Dimming turned off. More on how we test tunnel contrast.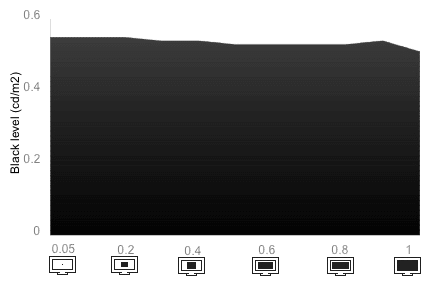 The Vizio XVT553SV had no problem maintaining a consistent peak brightness, regardless of how much or how little the screen content has a bright white spot. This is a normal performance for LCD televisions. More on how we test white falloff.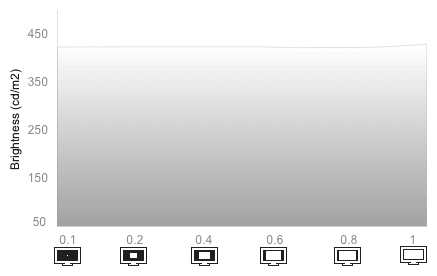 The Vizio XVT553SV has a very large, 55-inch screen. It's tricky to have perfect uniformity on a screen that large (at least that's been our experience). On an all-white screen, we noticed some random blotches of slightly darker white. On an all-black screen, there were brighter areas, particularly in the corners. More on how we test white falloff.
Greyscale gamma examines how well a TV transitions from black to white. The Vizio XVT553SV did an excellent job on this test, and the chart below tells us exactly how well. First, the line is very smooth, which means that you'll see almost no instances of banding in the greyscale. Secondly, look at the lower-left portion of the line, which represents the shadow details. On bad TVs, this line becomes horizontal, indicating that the TV can't resolve any distinguishing details in that area. On the Vizio XVT553SV, the line gets a little flatter, but the shadow details are still pretty good. Finally, there's the overall slope of the curve. At 2.35, that's very close to the ideal curve (between 2.1 and 2.2). More on how we test greyscale gamma.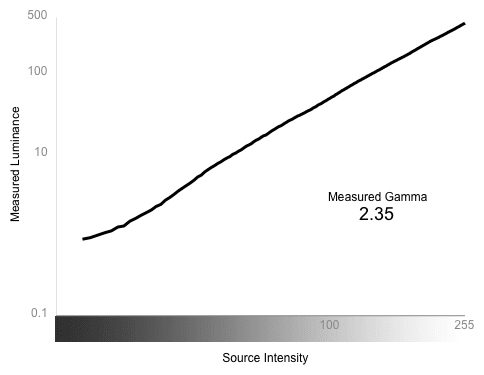 The Vizio XVT553SV showed an outstanding ability to maintain a consistent color temperature. As you can see from the chart below, the errors never pass into the range of human perception. More on how we test color temperature.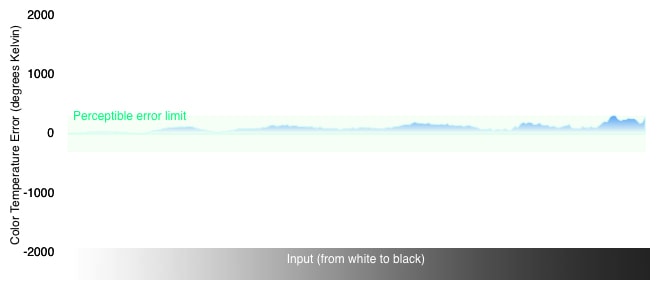 We hate to keep harping on the side effects of the Smart Dimming feature, but it show up once more here. As you can see below, if you enable the Smart Dimming feature, you lose a fair amount of detail in the highlights (upper-right corner of the chart).
RGB Curves (Local Dimming On)
With local dimming turned off, the Vizio XVT553SV showed a strong performance in the RGB color curves test, which indicates that you can expect good color performance in most types of viewing. The red, green, and blue channels move in unison, and there's little bumpiness in the lines, which indicates that you won't see much color banding. There is some peaking going on in the red channel (upper right end of the line), so the TV misses some of the detail in the brightest portions of the red spectrum. More on how we test RGB curves.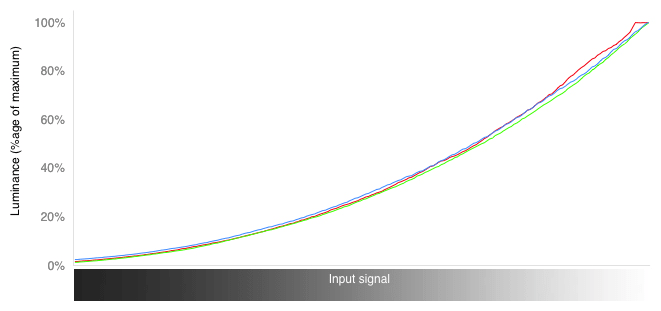 The lines below are digital recreations of the data above, based on the better results with Smart Dimming disabled.
Motion Smoothness (8.0)
The Vizio XVT553SV did a very good job producing smooth motion. With all the video processing features disabled, moving objects had even less fine detail loss and jitters than most TVs we've reviewed. Sure, it's not perfect, but we've seen a lot worst.
With the Smooth Motion feature on, a lot of the jitters and fine detail loss disappeared, but other artifacts appeared, detailed below.
Motion Artifacting (7.25)
With motion processing features off, the motion artifacts on the Vizio XVT553SV are similar to what you'd see on any LCD TV: minor trailing and stair-stepping of some lines. When you activate the Smooth Motion feature, those tend to disappear, but you see more flickering. For some strange reason, there also seemed to be a vertical 'line of demarcation' on the screen, and every time a moving object passed it we noticed a fluctuation, like a little wave.
The other major issue with Smooth Motion, along with most motion processing features on other TVs, is that they make film-based content look weird. There's no other word for it or way to describe it. People look over-processed and too sharp.
We also ran the motion tests with Smart Dimming enabled. It can create some problems, especially with the the rigorous test patterns we run. The issue with this and all local dimming features is that there are simply too few zones (the areas of the screen that have their own dimming). If a bright object crosses a black background, the objects takes on a wide, diffused halo because the blacks that occupy that same zone are getting brighter, as well. It presents a real problem with movies set in outer space, or during credit sequences, or in any scenes of high contrast. More on how we test motion performance.
The Vizio XVT553SV is perfectly capable of playing 24fps content (including things like Blu-Ray movies). Motion could have been smoother, and there were occasional instances of trouble with high frequency patterns. For the most part, though, it was fine. More on how we test 3:2 pulldown and 24fps.
The Vizio XVT553SV is a native 1080p (1920 x 1080) resolution, but much of the content you'll be watching is of a lower resolution. It's up to the TV's internal processing to upscale it for the screen. Overall, the XVT553SV did not do a great job. The 1080i even the native 1080p footage had a very hard time with high frequency patterns. Patterns that are supposed to be black & white became green. For this, we knocked points off. However, the 480p and 720p looked better. More on how we test resolution scaling.
480p
The 480p content lost 3% of the top and bottom and 2% of the sides due to overscan.
720p
The 720p content lost nothing to overscan.
1080i
The 720p content lost nothing to overscan, but showed bad discoloration in certain types of high frequency patterns.
The Vizio XVT553SV is a native 1080p resolution, and can play all types of NTSC video.
The Vizio XVT553SV showed a real strength in the viewing angle performance. It extended as far out as 86 degrees, in total (43 degrees from center on either side), before losing a significant portion of the contrast ratio. The LG was similarly good, while the Sony Sony and Samsung were rather narrow. All four are LCD displays, so the LG and Vizio are even more impressive.
Once again, however, we need to mention the effects of having Smart Dimming turned on. As you can see below, it decreased the total viewing angle by about 17 degrees.
Viewing Angle (Local Dimming On)
And below, the results with Smart Dimming turned off: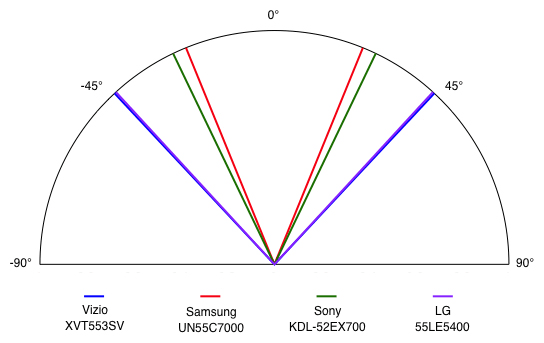 The Vizio XVT553SV creates a big, wide, diffuse glow when an ambient light hits the screen from dead on. If the light is coming in from an angle, it's far less distracting, so you can try some different arrangement for the TV and light until you're no longer bothered by it.
The Vizio XVT553SV has a number of processing features, but we recommend using them with cautious conservatism. The big feature here is Smart Dimming. This is Vizio's trade name for the local dimming found on several LED-backlit LCDs. In short, local dimming means that the giant rectangle of LED lights is broken up into smaller zones, and each zone can set its own backlight level depending on the screen contents in any given moment.
At its best, local dimming means that you can have the brightest whites and the darkest blacks coexisting on the same screen at the same time. Sounds great, right? Well, as you might imagine, there's also a catch. There are only so many zones on a give TV (the actual number is rarely disclosed by the manufacturer). Because of this, something odd happens in scenes with high contrast. Imagine scrolling movie credits, or the gleaming starship Enterprise moving across the inky blackness of space. The black immediately surrounding that bright text or starship appears much brighter than the black on the rest of the screen, because that zone is lit-up to enhance the whites. But it's messing with the blacks that are also in that zone. The effect is like seeing the white object with a giant, diffused halo around it.
In everyday viewing, you may actually enjoy what Smart Dimming can bring to the table. A TV show or movie with nothing but midtones won't show these problems. But serious movie watchers (ironically, it's probably those in the target market for a $2100, 55-inch TV) will likely notice the problems. We recommend leaving it off, but were asked by some to leave it on. So we published the relevant test results in both modes.
To start off, we put the Vizio XVT553SV in Cinema mode (sometimes called Movie mode on other TVs), which typically offers the best color accuracy. From there, we calibrated the TV. Our final settings are below.
[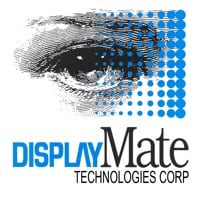 All of our calibration is done in conjunction with the DisplayMate software.
](http://www.displaymate.com/)
The Vizio XVT553SV has more video modes than the average TV. Some of them are merely subtle variations on a common theme of oversaturating certain color tones. Modes include: Standard, Movie, Game, Vivid, Football, Golf, Basketball, Baseball, and Custom.
The remote control that ships with the Vizio XVT553SV is a bit out of the ordinary. As you can see from the photos, the remote has a slide-out QWERTY keyboard. Presumably, this is to better interact with the internet apps, including Facebook, Twitter, and more. It's easy to scoff at the notion of people actually being preoccupied enough with their social networking services that they'd need it on the same screen as their television programs. However, considering the fact that Twitter even exists and is beloved by millions, that tells you something about people right there. Get used to it.
The slide-out mechanism on the remote feels cheap, so we wouldn't expect an exceptionally long lifespan. When closed, though, the remote feels solid and comfortable.
The remote is also unique in that it has both IR and Bluetooth connectivity to the TV. Why they don't just settle on one is a bit of a mystery. The TV can also theoretically connect to other Bluetooth devices, but those features have not been activated yet.

The remote control is split into two primary groupings. The traditional remote control-type buttons are on the top, made of a soft, rubbery material. We were very pleased with the intuitive feel of these buttons, and were sailing through the menu without looking down at our hands within minutes.
The QWERTY keyboard was merely adequate. Sure, it's cool that it exists, but there's nothing exceptional about it.
Of course, on a remote this fancy, it's going to be universally programmable. The necessary codes are in the instruction manual, or online here.
Input Ports (6.0)
The Vizio XVT553SV has an adequate number of ports, but not as many as some high-end TVs. What's actually included is a little confusing. There are five HDMI ports, which is one more HDMI than we've ever seen on a TV before. There's just one component AV and one composite AV input. There are also three USB ports, but none of them do anything!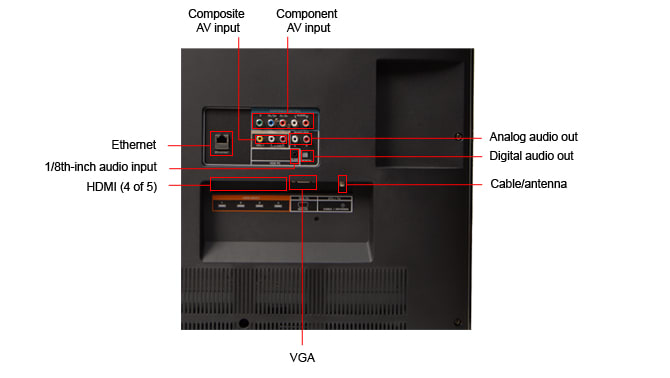 Most of the ports are on the back of the TV, but one HDMI and the three useless USB ports are on the side.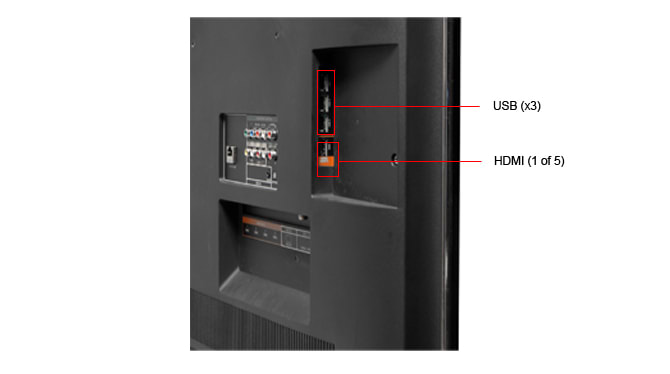 Output Ports (2.0)
The Vizio XVT553SV has two output ports, a digital audio out and an analog audio out. This is standard for most HDTVs.
Other Connections (8.0)
The Vizio XVT553SV has a LAN ethernet port, as well as built-in WiFi. We had no trouble connecting to our network. There is no DLNA support. Read more about streaming content features here.
Media (1.0)
The Vizio XVT553SV has three USB ports, and as of this date, they are completely useless. That's right, they don't play photos, videos, or music, or anything else. Though the box art states that they can be used to view JPEGs, it's not true. In the instruction book, Vizio simply and flatly states that they are 'reserved for future functions.' What amazing features, we wonder, could require three USB ports?
The ports on the Vizio XVT553SV are mostly located on the back of the TV, and because the TV panel does not rotate on the stand, it's tricky to reach back there and change out plugs. On the easier to reach side panel, you'll find one HDMI and three USB ports. Oh, wait. The USB ports are useless. Sorry.
The Vizio XVT553SV has decent audio performance for a TV in its size and price range. There are few options in the menu to change the sound quality. It's mostly limited to turning the surround sound emulator on or off (we liked it 'on') and an automatic volume limiter.
For best sound quality, we always recommend an independent audio system.
The menu on the Vizio XVT553SV has been completely redesigned from the 2009 Vizios we reviewed, with significant improvements. Response times are faster, the look is cleaner, and the organization is more effective. Combined with the excellent remote control, we were impressed with the whole menu interface.
The main menu is broken up into a grid pattern with icons. The choices here are fairy straightforward. Once you select an option from here, you're taken to a vertically-aligned menu with all the options spelled out. For better or for worse, the menus will not disappear from the screen unless you explicitly exit the menu.
The instruction manual is a big, magazine-sized, color document. Some of the pictures inside and cheap and cheesy, but we liked that all the information was spelled out. There's a table of contents and an alphabetical index to help guide you. You can find the Vizio XVT553SV's manual online here.
The Vizio XVT553SV has a number of streaming content features. The main feature set is simply a plug-in of Yahoo TV widgets, which is found on several other TV manufacturers. So long as Yahoo keeps adding content partners, Vizio owners will keeping finding offers for new apps to download. A complete list of offerings (to-date) can be found in this massive comparison chart.
The Vizio XVT553SV cannot play back photos, because though there are USB ports, they serve no function whatsoever.
Likewise, the Vizio XVT553SV cannot play back music or videos through means of the USB ports.
The Vizio XVT553SV does not support any other type of media.
The Vizio XVT553SV consumes a fair amount of power compared to similarly sized sized LCD TVs, but it's certainly not an outrageous amount. We estimate an average cost of $23.86 per year in electricity costs. Of course, it depends greatly on how bright the backlighting is set, which is discussed in the table below.
This next chart shows how the Vizio XVT553SV compares to other TVs.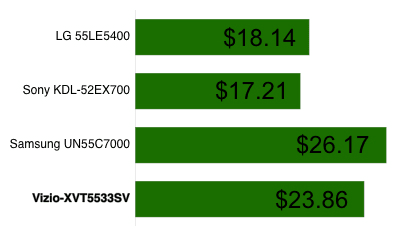 The Samsung UN55C7000 has a 3D display. The Vizio XVT553SV is not. That's the primary basis of the price discrepancy. The Samsung is also a much sexier looking TV, which has to be worth some monetary value. In terms of raw, 2D performance, the Vizio stands up decently to the powerhouse Samsung, offering better color performance and a wider viewing angle. However, the Samsung has a far wider contrast ratio and deeper blacks. If you can afford it, get the Samsung. If you're looking to save money, the Vizio XVT553SV is a very good television.
The Samsung UN55C7000 was a far better performer when it came to black level and contrast ratio, as you can see from the chart below. There was no contest. Of course, the Samsung employed some kind of subtle dynamic contrast ratio that we couldn't disable. Consequently, we like the Vizio's ability to turn all those kinds of settings off, but recognize that the Samsung is the better TV.

The Vizio XVT553SV was much better in terms of color performance than the Samsung UN55C7000. It offered more consistent color temperatures and smoother colors transitions.
The Vizio XVT553SV had good motion performance, as did the Samsung. We thought the motion smoothness was better on the Samsung, but the Vizio offered fewer artifacts.
The Vizio XVT553SV clearly came out ahead in the viewing angle test, nearly twice as wide as the Samsung.
Neither of these TVs are particularly power-packed with ports.
The Sony KDL-52EX700 is a very good television, and if you do your research, you may be able to find it fairly cheaply. Sony clearly has the stronger brand name, so what are you actually getting with that. First of all, the TV is better looking than the Vizio, that's for sure. The Sony also has an outstanding streaming content selection in a layout that we find more intuitive than the Yahoo TV apps on the Vizio. This particular Sony also offers a far, far better black level and contrast ratio. On the other side of the fence, the Vizio has the cool remote control, a better viewing angle, and a few extra inches of screen size. Given the price, we'd definitely choose the Sony.
The Sony 52EX700 completely crushed the Vizio XVT553SV in black level and contrast ratio, with an equally bright white and a far, far darker black level.

The Vizio XVT553SV once again came out on top in color performance. The color temperature was far more stable, and the RGB color curve test showed that the Vizio was at least a little more stable in terms of color transitions.
The Vizio XVT553SV and the Sony 52EX700 have roughly comparable motion performances. Both were satisfactory or better, and both offer optional motion smoothing features.
The Sony is not nearly as wide in its viewing angle than the Vizio XVT553SV.
The Sony has one fewer HDMI than the Vizio XVT553SV, but is more generous in most other regards.
There's no reason the LG 55LE5400 should be priced higher than the Vizio XVT553SV, because the performance and feature set do not merit it. Sure, the color performance and viewing angle are very good, but they're matched by the Vizio. The Vizio shares the same faults, too: terrible black level and a narrow contrast ratio. But the Vizio XVT553SV is cheaper and comes with built-in WiFi, a cool remote control, and better streaming content options. The only other reason to choose the LG is that it's a prettier TV than the Vizio (the Vizio certainly is ugly). Our recommendation is the Vizio.
The LG was no champ when it came to black levels or contrast ratio, but it did manage to beat the Vizio XVT553SV. Neither is very good.

The Vizio XVT553SV and LG 54LE5400 are both strong performers when it comes to color performance. The Vizio managed a consistent color temperature a little better, but overall, its an excellent performance from both.
The Vizio XVT553SV has better motion performance than the LG, though we certainly wouldn't call the LG bad. We Vizio was just smoother and less prone to artifacting.
The Vizio XVT553SV and LG 55LE5400 are virtually identical in their viewing angles, and both are very good for LCD displays.
The LG has several more ports than the Vizio XVT553SV, though it lacks the built-in WiFi, which is very handy.
The Vizio XVT553SV ($2199 MSRP) is probably the first Vizio to actually impress us. It's a big 55-inch screen for a reasonable price, and it's loaded with great features: built-in WiFi, an excellent selection of streaming content, a great interface, and a remote control with full QWERTY keyboard.
There's the tantalizing prospect of features to come, as well. The Vizio XVT553SV has Bluetooth connectivity, but there doesn't seem to be any application for it right now beyond the remote control (which is both IR and Bluetooth). The TV also has those three aggravating USB ports, which serve absolutely no function right now. They better be planning something big for that many USB ports, but, again, we're not holding our breath.
The core video performance is a bit less clear-cut. The color performance is among the best we've seen, and the viewing angle is truly impressive for an LCD display. However, the black level and contrast ratio were among the worst. Our testing procedures require us to shut off features like auto dimming in order to get the most accurate performance. If auto dimming enabled, the black levels drop considerably, but there's a nasty halo-effect around high contrast objects. In order to bring you the full story, though, we retested with Smart Dimming enabled to see the pros and cons of the feature. (Read more about Smart Dimming)
All in all, we think Vizio deserves a round of applause on this one. We can only hope that they continue to surprise us.
There are three models in the 3SV series, a 42, 47, and 55-inch. All three have the same feature set and connectivity options.
Meet the tester
David Kender
Editor in Chief
@davekender
David Kender oversees content at Reviewed as the Editor in Chief. He served as managing editor and editor in chief of Reviewed's ancestor, CamcorderInfo.com, helping to grow the company from a tiny staff to one of the most influential online review resources. In his time at Reviewed, David has helped to launch over 100 product categories and written too many articles to count.
See all of David Kender's reviews
Checking our work.
Our team is here for one purpose: to help you buy the best stuff and love what you own. Our writers, editors, and lab technicians obsess over the products we cover to make sure you're confident and satisfied. Have a different opinion about something we recommend? Email us and we'll compare notes.
Shoot us an email
Sours: https://www.reviewed.com/televisions/content/vizio-xvt553sv-led-lcd-hdtv-review-1784-2
Vizio XVT553SV
.
You will also be interested:
.
600
601
602
603
604